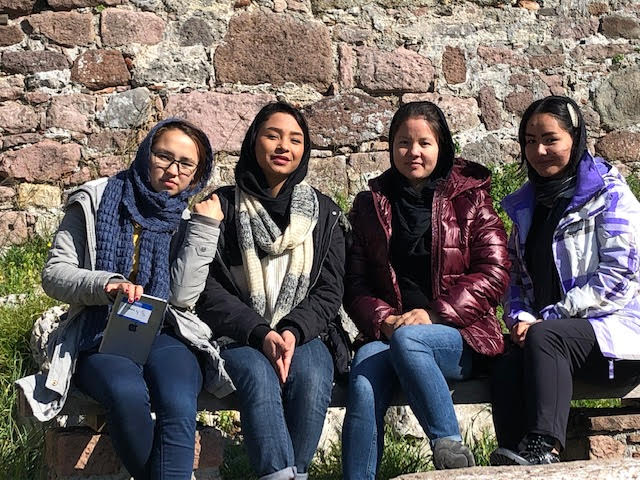 ---
By Maryam Zar
[The views expressed in this blog post are the author's own.]
---
It's No Rooz for many of the people who live in Moria refugee camp on the Island of Lesvos in Greece. But they will not be celebrating.
On the morning of Eid, Moria residents were told that restrictions on their movement would be imposed. There has been one confirmed case of Coronavirus on the Island, and the fear of its spread has led Greek authorities to restrict these people, even within the confines of a crowded camp. The usual recommendations of social distancing and frequent hand washing can not apply to Moria. The camp is notoriously overcrowded and there is no reliable running water or soap readily available.
When I texted my friends at Moria with the common refrain on any NoRooz morning – eid shoma mobarak – I was met with pleas of disappointment. "Moria has been quarantined, Maryam khanoom!"
Last month, I travelled to Lesvos Island with an Organization called The Azadi Project. The word azadi means "liberty" or "emancipation" in Farsi – but also in Dari, Pashto, Baloochi, Tajik, Armenian, Urdu, Punjab, Bengali, Hindi, Kashmiri and Luri . the organization aims to empower women in refugee camps with the digital film making skills to tell their stories. The mission of the Azadi Project is not only to bring awareness to the world by telling the unique experiences of refugees, but to give women work skills to take part in modern economies around the world.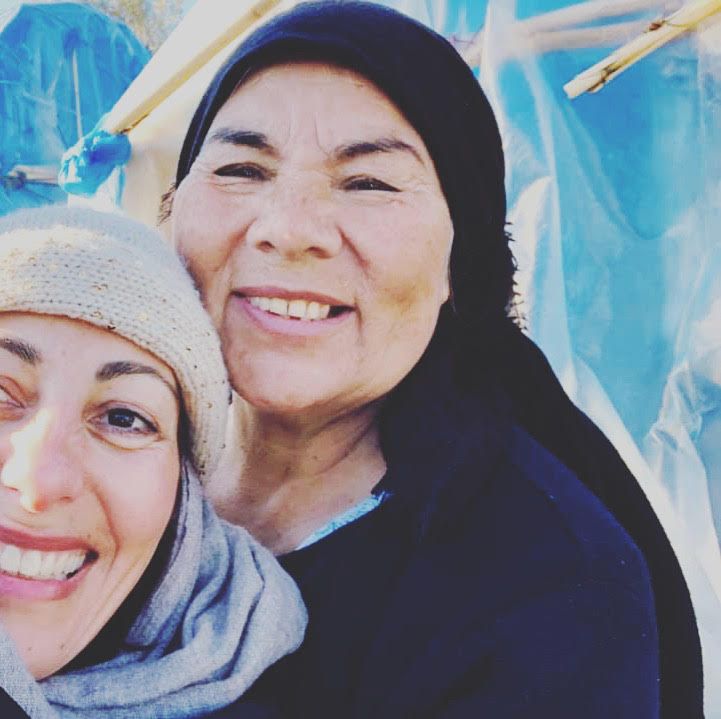 For two weeks we worked thoughtfully to empower refugee women to look inward and tell us their stories and aspirations. So many of the women we met spoke of unfulfilled hopes, unrecognized dreams and a lifetime devoid of opportunity. We wanted them to show the world who they are and with it, find azadi.
Moria is a notoriously harsh refugee camp on Lesvos Island in Greece. The shores of Turkey are so close to Lesvos that a drive up the coast brings the opposing landmass into sharp focus. Cell service can switch over to Turkish Telecom. My first introduction to this coast was though a relief operation called Lighthouse. They operate lookout points high atop the hills of a fishing village with a lighthouse. The lighthouse sits on a mound of rough boulders, but the light attracts the dinghies that push-off from Turkish shores and are told by smugglers to navigate to the Greek shoreline a few miles away. For the novice captains who are refugees themselves with no boating or swimming skills, the light is a draw. Upon arrival, they crash land on rocks, bewildered and soaked.
The leader was an Iranian named Farshad who said my Farsi would come in handy. I did not realize I would speak the language of most of the refugees here, who come from Afghanistan and Iran. The instantaneous bond of a shared language would put me in a unique position to hear people's stories, first hand.  Each time a mother would tell her child to call me aunty (Khaleh), or a man would feel comfortable enough to meet my eyes and tell me his worries, or a family would invite me into their tent for tea, I would break a little inside while smiling warmly on the outside.
Our program translator was a young Iranian woman who had been married to a brute that emotionally shattered her. She had finally decided she could fare perfectly well on her own and set out by land to Turkey. From there, by dinghy to Europe – the shores of Lesvos, that is.
She had endured life at the Moria refugee camp for months, until she finally was able to secure the infamous "blue stamp" on her migration papers, allowing her to travel to Athens. Her English is exquisite, and along with her sincere disposition and kind mannerism, she was able to get her papers in order for the gamble of repatriation to another European country. But she wanted to come to the US, so she applied for the lottery and was granted an interview. For reasons unknown to her, she was rejected and it was at that point that she took a chance she wishes she never had. The result was a harsh landing in a Turkish jail where she endured the kind of brutality she describes as unforgivable. From there, she was transferred back to Lesvos Island, uncomfortably close to Moria, where she began. She still remembers that camp with anguish and counts herself lucky to live in an apartment in a better maintained area for refugees. She works on the island as a translator for various NGOs , and still hasn't given up hope to get to the US.
Moria was originally designated to temporarily house 3000 people. It now serves 21,000 refugees from various conflict zones and economically deprived places around the globe. The overwhelming majority of the people here are Afghans, by way of Iran. There are also people from Africa, the Middle East and Syria – all stringing together their days, perilously close to each other in tarps and makeshift tents called home. The Afghans seem to be last priority among the refugees that coexist on this Island which represents the gateway to Europe. One of the young girls who walked me through the densely populated jungle around the camp, through improvised neighborhoods with alleyways and clothing lines over to her uncle's place where she would ask her cousin to make me tea, "our biggest problem is that we are Afghans."
When we got to her uncle's house, she introduced me to the old woman who lived next door. She was around sixty, and aged beyond her years. She pulled up a tri-pod (se-payeh) for me to sit on, as she told me her life story. She had been a young girl in Afghanistan once, with a beautiful mother and a school she attended nearby. Then the war set in and she lost her mom to a Russian air strike. She doesn't remember much about her childhood in the years after her mother died, but she looks down and shakes her head when she tries to recall. Then she pulls out a book with tidy English writing on the lines and gestures over to my young host. "She's teaching me English," she said. "Looks like you are a good student," I offered. I hugged and sobbed with her, then we took a laughable selfie and I moved on.
I met a young man who was 19 years old. When he figured out I was with a group of foreigners who had cameras, he wanted to talk. I could tell from his eyes that he was high on something. At first, I was scared. I looked around to assess the lay of the land and make sure I had an escape route if he cornered me. This angry man turned out to be just a crushed little boy inside. He recounted the tragedies repeated throughout his life and implored me to tell my European colleagues. He admitted he was high, and out of his ratty jacket pocket he pulled out a bulky canister of glue, which he said he sniffed profusely to help him dull the pain. He crouched down at my feet to demonstrate the downward pressure he said he felt his entire life, then he held up his right hand to reveal two missing fingers. On his torso he had a new stab wound and he said life at Moria was hell, but he didn't know how to get out. He understood young men were undesirable by the inner European nations and that only made him search harder for a narcotic to dull the pain longer.  I eventually walked away from this kid, who has stayed with me since.
One of the girls in the program who lost her father when she was seven years old and has never quite recovered from the shock, readily admits that being Afghan is their curse here at the camp. They are mostly ethnic Tajik or Hazara and they are here by way of a failed attempt at immigrating to an unwelcoming Iran, where they were never allowed to assimilate. Afghans were prevented from enrolling their kids in school or earning a living wage. One of the girls, who was born in Iran, looked up through tears and said, "imagine living somewhere where you're an insult" (in Iran people use "Afghan" as a derogatory term).  From Iran, they make a land exodus through a cruel Turkey, and then a desperate sea journey to the shores of Europe.
One of the girls described the trek across Turkey and then the shock of Moria. Each time she tried to tell her story, she would break down and bury her face in her hands. She said they had tried three times to come across the water and finally succeeded the fourth time. She wasn't afraid of the water, she said, she was afraid of the Turkish authorities. They treated women with purposeful humiliation and the men with brutal disdain. Each and every one of the people I met said they wanted an education and aspired to succeed in order to arrive at a place where they can reach back and help others. No one expected to stay in Greece. Everyone expected this to be a stepping stone to the rest of their lives. But here they were, languishing in a refugee camp that had busted beyond its intended borders ad unable to care for the sea of humanity persisting within its confines.
I wanted to open my arms and give them the same opportunities I had seen as an immigrant from Iran by way of Europe, some forty years earlier. But I couldn't. All I could give was my genuine empathy, a truly listening ear and a few warm beanies and gloves off my body on the rainy days.
(Note: Although there is a huge aid community in Lesvos who bring all manner of relief in small measure to refugees, rarely do any of them look like the refugees themselves. I stood out. As a woman and an Iranian with an unmistakably emancipated disposition and an accent that gives away my current homeland, I was easily spotted. I learned that the mere fact that I was here as part of the aid community served as inspiration for people to know that they can move on and move away from this place, and find a new life in a new land where they can thrive and become successful enough to come back, and give aid. If that was the take away from my time there – even for a few of the people I was lucky enough to meet – then my stint at the most notorious refugee camp on earth was well worth it.)
---