---
---
The British government must include the unjustly detained British-Iranian Mehran Raoof in its efforts to free other British-Iranians such as Nazanin Zaghari-Ratcliffe and Anoosheh Ashoori, Amnesty International has said.
Raoof, a 64-year-old labor rights activist who lives between Iran and the UK, was arrested in Iran on Oct. 16 and has been kept in solitary confinement for more than 160 days inside Evin prison's notorious section 2A ward.
? Take action with @AmnestyUK to call for the Iranian authorities to immediately release Mehran Raoof, a British-Iranian national & labour rights activist arbitrarily detained in solitary confinement in Tehran's Evin prison. https://t.co/HzZB1qiQpJ pic.twitter.com/uB5lPTXPam

— Amnesty Iran (@AmnestyIran) March 18, 2021
He was jailed in a wave of arrests of labor activists across Iran which Amnesty International described as "a coordinated crackdown to quash advocacy on workers' rights." At least one of the labor activists arrested has been sentenced to 16 years in prison on alleged national security charges, according to Amnesty.
Raoof was denied the right to make telephone calls during the first month of his detention, after which he was allowed to make one call to a distant relative in Iran. Prison officials have barred Mr. Raoof from speaking on the telephone to immediate family members living outside Iran, and have continuously denied his right to legal assistance.
Speaking to Kayhan Life, Oscar Jenz, Amnesty International UK's Iran and United Arab Emirates country coordinator, said he was concerned that Mr. Raoof would be subjected to further serious human rights violations. "Mehran's arrest comes in the wake of an increasingly draconian crackdown on human rights activists in Iran, as well a rising number of the arrests of dual nationals. We urge the UK government to take concrete steps to get all imprisoned British-Iranian dual nationals back home and reunited with their families," said Jenz.  "We are also calling on the UK government to raise his case with their Iranian counterparts."
Former Iran Hostages Co-Found Washington-Based International NGO, Hostage Aid Worldwide
Iran Hostage Release Must Be Part of Nuclear Deal, Richard Ratcliffe Says
URGENT ACTION
BRITISH-IRANIAN LABOUR ACTIVIST DETAINED
As the current @UN Human Rights Council sessions ends, we reiterate our call for Iran to do the right thing and release Anoosheh Ashoori, Morad Tahbaz and Nazanin Zaghari-Ratcliffe so they can return to the UK and their loved ones. We will do all we can to bring them home — Dominic Raab (@DominicRaab) March 26, 2021

Amnesty international believes that Mr. Raoof has been detained solely for peacefully exercising his human right to engage in labor rights activism, and has described him as a prisoner of conscience in statements on the case.
Jenz said thousands of Amnesty International supporters around the world had begun campaigning on Mr. Raoof's behalf.
Satar Rahmani, a colleague of Mr. Raoof's based in London and a member of the International Alliance in Support of Workers in Iran (IASWI), told Kayhan Life that he had decided to help Mr. Raoof with his case.
"I realized Mehran had no one in Iran to support him, so some colleagues and I decided to act for him," said Rahmani. "The first thing we did was issue a statement called Free Mehran Raoof and shared it with news outlets. We also contacted trade unions in the UK, France and Spain and got support from hundreds of trade union supporters, as well as the Trades Union Congress (TUC) in London."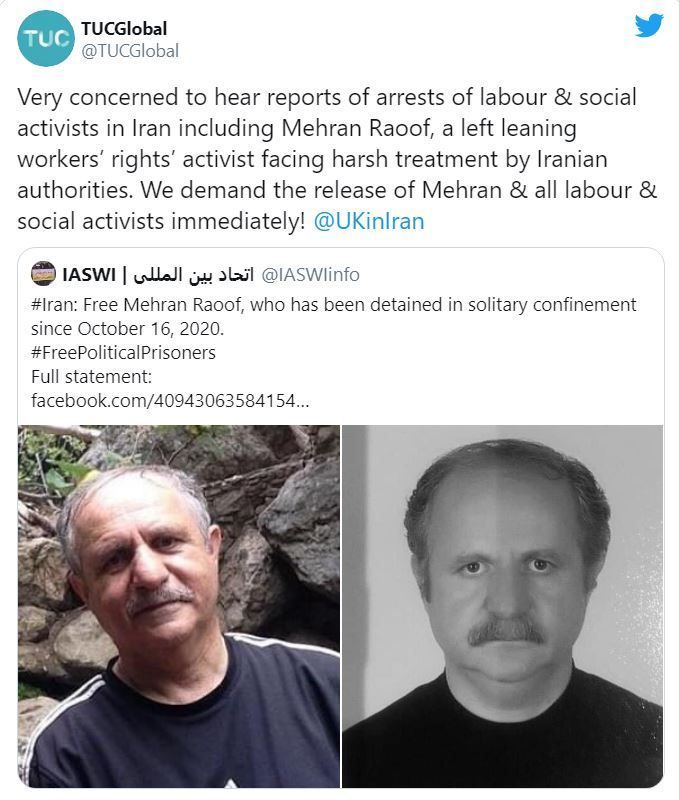 Rahmani said that Raoof would meet regularly with 15 other labor activists in a cafe in Iran to discuss how to improve working conditions for laborers in the country. "Mehran was advocating for the rights of workers, the minimum wage, and helping them understand the importance of trade unions and how they can be used to secure workers' rights," he noted.
Human rights activists in Iran currently run a high risk of arrest, detention and execution. A report on the state of human rights in Iran produced in December by the Human Rights Activists News Agency — a large network of human rights activists in Iran — found that arrests of workers protesting their wages and other employment conditions in 2020 had increased by 56 percent when compared to such arrests in 2019.
The report also found that associations with trade unions increased the risk of imprisonment significantly, noting an 89 percent increase in the number of sentences from the previous year for trade unionists protesting salaries and economic conditions.
Amnesty International has now asked its supporters to write to the Iranian authorities urging the immediate release of Raoof from solitary confinement. A model letter, produced by Amnesty International for supporters and addressed to Ebrahim Raisi, the head of Iran's judiciary, demands that Raoof be granted regular access to his family outside Iran, a lawyer while in detention, and any medical assistance he may need.
---
Similar Articles to This Post