---
By Kayhan Life Staff
---
Several U.S. lawmakers sent a letter to the White House on April 23 demanding that the State Department revoke the security clearance of Ariane Tabatabai, a senior advisor to the office of the Under Secretary of State for Arms Control and International Security, the Washington Free Beacon, a U.S. conservative news website, reported on May 10.
"We respectfully ask for a classified briefing on Ariane Tabatabaei's connection to the Iranian Regime, as well as an additional background check, to closely examine her ties to it," the Washington Free Beacon cited the letter as saying.
"Tabatabai has echoed Iranian regime talking points and has made excuses for Iran's oppressive government," lawmakers warned. "She has downplayed the significance of dissatisfaction that Iranians have with their government, stating that protesting is a 'feature in the Islamic Republic' and is an 'inherent part of Iranian public life.' Additionally, in December 2020, Tabatabai claimed that Iran 'has affirmed its place as a significant regional force.'"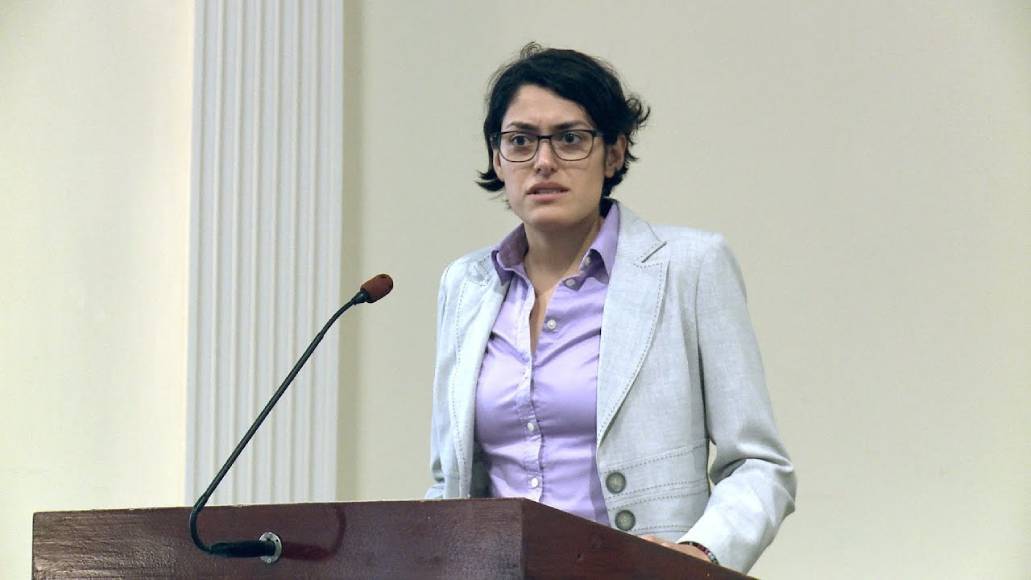 The U.S. lawmakers argue that Tabatabaei's close ties to Tehran and her senior position at the State Department are a source of serious concerns, given the U.S. administration's effort to revive the 2015 Joint Comprehensive Plan of Action (JCPOA), better known as the Iran nuclear deal.
The lawmakers have called for an investigation into Dr. Tabatabaei's "allegiance to the Iranian regime," which in their view posed "a security threat to the United States," the report by the Washington Free Beacon said.
The U.S. lawmakers allege that several of President Biden's appointees have "troubling ties to Iran's hardline, anti-American government," the report noted.
House Republicans Jeff Van Drew, Scott Perry, and Yvette Herrell argue that the Biden administration "made a serious mistake when it hired Ariane Tabatabai as a senior adviser to the Office of the Under Secretary of State for Arms Control and International Security, a high-level position that requires security clearance," the report added.
"Iranian dissident groups who oppose the hardline government outlined multiple public appearances in which she parroted Iranian regime propaganda and downplayed the import of democratic protests that threaten to topple Iran's clerical leadership," the report said.
"In addition to her writings, Tabatabaei's father, Dr. Javad Tabatabai, is a senior faculty member at the state-controlled University of Tehran and is allegedly part of Iranian president Hassan Rouhani's inner circle, according to information published by Iranian dissident groups," the report added.
The @hafezeh_tarikhi Twitter account posted a compilation of video clips of Dr. Tabatabaei's comments on various occasions from 2012 to 2020.
"Protests are actually a feature in the Islamic Republic. They are not a departure," Dr. Tabatabaei said in a clip dated January 23, 2020. "They [are] perhaps getting more attention today. And there are social media, so you see a lot more of [them]. You see videos and footage and images, but they have been happening since the beginning of this regime, [They] actually going back to the turn of the century and the constitutional movement."
"So, protest and reform efforts are all an inherent part of Iranian public life," Dr. Tabatabaei added. "If you go back to 2009 and later to 2012, 2017, and 2018, people have been predicting that the Islamic Republic would collapse. And actually, there is a joke that goes around in Iranian families, which is 'Insha'Allah next year in Tehran.' Insha'Allah, next year in Tehran, has been kicked down the road for 41 years."



In comments reported by the Washington Free Beacon, the State Department spokesperson Ned Price dismissed the allegations by the U.S. lawmakers as "smear and slander."
"We will not sit idly by as our employees — dedicated public servants — face personal smears and slander," the Washington Free Beacon quoted Mr. Price as saying. "The administration appointed Ariane Tabatabaei to a key role in the State Department because she is one of the United States' leading experts on Iranian nuclear policy. The State Department is honored to have her serving in this capacity."
"Tabatabai was thoroughly vetted and investigated before being granted the position. Any suggestion of security-related concerns about Dr. Tabatabai is baseless and illegitimate," Price added.
Republican Congressman Jeff Van Drew of New Jersey told the Washington Free Beacon that "the State Department still has not contacted him to discuss the concerns outlined in his letter. The administration must be more transparent and responsive to those serving in Congress who seek to perform oversight on the State Department's decisions."
"Why would we hire someone who has access and security clearance to some of the most sensitive and important issues there [and] who obviously has had a relationship with the administration in Iran? I just don't understand it," Congressman Van Drew argued. "I guarantee you right now Israel is going to be more circumspect in how they're going to deal with the U.S. A message was sent when they hired her."
"Many Iranian Americans are deeply concerned about Ms. Tabatabaei's direct and indirect connections to the Iranian regime," the Washington Free Beacon quoted Bryan Leib, executive director of Iranian Americans for Liberty, as saying. "It's deeply troubling that someone with connections to the Iranian regime would be selected for a senior role in the Office of the Under Secretary of State for Arms Control and International Security."
SPECIAL REPORT- Iran's Leader Ordered Crackdown on Unrest: "Do Whatever It Takes to End It"
Iran's 2019 Protests Investigated by International Tribunal, Testimonies Pour In 
---
---