---
---
This week is the anniversary of the death of Forough Farrokhzad Araghi, one of Iran's most celebrated modern poets. She died, aged 32, on Feb. 13, 1967.
Farrokhzad was a poet with an expansive worldview who was hungry for experience. She was a lone voice and a beacon of light in a male-dominated world full of taboos and prejudices. During her short life, she was transformed into a symbol for the younger generations and ultimately became one of Iran's most prominent modern poets.
Farrokhzad was born on Dec. 29, 1934, in Tehran. Her father, Army Colonel Mohammad Bagher Farrokhzad, was from Tafresh, a city in the central province of Markazi. Forough's mother, Touran Vaziritabar (Batool), was born in Kashan, a city in the central province of Isfahan.
Forough was the third of seven children and grew up with her siblings Amir-Massoud, Mehrdad, Fereydoun, Pouran, Mehran, and Gloria, in Tehran's Amirabad neighborhood. Pictures of her childhood home, and the nearby stream and trees, frequently appeared next to Forough's published poems.
Forough Farrokhzad died in a car accident in February 1967. She had had lunch with her parents at their house in Tehran earlier that day.
To mark the anniversary of Forough Farrokhzad's death, Kayhan Life recently spoke to Diana Ghoghasian, the widow of Mehrdad Farrokhzad, Forough's only surviving sibling until his death on Dec. 9, 2018.
Ms. Ghoghasian is the de facto archivist of the Farrokhzad family documents and possesses a wealth of anecdotal stories and information passed on to her by her late husband.
During the making of the 2008 documentary on Farrokhzad "Moon, Sun, Flower, Game," a German film crew visited Forough's childhood home in Tehran on the recommendation of her brother Mehrdad. The house's owners, Mr. and Mrs. Nowrouzi, graciously allowed the crew to film inside their home.
"We had visited the house before, but this time the owners' daughter-in-law showed us around," Ms. Ghoghasian recalled. "Mehrdad asked them if they were interested in selling the house, to which the daughter-in-law quickly replied yes. She told us the house was old and needed massive repairs. After leaving the house, I told Mehrdad that the children would sell the place once Mr. and Mrs. Nowrouzi are gone."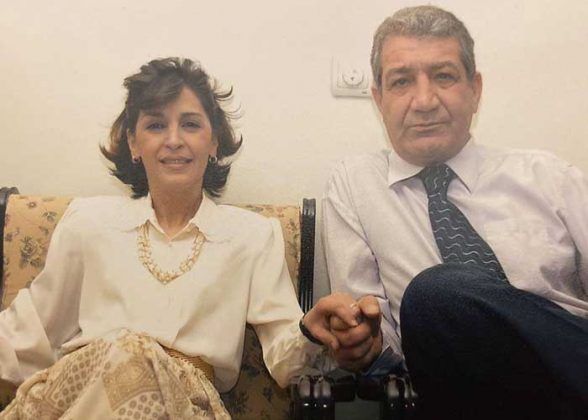 Ghoghasian said she and her husband wanted to turn the house into a museum. Besides Mehrdad, she said, his brother Fereydoun (1936-1992) were the only ones among their siblings who sometimes visited their childhood home.
---
[contact-form][contact-field label="Name" type="name"][contact-field label="Email" type="email"][/contact-form]
---
Not long after their visit with Mr. and Mrs. Nowrouzi, Diana and Mehrdad discovered that the couple had died, and that their children planned to demolish the place and build a new house. They tried to launch a media campaign to stop the destruction of the house. Ultimately, the building was listed as a national heritage site in September 2018.
Asked about the origin of "Araghi" in Colonel Mohammad Bagher Farrokhzad's last name, Ghoghasian said: "Colonel Farrokhzad's original last name was 'Mehrafarin.' According to the colonel, he changed his last name while serving in the Persian Cossack Brigade. They called him 'Mehri' for short, which annoyed him, so he changed his last name to Farrokhzad. He was born in Tafresh, a county in the central province of Arak, which was called the Persian Aragh-hence Farrokhzad Araghi. Some children's names were also shortened through the years, including Forough Zaman (Forough), Pourandokht (Pouran), Amir-Massoud (Amir), and Gloria (Koli)."
"According to his military service record, which dates back to the Qajar dynasty [1789-1925], Colonel Farrokhzad's father was a merchant who traveled extensively, taking his son with him on his trips," Ghoghasian explained. "They traveled through the neighboring countries and Europe. Colonel Farrokhzad was fluent in English and French."
Despite his restrictive parenting style, Colonel Farrokhzad encouraged all of his children to use his extensive library.
"My husband told me that his father had a vast library that included many books on history and poetry and French, English, German and Italian languages," Ghoghasian recalled. "Colonel Farrokhzad would test the children frequently, to make sure they read the books."
"Besides Forough and Fereydoun, who were interested in painting and poetry, Pourandokht did translation work and also wrote poems," Ghoghasian noted. "Amir-Massoud was a prominent urologist and Mehrdad, a notable engineer who pioneered concrete homes in Iran. Gloria was a celebrated fashion designer of her era."
"Colonel Farrokhzad was a learned man and a voracious reader who also wrote poetry and newspaper articles. He left behind an unpublished book of poems. He also took an active role in raising his children." Ghoghasian said. "Touran Vaziritabar was a homemaker, looking after a large family. The children had learned hard work and discipline from their father. The boys worked during the summer school holidays. Mehrdad said that his father would take him to Masjed Shah to buy lumber, a hammer, and nails to work on the house at the end of each school year. The girls would spend their summer sewing."
Ghoghasian said that except for Forough's maternal grandmother, Zahra Kahnoom, no other woman in their family wore the hijab.
Asked if her husband ever spoke about his father's restrictive parenting methods, Ghoghasian said: "Colonel Farrokhzad was a military lion with a heart of a sparrow. He was quiet and serious and loved his family. Ms. Vaziritabar probably disciplined the children more than the colonel."
Forough was 16 when she married her mother's cousin Parviz Shapour (1924-2000), nearly 11 years her senior. Mr. Shapour and Forough's families were nextdoor neighbors. A year later, Forough gave birth to their son Kamyar. The couple divorced three years later, in 1955.
"Forough packed all her belongings in one suitcase and returned to her parents' home, and left all her diary to Shapour and Kamyar," Ghoghasian said. "It was hard for Forough to be away from her son. Forough rejected her father's suggestion to take legal custody of Kamyar, reasoning that the measure 'would destroy Parviz.'"
"We visited Mr. Shapour three times in those days. Mehrdad had a cordial relationship with Shapour's family," Ghoghasian recalled. "I am still in touch with Shapour's sister, Mehrdokht."
"Forough managed her family successfully during her marriage," Ghoghasian noted. "While working on her book of poems, she also made money as a seamstress to help with the family's expenses. She always said that her goal in life was not to be an excellent cook and cleaner. She had much greater aspirations, but Shapour did not want to change the status quo. In a letter to her father, Forough described Parviz as an 'irresponsible person who was easily influenced by others.' Shapour's family also played a role in their divorce."
After graduating from Khosrow Khavar High School in Tehran, Forough enrolled at a women's art academy and studied painting with Iranian masters, including Behjat Sadr (1924-2009) and Ali Asghar Petgar (1918-1992). During that time, she met celebrated Iranian poet and painter Sohrab Sepehri (1928-1980) and another notable painter Mehri Rakhsha.
"Forough and Sohrab Sepehri were friends long before she married Shapour," Ghoghasian noted. "Forough and Sohrab met when they were studying painting with Mr. Petgar. Sohrab became friends with Parviz and used to visit them at their home. Sohrab would follow up on the publication of Forough's works while she was traveling. They stayed friends until the end. Petgar's son, Nima, a celebrated Iranian painter [1945-2015], was a close friend of Kamyar Shapour."
Asked about Forough's friendship with Iranian filmmaker, poet, and journalist Fereydoun Rahnema (1930-1975), Ghoghasian explained: "Fereydoun Rahnema's sister, Farideh, was a friend of mine. She told me that Forough used to go to their house frequently. Forough and Fereydoun would sit in their garden and discuss their works for hours."
Speaking about Forough's relationships with other prominent Iranian poets and artists, Ghoghasian noted: "Forough met [revered Iranian poet] Ahmad Shamlou [1925-2000] through her friendship with his former wife Tusi Haeri Mazandarani [1917-1996]. Many poets and writers, including Shamlou, would attend the weekly literary meeting at her house. Shamlou and Forough admired each other's work. He remained friends with Forough and Parviz Shapour."
"Forough taught herself foreign languages," Ghoghasian said. "Her father urged all his children to pursue their education, stressing that they must learn a foreign language if they wished to study abroad. Of all her siblings, Forough was closest to Amir-Massoud. Later she developed a strong tie with Fereydoun. Amir-Massoud was the first to leave Iran and study in Germany. After him, Forough left for Italy in 1957, before joining Amir-Massoud in Germany."
Forough had a conversational capability of the French language. She studied English for four years and could speak, write and even translate in that language. Forough translated George Bernard Shaw's play "Saint Joan" and Henri Miller's travel journal in Greece "Colossus of Maroussi," from English to Farsi, neither of which has ever been published.
In 1964 Forough gave a remarkable performance in an adaptation of Luigi Pirandello's "Six Characters in Search of an Author," staged by prominent Iranian drama and theater director Pari Saberi (1932-).
Forough Farrokhzad left behind collections of poems, several paintings, an incomplete novel, two screenplays, many drawings, and a documentary film titled "The House is Black" (1962).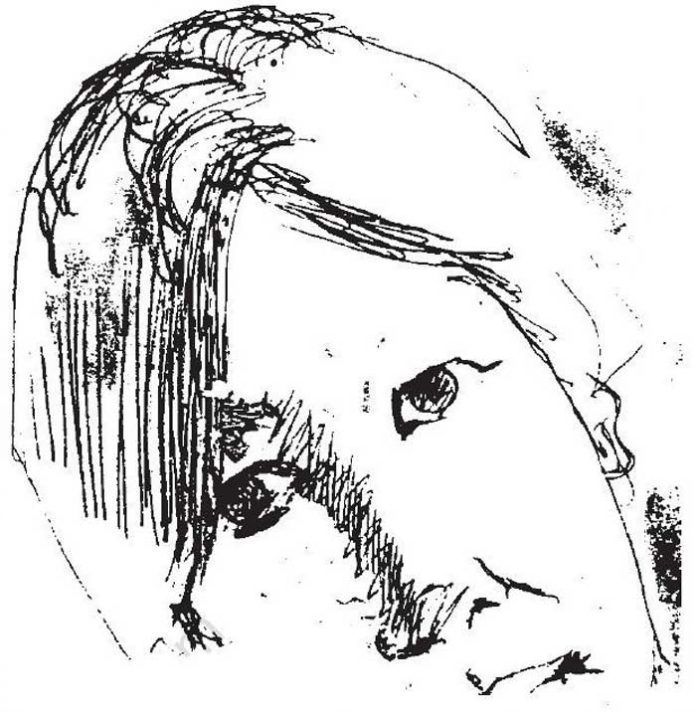 "Forough completed two drawings from her stepson Hossein and her Mother, Ms. Vaziritabar, On the Friday before her death," Ghoghasian said. "It is unclear what happened to those two drawings."
"Mehrdad told me that Forough loved Turner's paintings," Ghoghasian recalled. "Her favorite colors were purple, green, and white, and she loved classical music. Forough did not like to wear makeup and preferred a natural look. Like her sister Gloria, Forough was a smart dresser, given she knew how to sew."
This article was translated and adapted from Persian by Fardine Hamidi
---
Similar Articles to This Post