---
By Kayhan Life Staff
---
Tehran's Amirkabir University of Technology (AUT) football teams refused to play their match after university security removed female spectators from the stadium, according to social media posts by several student activists on April 27.
Football teams from AUT's schools of Computer, Mathematics, Polymer Science, and Urban Development refused to play their match after female students were kicked out of the stadium, the social media posts explained.
A social media user, Ghazal Ma'sum-Shahi (@ghazal_shahi), tweeted: "Players from the AUT's schools of Computer, Mathematics, Polymer Science, and Urban Development refused to play their match after female university students, who were there to watch the game, were kicked out [of the stadium]."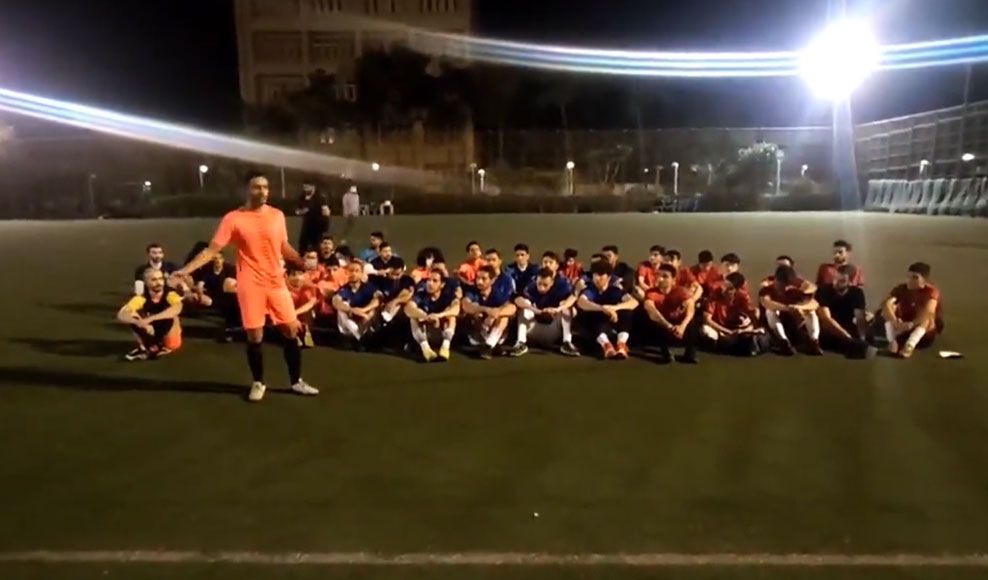 The tweet included two photographs, one showing players sitting on a football pitch, allegedly protesting the removal of the female fans from the stadium, and the other showing a group of people outside the stadium's gate.
Another social media user, Shahriyar Shams (@shahriyar_shams), tweeted: "AUT security prevented female students from watching the football game, prompting student players to cancel the match. It would be great if the [league] football players were to follow their example and not put their self-interest above their humanity."
The tweet included a video clip that showed a group of players sitting on a football pitch. One unnamed player standing in front of the others and speaking to the camera said: "They kicked our friends out of the stadium and prevented them from staying in the stadium freely to cheer for [their teams], which is nothing extraordinary. We have decided not to play and cancel the match until they are allowed into the [stadium], so they can be among us."
Footage showed the entire team and other spectators standing on the sideline clapping after the player finished his comments.
Nobel Prizewinner Shirin Ebadi Joins Campaign To Ban Iran From International Sporting Events 
Iran May Be Banned from World Football for Barring Women from Stadium Matches
AUT is the venue for this year's "Ramadan Cup" held in the second semester of the school year. Students compete in various sports, including football, men's table football, 3×3 basketball (pronounced three-ex-three), dart, girls' table football, and fitness.
Banning female fans from the sports stadium has sparked a public outcry in Iran. The International Federation of Association Football (FIFA) issued its strongest ultimatum to the Islamic Republic last year, forcing Iranian officials to ease some restrictions on female football fans.
However, recent events have shown that the Islamic Republic has returned to its old practice of discriminating against female sports fans.
On March 29, authorities in the holy city of Mashhad, the capital of the northeastern province of Khorasan Razavi, prevented female football fans from entering a sports stadium to watch a match between the Iranian and Lebanese national football teams.
Hundreds of female ticket-holders queued outside for hours in freezing temperatures before being told that they could not enter the stadium in Mashhad. The police reportedly used pepper spray and tear gas to disperse the crowd, who became angry after being denied entry into the stadium.
The incident sparked a public outcry and highlighted the ongoing discrimination against girls and women by the Islamic Republic and the country's sports administrators.
"Iranian authorities have repeatedly demonstrated that they are willing to go to great lengths to enforce their discriminatory and cruel ban on women attending football stadiums," Tara Sepehri Far, a senior Middle East, and North Africa researcher at the U.S.-based Human Rights Watch, said on March 31. "Given Iranian authorities' longstanding violations, FIFA needs to follow its global guidelines on non-discrimination and should consider enforcing penalties for Iran's noncompliance."
Many political and human rights activists have called for banning the Iranian football team from international competition until the country allows female fans to attend matches in sports stadiums freely and with no restrictions.
EXCLUSIVE- FIFA Officials to Visit Iran After Death of "Blue Girl"
Similar Articles to This Post