---
---
On Nov. 29, Iranian security forces, anti riot units, plainclothes police, and the Basij (volunteer militia) crushed a massive protest by farmers and people from all walks of life in Isfahan, injuring many and arresting scores of others.
According to eyewitness reports, at least three people died during the crackdown. Authorities confirmed that dozens of protesters suffered various injuries and many others were arrested, but omitted to mention the number and identities of those who lost their lives during the unrest.
In Isfahan, people from all walks of life started joining the protest on Nov. 19, which initially began three weeks earlier, led by farmers over authorities' mismanagement of local water resources and seasonal water rights, particularly in the fall.
Farmers from the eastern and western regions of Isfahan had traveled to the province's capital and held a massive protest in the dried-up riverbed of Zayandeh Rud, the largest river in the Iranian Plateau, which runs through the city. The crowd was chanting several slogans, drawing attention to the authorities' mismanagement of water resources.
On Nov. 21, farmers and ordinary people held a massive protest in the southwestern province of Chaharmahal and Bakhtiari, where the Zayandeh Rud river begins in the Zagros Mountain range. Farmers and local inhabitants in many regions of Chaharmahal and Bakhtiari have been struggling with water shortages. The protest continued for several days.
Meanwhile, in a show of solidarity with farmers and people in Isfahan and Chaharmahal and Bakhtiari, environmentalists and civil rights activists in the southern province of Khuzestan held a separate mass protest. Khuzestan had some of the largest water reservoirs in the country until recently, but now faces severe water shortages.
In recent years, a series of projects to transfer water from Khuzestan to central regions have dried the rivers and marshes in the province. These poorly thought-out water transfers and dam projects have caused the water levels to drop at an alarming rate in the Karun River, which is Iran's only navigable river.
The Karun River, which also begins in the Zagros Mountain range, receives tributaries such as the Dez and Koohrang rivers before passing through the capital Ahvaz and emptying into the Arvand Rud (Shatt-al-Arab).
Many cities in Khuzestan, including the capital Ahvaz, have struggled with a persistent haze caused by chronic drought and water shortage. Clouds of dust and smoke particles have destroyed some 50 hectares of farmland in the province. Lack of vegetation allows floodwaters to destroy many villages and inflict massive damages to urban centers. Khuzestan is one of the most polluted regions and is losing population faster than any other province.
Fearing a repeat of the nationwide unrest in November 2019, the Iranian authorities aim to crush any protest before it grows and gains momentum. Security police reportedly threatened, intimidated, detained, and interrogated many protesters, including farmers in Khuzestan and Chaharmahal and Bakhtiari provinces.
On Nov. 24, anti riot units in the city of Isfahan reportedly brutalized farmers and protesters in the middle of the night and set fire to their tents, forcing them to disperse. Still, many of those people held a protest the next day in the dried-up riverbed of Zayandehrood, shouting slogans against the anti riot police. Security police, anti riot units, and plainclothes Basij Forces reportedly attacked and brutalized the protesters.
According to some reports and footage posted on social media, security forces used batons, tear gas, water cannon, air rifles, and paintball guns to disperse the protesters. Nov. 26, dubbed "Isfahan's Bloody Friday," saw arguably the most violent crackdown of protesters in Iran in recent years.
Air rifles (powered air pistols, air guns), which discharge hundreds of pellets in a single shot, can inflict severe and life-changing injuries and even cause death. According to the Norway-based Iran Human Rights, "at least 30 people suffered severe eye injuries after being hit by pellets."
Nooruddin Soltanian, the spokesperson for the Isfahan University of Medical Sciences, on Nov. 27 confirmed that the university hospital had treated 19 protesters with severe eye injuries, two of whom were in critical condition. The injured were aged between 18 and 55 years, and several of them were women, Mr. Soltanian noted.
"We cannot provide any data on people injured yesterday," Soltanian added.
According to unconfirmed eyewitness accounts, at least seven people lost sight in one eye because of gunshots, and a 15-year-old boy, who lost both eyes, was suffering from severe emotional distress.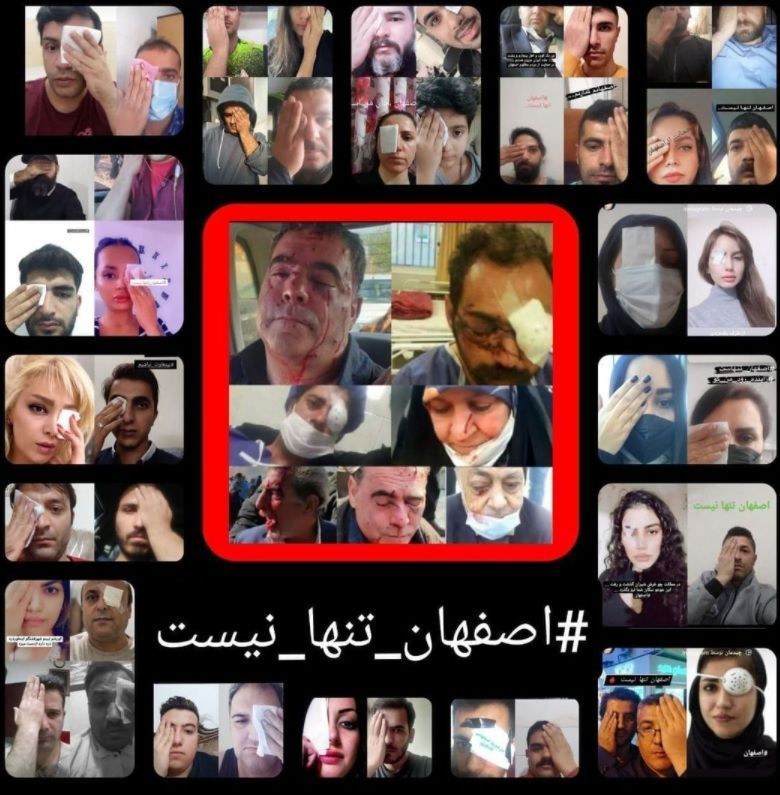 Kayhan Life spoke to a protester who said: "We had not experienced such a violent crackdown in Isfahan even in November 2019, during which one police officer would hit a protester but another one would not. However, on Friday, they aimed to crush the protest mercilessly and completely. They did not care if a protester was a man, a woman, or a young or an old person, and they attacked everyone indiscriminately."
"People are angry, which makes them fearless," the person noted. "People marched, armed only with their fists and stones. I do not think the anger towards the state will subside easily and soon. If the current protest in Isfahan stops for any reason, it will reignite soon."
"People supported each other," the person added. "I saw a schoolteacher who was shouting slogans, and he offered to put up a farmer at his house for the night when he discovered the man had traveled from Falavarjan [21 kilometers southwest of Isfahan] and had no place to stay. There was strong solidarity among people. The state has been trying to create a rift among the protesters by pitting the farmers against ordinary people."
Authorities arrested hundreds of ordinary people during the protest. Human Rights Activists News Agency (HRANA) reported that authorities had arrested 214 people, including 13 underage children.
In comments reported by the Iranian media, Brigadier General Hassan Karami, the commander of the special units of the Law Enforcement Forces (anti riot police), said his forces had arrested 67 people who had played a crucial role in the protests, adding that around 3,000 people had taken part in the unrest.
"We will deal with perpetrators of the unrest in Isfahan after identifying them," Brigadier General Second-Class Mohammad Reza Mir-Heydari, the commander of Isfahan Province's anti riot police, said.
In comments reported by the Iranian media, the head of Iran's Judiciary, Gholamhossein Ejei, said anyone who had taken part in the protest on Nov. 29 in Isfahan had "foreign affiliation" and "ill intentions," adding that the authorities "will deal decisively with all the misguided people who threaten public's safety and security."
A day later, Asadollah Jafari, Isfahan's prosecutor general, accused all those arrested during the protests as "agitators who disrupted society and attacked government agents," adding that his office had filed charges against the detainees and "will deal with them speedily and with no special consideration."
Several media outlets close to the state have claimed that most of those who took part in the Nov. 26 protest were not farmers. They echoed remarks by Mr. Ejei, labeling the protesters as "thugs" and "foreign agents" who aimed "to harm the country."
Despite the government's violent measures, people continue to protest in Isfahan. A sizable crowd staged a sit-in on Nov. 29 in Isfahan, demanding the release of those arrested during the protest.
Continued actions by farmers refute the claims by the state that most of the protesters were "agitators" and "thugs."
Former Iran Security Officials Testify at London Human Rights Tribunal 
Iran Accused of "Crimes Against Humanity" at Aban Tribunal in London
---