---
By Kayhan Life Staff
---
Iranian authorities have seized a massive quantity of narcotics and detained more than 6,000 small-time drug dealers outside high schools, universities, and higher educational institutions in the country last year, according to Naser Aslani, the undersecretary of the Drug Control Headquarters of Iran.
In comments reported by the Tasnim News Agency, Mr. Aslani said: "Police confiscated 1,690 kilograms of narcotics, rounded up 6,450 small-time drug dealers and removed 16, 630 homeless addicts from outside high schools, universities and higher educational institutions in the country last year."
"Iranian authorities seized 950 tons of illegal drugs in the country last year," Aslani noted. "Meanwhile, Afghan police seized only 300 tons of narcotics in Afghanistan last year despite the country being the leading producer of opium, heroin, and crystal meth."
"Drugs pose a greater danger to our nation than the coronavirus," Aslani warned. "Drugs enter Iran through air, sea, and land borders. Nearly 85 percent of the drugs coming into Iran are seized on land, and the remaining 15 percent is discovered at sea or air borders. While the Islamic Revolutionary Guard Corps (IRGC) controls the air and sea borders of the country, Pakistan, Afghanistan, and Iran control the vast and porous [eastern] land borders."
"Iranian authorities seized 65 percent more drugs in 2019 than they did in the previous year. It is challenging to control the borders with Afghanistan and Pakistan," Aslani explained. "Under a memorandum of understanding, the IRGC has promised to set up dozens of rehab centers in the country to house and treat 5,000 homeless addicts. Several drug treatment and rehab centers have already opened in the provinces of Tehran (north), Qom (north), Hamedan (west), and Lorestan (west)."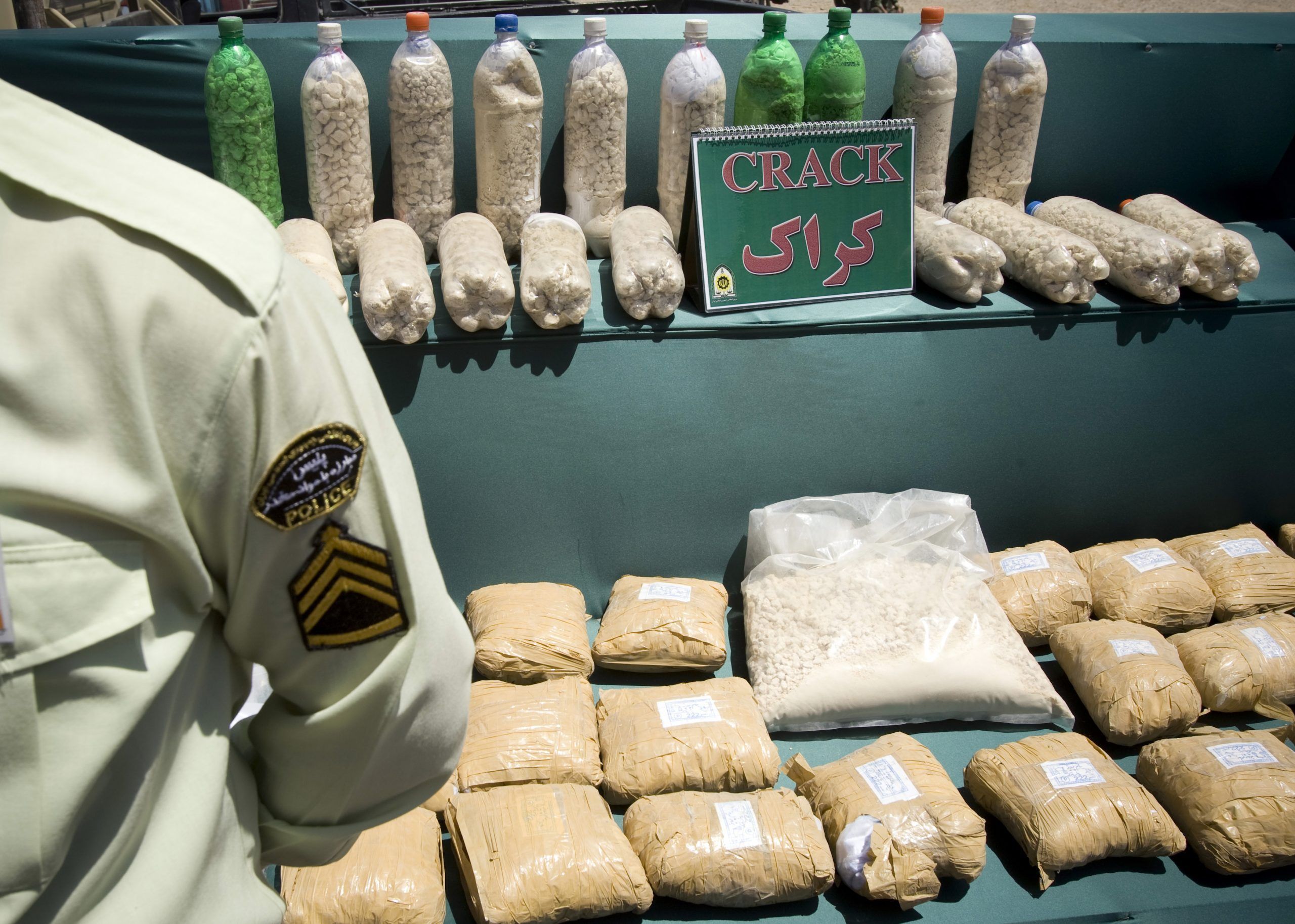 Speaking at a meeting of the Drug Control Council of Zanjan, capital of the northwestern province of Zanjan, in October 2019, Aslani said: "There are 2.8 million drug addicts in the country."
"Drug addiction dropped significantly after the victory of the Islamic Revolution in 1979 until 1988 when it rose again," Aslani noted. "The best way to fight addiction is to address cultural issues, raise greater public awareness, and develop more effective drug prevention and treatment programs."
"Drugs will enter our country even if we were to close all borders, use modern technology to fight traffickers, and coordinate efforts between the anti-narcotics police, the security forces, and the border patrol units," Aslani added. "Opium was the drug of choice in Iran in 2000. It was sold for $7 per kilogram then. The price rose to $84 per kilogram in 2003. Nowadays, one kilogram of opium sells for around $830."
This article was translated and adapted from Persian by Fardine Hamidi.