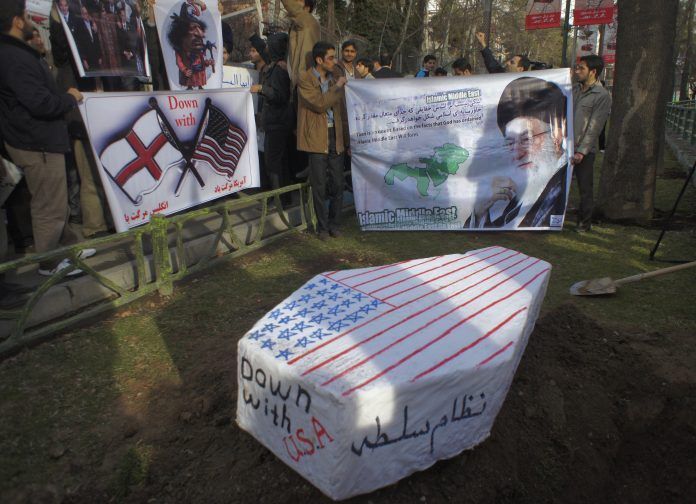 ---
By Ahmad Rafat
---
Recent rocket attacks on an American airbase in Iraq and terrorist operations in Africa are apparent steps taken by Iran to strengthen its position in any future nuclear talks with the U.S. President Joe Biden's administration, which is committed to reviving the 2015 Iran nuclear deal, known as the Joint Comprehensive Plan of Action (JCPOA).
Mr. Biden's predecessor, Donald Trump, unilaterally pulled the U.S. out of the agreement in May 2018.
Iran has a few cards in its game as it deals with the new U.S. administration. One is scaling back its commitments under the JCPOA agreement. Another is using paramilitary and Shia militia groups to destabilize the region. Many observers argue that these groups pose a greater danger than Iran's nuclear program.
A report by the Israeli military predicts Iran will use the militia groups that operate at its behest in several countries in the region to pressure the Biden administration and further its objectives. The report says Iran plans to destabilize the Middle East by mobilizing these groups further and strengthening its position in future talks with the new occupant of the White House.
According to U.S. military officials, several Katyusha rockets landed near the U.S. Embassy in Baghdad's Green Zone on Feb. 22 but caused no casualties.
On Feb. 16, some 14 rockets were fired at a military base, housing U.S. troops in Erbil, a city in the Kurdish region of Iraq, killing a civilian contractor and injuring at least five others, including a U.S. serviceman.
An improvised explosive device (IED) struck an Iraqi military convoy carrying supplies for the U.S.-led international coalition forces in the southern region of the country on Jan. 4, causing extensive damage and wounding a driver.
Iran-backed Shia militias reportedly carried out all of these attacks.
On Feb. 4, Ethiopian security forces arrested 15 people with ties to Iran who allegedly planned to attack the United Arab Emirates (UAE) Embassy in Addis Ababa. According to Ethiopian sources, the suspected terrorists had links with a group in Sudan that planned to attack the UAE's diplomatic mission.
Authorities have identified a Swedish resident, Ahmed Ismail, as the mastermind of the terrorist plot in Addis Ababa. He has since been arrested. Two other suspects arrested in connection with the same case are reportedly Iranian nationals.
Western experts have noted several similarities between the recent attacks and the bombing incident outside the Israeli Embassy in New Delhi on Jan. 29.
According to the New Delhi police, the culprits left a handwritten note saying that the bombing was in retaliation for the assassination of Ghasem Soleimani and Mohsen Fakhrizadeh.
Lieutenant General Ghasem Soleimani, the commander of Islamic Revolutionary Guards Corps' Qods Force (IRGC-QF), was killed in a U.S. drone attack on Baghdad International Airport on Jan. 3, 2020.
On Nov. 27, Mohsen Fakhrizadeh, dubbed the "father of Iran's nuclear program," was killed by unknown attackers who reportedly used a "remote control weapon" to fire on his car in Mostafa Khomeini Boulevard in Absard, 80 kilometers east of Tehran.
Mr. Fakhrizadeh was an academic physicist and a faculty member at the Imam Hossein University in Tehran and the Organization of Defense Innovation and Research founder. He was also a member of the IRGC with a rank of Brigadier General.
Many believe that Israel was behind the assassination.
Iranian Nuclear Scientist Killed by One-Ton Automated Gun in Israeli Hit – Jewish Chronicle
A little-known group called Jaish-un-Hind claimed responsibility for detonating the IED near the Israeli Embassy in Delhi. Another relatively unknown group, Saraya Awliya Al-Dam, claimed responsibility for the attacks on the U.S. military base in Iraq.
Arfan Adel, an Iraqi-based journalist, told Kayhan Life: "The Islamic Republic has invented these names for the terror cells to divert attention from the well-known groups operating under its auspices. By using these little-known groups, the Islamic Republic hopes to reinvent Kata'ib Hezbollah and Asa'ib Ahl al-Haq as political parties so that they can take part in future elections."
Kata'ib Hezbollah (Hezbollah Brigades) is part of the Popular Mobilization Forces (PMF), an Iraqi state-sponsored umbrella organization comprising some 40 militias, mostly Shia Muslim groups but also include Sunni Muslim, Christian, and Yazidi groups.
Asa'ib Ahl al-Haq, also known as Khazali Network, is an Iranian-backed Iraqi Shia paramilitary group active in the Iraqi insurgency and Syrian Civil War.
Besides the Middle East, Iran has been trying to expand its influence in Africa for many years. These efforts were significantly intensified during President Mahmoud Ahmadinejad's presidency from 2005 to 2013. His plan was to start a Cold War with Saudi Arabia by establishing a religious, ideological and economical, and political foothold in Africa.
Tehran has lost the economic war with Riyadh. Iran's trade volume with Africa has never exceeded $200 million. Saudi Arabia is the principal architect of the Red Sea Council and the Gulf of Aden, comprising Egypt, Jordan, Saudi Arabia, Yemen (the internationally recognized government), Sudan, Eritrea, Djibouti, and Somalia.
The council has practically blocked Iran's ability to enter the African market.
Countries in the Horn of Africa (Eritrea, Ethiopia, Djibouti, and Somalia) became of great strategic interest to Iran after its support for the Shia Houthi rebels in the Yemen war. Iran created a corridor through some of those countries to transport weapons and military equipment to the Houthis. One of the more notable routes was through Eritrea until 2015.
After the U.S. stopped its economic support for Eritrea in 2006, Iran stepped in to fill the vacuum by taking over Massawa Port on the Red Sea at the northern end of the Gulf of Zula and the port city of Assab (Aseb) on the southern Red Sea region.
Iran's lost control of these two strategic ports in 2015, following a massive Saudi investment in Eritrea, which weakened Tehran and Asmara's ties.
Iran has also been using Somalia to transport weapons and equipment to Houthis in Yemen. It recruits Somali fighters for the war in Yemen. Iran has established close ties with Al-Shabaab, a terrorist jihadist fundamentalist group operating in Somalia, Yemen, and Kenya since 2006.
On Feb. 12, U.S. Navy's guided-missile destroyer, the USS Winston S. Churchill (DDG81), seized shipments of arms and weapons components from two stateless dhows (sailing vessels) during a maritime security operation in international waters off the coast of Somalia.
Iran had close ties with Sudan during Omar Hassan Ahmad al-Bashir's presidency until he was removed by the Sudanese armed forces and placed under house arrest in 2019. In 2009, the International Criminal Court in The Hague issued an arrest warrant for Mr. al-Bashir on charges of crimes against humanity (murder, extermination, forcible transfer, torture, and rape.)
Iran used Sudan to transport weapons and equipment to Hamas and the Islamic Jihad of Palestine. The Israeli air force has bombed ships in Sudanese ports that were allegedly transporting weapons to Palestinian groups.
Iran has also used Nigeria to transport weapons and equipment to various groups operating under its auspices. In 2010, Nigerian police seized a ship with 13 containers full of weapons in Lagos, which reportedly were loaded onto the vessel in Iran. The Islamic Movement of Nigeria, led by Sheikh Zakzaky, is one of Iran's staunchest supporters. Sheikh Zakzaky has been arrested nine times by Nigerian authorities for inciting unrest.
In 2013, Nigerian police arrested several Lebanese nationals with alleged ties to Hezbollah, in the city of Kano, in the northwestern region of the country, and charged them with planning a terrorist attack.
A report by the U.S.-based Middle East Institute published in 2018 identified several Hezbollah-controlled military camps in Nigeria where fighters were trained to carry out terrorist operations against the interests of Israel, the U.S., and some Arab countries.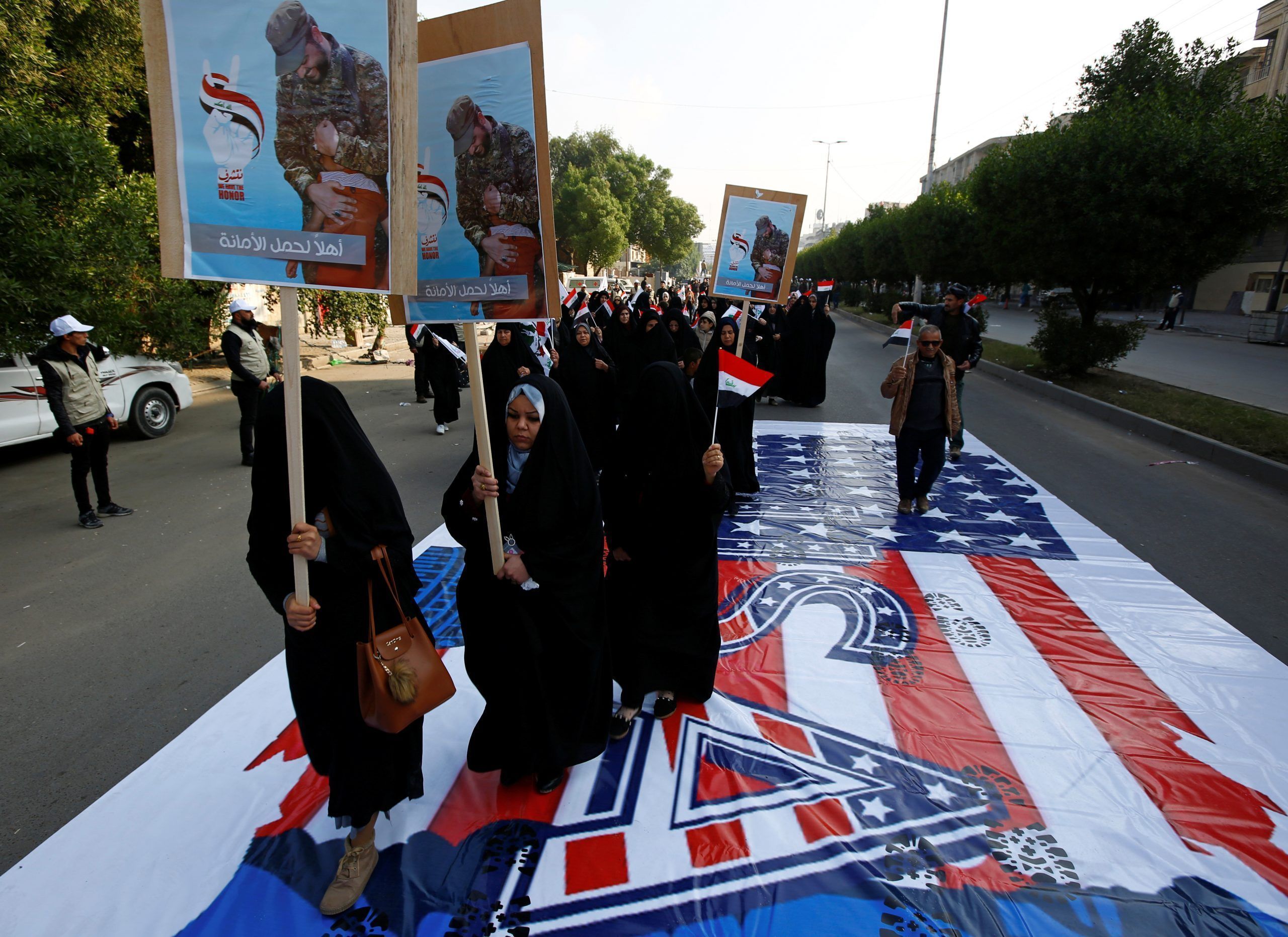 In recent years, many African countries' volunteers underwent basic training at these camps before being deployed to fight in Syria. According to intelligence sources, some 3,000 volunteers were trained at these camps before fighting in Syria. The same sources believe that around 10,000 fighters had received their basic training at these camps before heading to fight alongside Yemen's Houthi rebels.
Iran has allegedly set up paramilitary and militia groups in Sudan (North Africa), Chad (north-central Africa), Ghana (West Africa), Niger (West Africa), and central Africa to carry out terrorist acts.
According to the UK-based investigative organization, Conflict Armament Research, extremists and paramilitary groups in nine African countries were reportedly armed with Iranian-made munition, explosives, and weapons.
The explosives used to attack U.S. embassies in Nairobi (Kenya) and Dar es Salaam (Tanzania) in 1998, which killed 250 people and injured some 4,000 others, were reportedly supplied by Iran. Although Al-Qaeda claimed responsibility for these two bombing attacks, evidence revealed in a court in Washington, D.C., implicated Iran.
Iran was also implicated in the bombing of a hotel owned by an Israeli company in Kenya in 2002.
In 2016, a court in Nairobi convicted two Iranian nationals and a local driver for filming the Israeli Embassy in that city to carry out a terrorist act allegedly. The two Iranians, Sayed Nasrollah Ebrahim, and Abdolhossein Gholi Safaei, were handed a 15-year prison sentence but were freed after a few months and returned to Iran.
In the same year, Kenyan authorities arrested two other Iranian nationals filming the Israeli Embassy in Nairobi while driving in a car with a diplomatic license plate. They were subsequently deported back to Iran.
In June 2013, a Kenyan court handed life sentences to two Iranian nationals, Ahmad Mohammad and Sayed Mousavi, convicted of allegedly planning terrorist acts. An appeal court reduced their sentences to 15 years in prison. The two men, both members of the IRGC-QF, were allegedly in possession of 15 kilograms of explosives at the time of their arrests.
Iran has 25 embassies in various African countries. Tehran's influence in Africa has diminished significantly in recent years. Many countries, including Morocco, Senegal, Djibouti, Sudan, and Niger, have limited their ties with Iran.
A day after releasing its report on Iran, the Israeli military held a two-day exercise on the country's northern border to strengthen its capabilities against any attack by the Iranian-backed Hezbollah.
Speaking on the sidelines of the military drill, Israeli Defense Minister Benny Gantz warned that Hezbollah "would suffer a decisive blow" if it attacked Israel. Mr. Gantz also said that Hamas "would pay a heavy price" if it launched rocket attacks in the Gaza Strip.
In an interview with the Agence France-Presse (AFP), an Israeli military commander said that Iran was "using cheap, safe but effective methods to destabilize Lebanon, Iraq, and Yemen."
It is tricky to link Iran to these terrorist operations, given that it uses groups that claim to operate independently.
The Israeli air force also conducted a three-day drill to prepare for any conflict with Hezbollah. Close to 85 percent of the Israeli air force, including its surface-to-air missile defense units, took part in these exercises, which can strike 3,000 areas under Hezbollah's control in southern Lebanon.
Sir John Gordon Lorimer, a Lieutenant General in the British Army, who served as the Joint Chief of Operations and the Defense senior Advisor to the Middle East and North Africa, recently told the National News that Iran's increasing threat to the region posed a severe challenge to the Biden's administration.
"Iran is trying to strengthen its position before any discussions start so they can negotiate from what they perceive as being a position of strength. Their destabilizing activity across the region is all part of this," The National quoted Sir Lorimer as saying on Feb. 8.
Lorimar believes that a more significant part of Iran's strategy and tactical moves regarding any future talks with the West revolves around developing its nuclear program, boosting its ballistic missile capabilities, and using proxy wars in the region.
Several Iraqi military experts believe Iran might consider recent terrorist attacks against the U.S. interests in Iraq and Africa as successful tactical moves, given the Biden administration's reluctance to respond swiftly to these actions. Iran might also believe that the U.S.'s lack of response to such actions would only strengthen its position in future nuclear negotiations and dissuade America and its European allies from including Iran's regional activities in nuclear talks.
---
Similar Articles to This Post