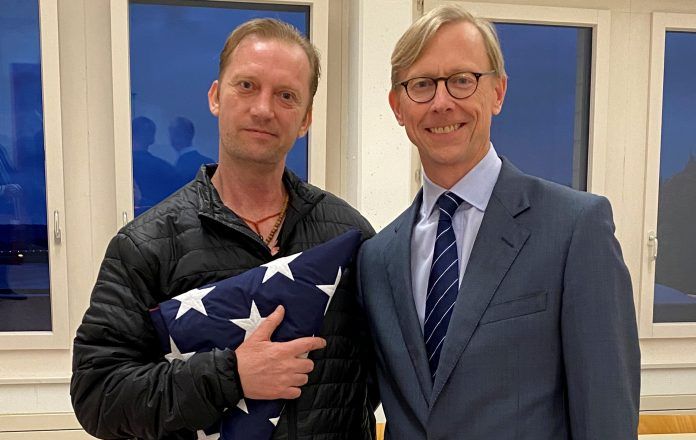 ---
---
On June 4, the Iranian authorities released Michael White, a U.S. Navy veteran who had been arrested in July 2018 in the city of Mashhad, the capital of the northeastern province of Khorasan Razavi. Mr. White had reportedly traveled to Iran to visit his girlfriend.
Three days earlier, U.S. authorities deported Sirous Asgari, an Iranian materials science professor, who had been detained in the U.S. since 2016. He had been charged with attempting to trade secret research from an American university, and subsequently acquitted in November 2019.
Following the apparent prisoner swap, U.S. President Donald Trump tweeted: "So great to have Michael home. Just Arrived. Very exciting. Thank you to Iran. Don't wait until after U.S. Election to make the Big deal. I'm going to win. You'll make a better deal now!"
"Pleased that Dr. Majid Taheri and Mr. White will soon join their families. Prof. Sirous Asgari was happily reunited with his family on Weds," Iranian Foreign Minister Mohammad Javad Zarif tweeted in English on the same day. "This can happen for all prisoners. No need for cherry-picking. Iranian hostages held in – and on behalf of – the U.S. should come home."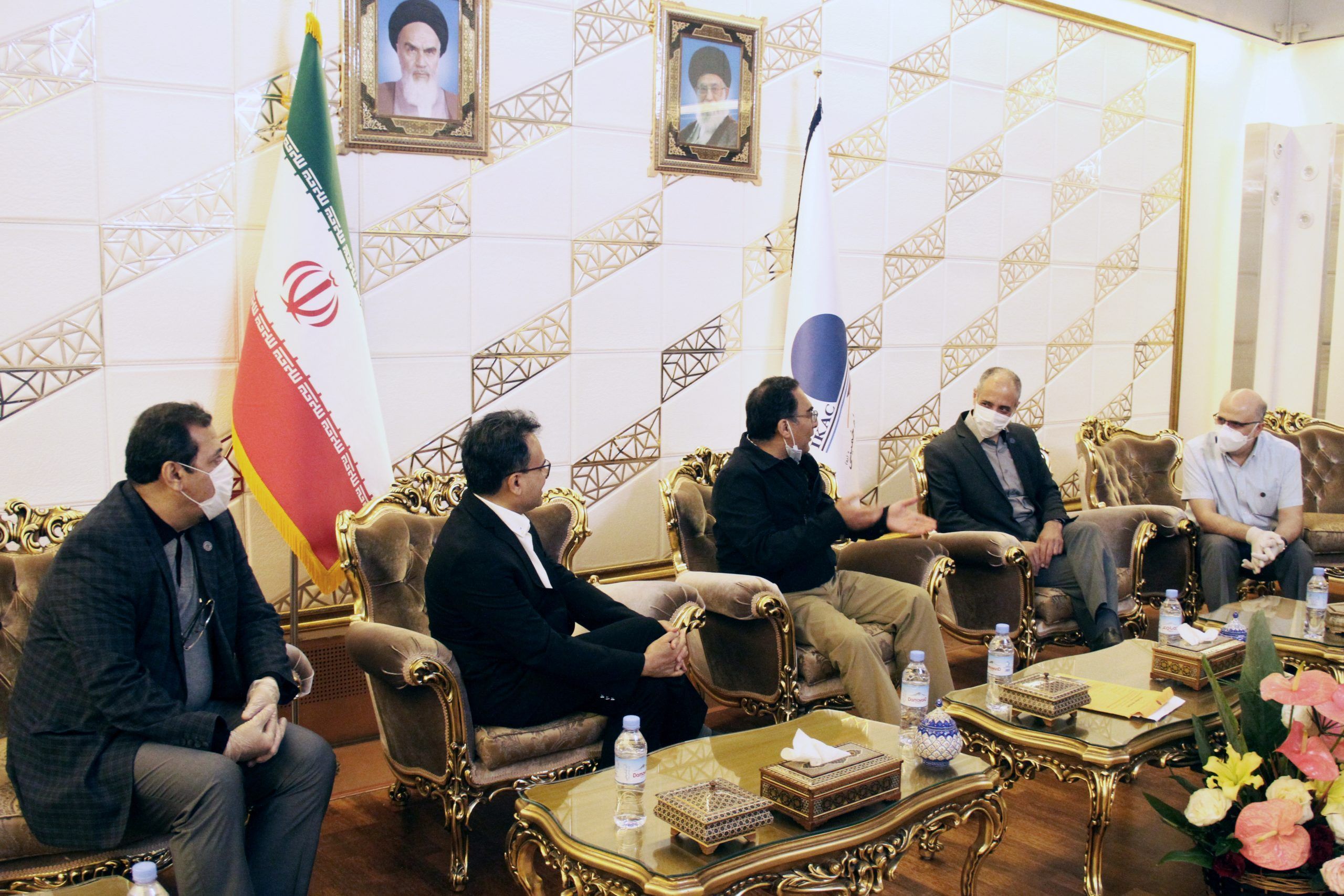 President Trump has invited Iran back to the negotiating table after each prisoner swap between the two countries in the past few years. President Hassan Rouhani, Foreign Minister Zarif, and reformists in the country have always welcomed the White House's initiatives.
However, Iran's Supreme Leader Ayatollah Ali Khamenei has vetoed the idea every time, prompting all those who favor improving ties with the U.S. to back down.
A few days after the U.S.-Iran prisoner swap, Majid Taheri, an Iranian-American accused of violating U.S. sanctions, was released from jail and allowed to return to Tehran.
In another tweet in English, Mr. Zarif said: "We achieved humanitarian swap despite your subordinates' efforts, @realDonaldTrump. And we had a deal when you entered the office. Iran and other JCPOA [the Joint Comprehensive Plan of Action, better known as the Iran nuclear deal] participants never left the table. Your advisors-most fired by now-made a dumb bet. Up to you to decide when you want to fix it."
It is unclear whether these prisoner exchanges and comments on Twitter signal a positive development in the relationship between Tehran and Washington.
In December 2019, Mr. Rouhani and Zarif were ready to resume talks with the U.S. after Iran released Xiao Wang, a Chinese-American Ph.D. candidate in the Department of History at Princeton University, who was arrested in Iran in 2016 on charges of espionage. In exchange, the U.S. freed Iranian stem cell scientist Massoud Soleimani, who had been arrested in 2018 at Chicago's O'Hare Airport on charges of violating sanctions against the Islamic Republic.
Rouhani and Zarif had to abandon the idea eventually because of mounting political pressure from the hardliners inside the ruling circle.
Iran would not have signed the nuclear deal without the approval of Mr. Khamenei. U.S. officials have repeatedly said that Khamenei is the actual decision-maker in Iran, and Rouhani and Zarif do not have any real power.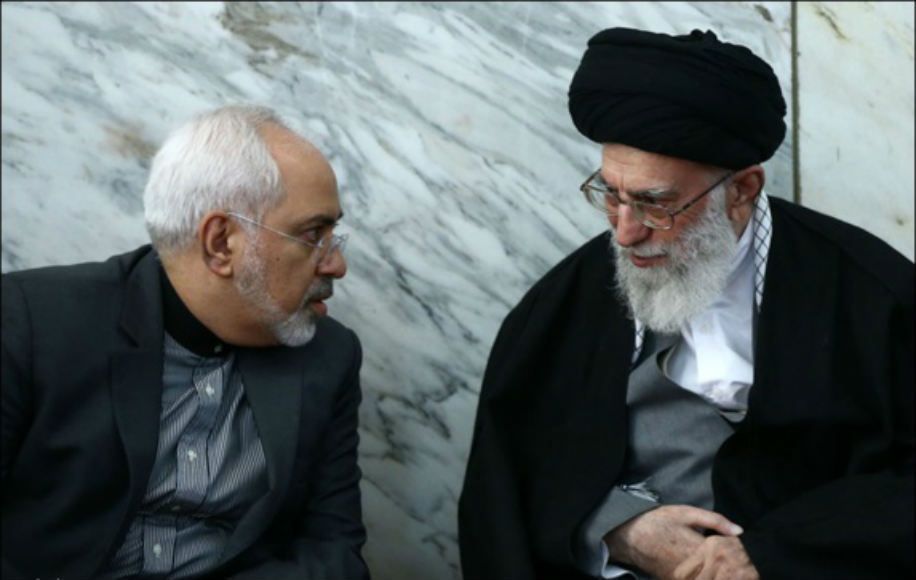 Western governments, media, and political pundits, which supported the reform movement in Iran, naively hoped that the relationship between Tehran and Washington would improve after each prisoner swap. After the signing of the nuclear deal, former President Barack Obama and Secretary of State John Kerry had adopted a more conciliatory approach towards Iran.
In 2016, the Obama administration unfroze Iranian assets. In return, and Tehran released four Iranian-American dual nationals as part of a prisoner exchange with the U.S. They were Jason Rezaian, Tehran Bureau Chief for the Washington Post; Amir Mirza Hekmati, a former U.S. marine accused of spying for the CIA; Saeed Abedini, a Christian pastor; and Nosratollah Khosravi-Roodsari.
According to Western intelligence services, Iran never ceased its secret nuclear activities during that time.
Since Mr. Trump took office, Japan and Oman have tried several times to mediate between Tehran and Washington. Every prisoner swap has also raised their hopes of better ties between Iran and the U.S.
Shortly After the release of Xiao Wang and Massoud Soleimani in December 2019, Japanese Prime Minister Shinzo Abe traveled to Tehran to meet with Khamenei to mediate between Tehran and Washington. Prime Minister Abe's trip took place only a month after the violent nationwide protests in Iran over a massive fuel price hike that left some 300 people dead and scores of others injured.
A few days before Mr. Abe's trip to Tehran, President Trump explicitly said that the U.S. did not wish to overthrow the Iranian regime. On the day of the meeting between Abe and Khamenei, two Japanese tankers were attacked in the Persian Gulf by reportedly the Islamic Revolutionary Guards Corps' (IRGC) proxies in the region.
"Iran does not trust the U.S.," Khamenei told Abe, as reported by the Islamic Republic of Iran Broadcasting (IRIB) News Agency in June 2019. "We will not repeat the bitter experience of the JCPOA, because an independent and intelligent nation would not agree to sit for negotiations under pressure."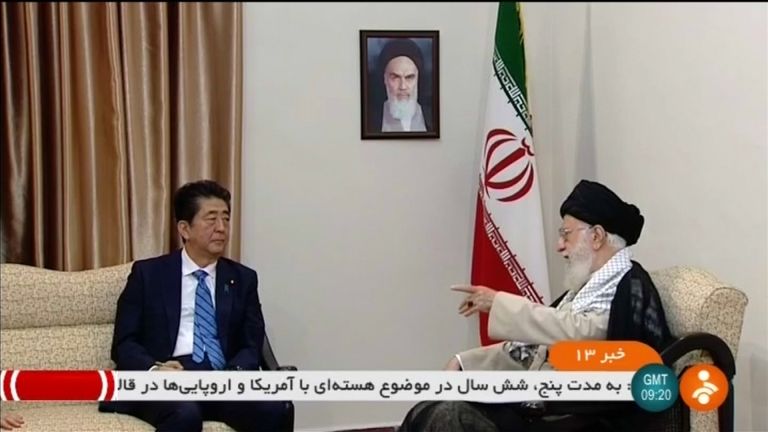 "Our key concern is not with the U.S. plan to change the regime, because they would fail even if they try. Several U.S. presidents have tried to destroy the Islamic Republic with no success," Khamenei noted. "Trump lies when he says he does not plan a regime change. Trump would do it if he could. He just cannot do it."
Subsequently, Prime Minister Abe returned to Japan empty-handed.
Even Foreign Minister Zarif, who usually takes a conciliatory approach towards the U.S., adopted a harder line earlier this year. While attending the All India Association Industries (AIAI) seminar in Tehran in January, Zarif said: "Iran would not renegotiate a new deal with the U.S. under any circumstance."
Meanwhile, the U.S. continues to impose more sanctions on Iranian institutions and officials.
Usually, a few weeks before and after a prisoner exchange between the U.S. and Iran, the pro-reform faction in the country and their lobbyists in America and Canada and several Democratic politicians in Washington would launch pro-Islamic Republic propaganda, hoping to persuade Trump to lift the sanctions and rejoin the JCPOA. Many international news networks would also give favorable coverage to the Islamic Republic.
In recent times, however, the regime's supporters have not been motivated to promote these ideas.
The supporters of the Islamic Republic cannot turn a blind eye to the regime's actions in the past few years. These include the brutal crackdown on the nationwide protests over a fuel price hike in October 2019, and the IRGC's unintentional downing of a Ukrainian passenger plane near Tehran's Imam Khomeini International Airport in January, which killed all 176 people on board. We could also cite Tehran's continued support for terrorist organizations and call for the destruction of Israel.
Iran Refuses to Release Death Toll in Recent Wave of Nationwide Protests
Meanwhile, some political observers and diplomats who previously promoted talks between Iran and the U.S. believe that the current conditions are not suitable for Tehran to resume talks with Washington. They say that the Islamic Republic must wait until the U.S. presidential elections in November, which may lead to a changing of the guards in Washington. Also, most of the senior Iranian officials who had Khamenei's ears and previously supported reopening talks with the U.S. have abandoned the idea.
Following the release of Michael White and Majid Taheri, the Secretary of the Supreme National Security Council Rear Admiral Upper Half Ali Shamkhani tweeted: "Trump's dismal record in managing international affairs, the coronavirus pandemic and race riots have forced its team to fabricate fake successes for him. The prisoner exchange was not the result of any negotiation. We will not hold any future discussions on this issue."
The Islamic Republic knows that it cannot wheel and deal with Trump as it did with Obama. North Korea has had a similar experience with the current U.S. administration.
Trump's closest international allies cannot predict his policies.
Rightly or wrongly, President Trump has shifted all diplomatic norms. He promotes America's interests at the exclusion of all else. Only world leaders whose country's interest aligns with Trump's policies do not criticize him. These include India, South Korea, Israel, Britain, Poland, and some Arab countries in the Middle East.
Before the signing of the JCPOA in 2015, the Islamic Republic and Obama administration held several secret meetings in Europe to iron out the kinks in the process to unfreeze Iranian assets in the U.S. and release of dual Iranian-American citizens held in Iran. The two governments made those deals without informing their respective nations and ignoring public opinion.
Trump's Iran policy is entirely different from Obama's. While he avoids any secret negotiations with Tehran, the Islamic Republic does not favor transparent talks.
Shortly after the release of Michael White, Bill Richardson, the former Democratic Governor of New Mexico (2003-2011), tweeted: "I am relieved that Michael White is on his way to the US from Iran. I worked on behalf of Michael's mother and John Franks for over a year to secure his release. I met with senior Iranian officials, J. Zarif and Takht-e Ravanchi [Iran's Ambassador to the UN]."
Although the Islamic Republic had initially denied any secret negotiations regarding prison exchange, the Iranian Foreign Ministry eventually admitted that it had held talks with the U.S.
In comments reported by the Iranian Students News Agency (ISNA), the Spokesman for the Iranian Foreign Ministry Seyyed Abbas Mousavi confirmed Governor Richardson's comments on the negotiations that led to the release of Michael White.
Senior Iranian officials know that most Iranians do not support the regime. The regime's primary goal is to ensure the survival of the Islamic Republic by pursuing the country's ballistic missile and nuclear program and funding Shia militias in the region. Tehran will not abandon these plans and programs. Yet curbing these activities is an integral part of Washington's conditions for resuming negotiations with Tehran.
Khamenei, however, considers Trump's conditions for restarting talks utterly unacceptable. To him, those issues are sacrosanct and non-negotiable.
Russia and China, the allies of the Islamic Republic, were the members of the P5+1 group that negotiated the JCPOA; the others were France, Britain, and the U.S. plus Germany. The U.S. withdrew from the nuclear deal in May 2018. Russia and China naturally look after their interest and do not risk supporting Iran, given stringent U.S. sanctions. Therefore, Tehran cannot depend on their support.
Iran's military presence in Syria poses a genuine problem to Russia. China and Russia had also warned that they would cease dealing with Iranian banks if it did not adopt the Financial Action Task Force (FATF) Recommendations. In February, the FATF blacklisted Iran for failing to enact the Palermo Convention, the Countering the Financing of Terrorism (CFT) and Anti-Money Laundering (AML) acts.
The FATF is an intergovernmental organization founded in 1989 on the initiative of the G7 to develop policies to combat money laundering and terrorism financing. It operates under the auspices of the Organization for Economic Cooperation and Development (OECD), an intergovernmental economic organization with 36 member countries, founded in 1961 to stimulate economic progress and world trade.
Iran Barred from International Financial System After Blacklisting by FATF
The United Nations Convention against Transnational Organized Crime (UNTOC, also called the Palermo Convention) is a year-2000 UN-sponsored multilateral treaty against transnational organized crime.
By blacklisting Iran, the FATF has forced Tehran's allies, including China, Russia, Iraq, and Turkey, and most Asian banks to stop cooperating with the country's financial institutions.
China has also scaled down its trade with Iran in recent months. The country cut its oil imports from Iran in May significantly. In January, The U.S. Justice Department filed charges against the Chinese telecom firm Huawei for "attempting to steal trade secrets, obstruct a criminal investigation and evade economic sanctions on Iran," The New York Times reported.
The Obama administration provided economic and political incentives to the Islamic Republic throughout the JCPOA negotiations. The IRGC continued its alleged illegal activities with impunity during that time. The Trump administration has, however, tried to block all those channels through its policy of "maximum pressure."
Speaking to reporters on June 5, U.S. Special Representative for Iran Brian Hook called on Tehran to release Iranian-Americans Bagher Namazi, his son Siamak Namazi and environmentalist Morad Tahbaz. Bagher and Siamak Namazi have been in prison in Iran since 2016 on charges of "colluding with an enemy state."
The IRGC's Intelligence Organization arrested Morad Tahbaz and seven other conservationists in January 2018 on "espionage" charges.
The U.S. has told Russia it plans to keep the sanctions on Iran nuclear activities, even if the resolution was vetoed at the UN. The U.S. now has the support of European governments in its efforts to apply "maximum pressure" on Tehran. The U.S. State Department and Israel have successfully pressured the International Atomic Energy Agency (IAEA) to be more vigilant in monitoring Iran's nuclear sites.
In contrast to Obama's administration, Trump and his cabinet do not accommodate the Islamic Republic.
The U.S. State Department recently blocked Iran's $5 billion loan request from the International Monetary Fund (IMF) to fight the coronavirus in the country. Under U.S. sanctions, the volume of Iran's trade with its neighboring countries has dropped significantly.
The IRGC's Qods Force (IRGC-QF) and its former commander, the late Lieutenant General Ghasem Soleimani, wielded power in the region during Obama's presidency. Its influence in the Middle East has diminished considerably since the assassination of General Soleimani by a U.S. drone attack at Baghdad International Airport in early January.
These examples show the difference between Obama and Trump's Iran policy. Trump's "maximum pressure" approach has offered negotiations or economic chaos to the Islamic Republic.
Despite severe economic hardships, most Iranians do not want the Islamic Republic system and oppose a fresh round of talks between Tehran and Washington, which they believe would allow the regime to buy some time without improving the country's conditions.
Some signs show Washington might be ready to resume talks with Tehran.
In a surprising move, Geoffrey Berman, the U.S. attorney for the Southern District of New York asked that charges be dropped against Seyyed Ali Sadr Hasheminejad, the owner and chairman of the 2019 defunct Pilatus Bank in Malta, who was arrested in 2018 on suspicion of laundering money and having violated U.S. sanctions against Iran.
Also, the FBI arrested Hossein Zarrab, an Iranian businessman, in the U.S. in 2016. The U.S. Department of Treasury accused Mr. Zarrab, who also holds Azerbaijani, Turkish and Macedonian citizenships, of violating U.S. sanctions on Iran. He was fined $9.1 million, which was subsequently reduced to $2.3 million after he agreed to cooperate with the U.S. officials.
This article was translated and adapted from Persian by Fardine Hamidi.