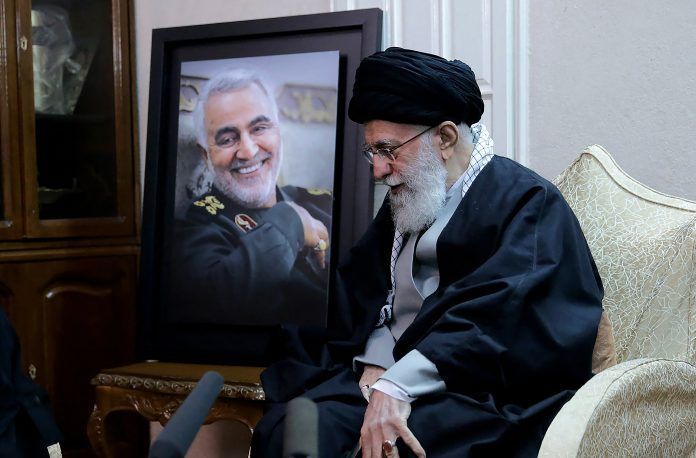 ---
By Kayhan Life Staff
---
The late Lieutenant General Ghasem Soleimani was the only person who helped Iran successfully bypass economic sanctions and sell its oil, according to Iran's First Vice President Eshagh Jahangiri.
Mr. Jahangiri made the comments in an interview with the Islamic Republic News Agency (IRNA) on March 14.
Lieutenant General Ghasem Soleimani, the former commander of the Islamic Revolutionary Guards Corps Qods Force (IRGC-QF), was killed during a U.S. drone attack on Baghdad International Airport on Jan. 3, 2020.
"After the reimposition of sanctions in 2018, we could not sell our crude and move the oil revenue around," Jahangiri said. "Sanctions did not target only oil exports, but also the petrochemical and steel industries and all other sectors which were the source of the country's foreign currency. Sanctions also affected Iran's shipping industry, which transports products, and seaports which receive and store goods."
"Subsequently, the government set up the Headquarters for Countering Sanctions within the Supreme National Security Council (SNSC). I am the head of that HQ," Jahangiri explained. "We have held a meeting almost every week since 2018. We set policies, conduct risk assessments, and discuss ways to bypass the sanctions. Anyone who wants to sell oil must understand the risks involved."
"The [HQ] must approve all requests, allowing people to sail their tankers under a different flag and sell Iranian oil at a discount. The HQ made significant decisions, which we will discuss in greater detail at a later date," Jahangiri noted. "Some people claimed the government could export the oil, but it did not want to do it. These were malicious accusations. I could not believe these people would doubt the sincerity of those of us who have dedicated our lives to the Revolution and the state. They accused us of not wanting to sell the oil."
"We asked Mr. [Bijan] Zanganeh [Iranian Oil Minister] to issue permits to these people. Mr. Zanganeh and I estimated that they could have exported 8 million barrels of oil, based on the number of permits we issued," Jahangiri said. "Everyone raised their hands, but no one could sell a single barrel of oil."
"The only person who helped us at a crucial point was General Soleimani," Jahangiri said. "During a meeting, he asked those people to stop making false claims. He told them that none of them could sell the oil."
"The Oil Ministry has performed well by devising effective systems. Iran has significantly increased its oil revenue since July. The situation is not ideal, but it has improved considerably compared to what it was previously," Jahangiri explained. "We still have problems moving the oil revenue, but we are working on it so that we can access the money. We would have been in a much better position if we could have sold as much oil in 2019 as we have this year."
"As I have said before, no country has bought oil from us officially," Jahangiri added.
Vice President Jahangiri's comments reveal the extent and scale of General Soleimani and IRGC's influence on Iranian foreign policy and on the economy.
In an interview with the Arabic-language Iranian Al-Alam TV, Hamas's former Foreign Minister Mahmoud al-Zahar said he met Soleimani during a trip to Tehran in 2006, adding that the former head of the IRGC-QF had given him $22 million stuffed in nine bags to pay salaries of Hamas members and help the people in the Gaza Strip.
This article was translated and adapted from Persian by Fardine Hamidi.
---
Similar Articles to This Post