---
By Ahmad Rafat and Firouzeh Nordstrom
---
Since the start of the 'Woman, Life, Freedom' movement in 2022, Iranian cinema has entered a new phase unparalleled in the past four and a half decades. Independent filmmakers are defying the government more than ever in the aftermath of the 1979 revolution, and many working in the Iranian film industry, especially women, are expressing their opposition to the state in various ways.
The Paris-based Iranian director and film critic Mohammad Haghighat describes the current situation as "critical," arguing that Iranian filmmakers no longer seek wealthy producers and famous actors.
According to Mr. Haghighat, these filmmakers do not comply with the Ministry of Culture and Islamic Guidance's guidelines and refuse to self-censor. Haghighat explained that independent Iranian directors focus on social issues, make the films they envision with limited resources, and do not expect to receive an official permit.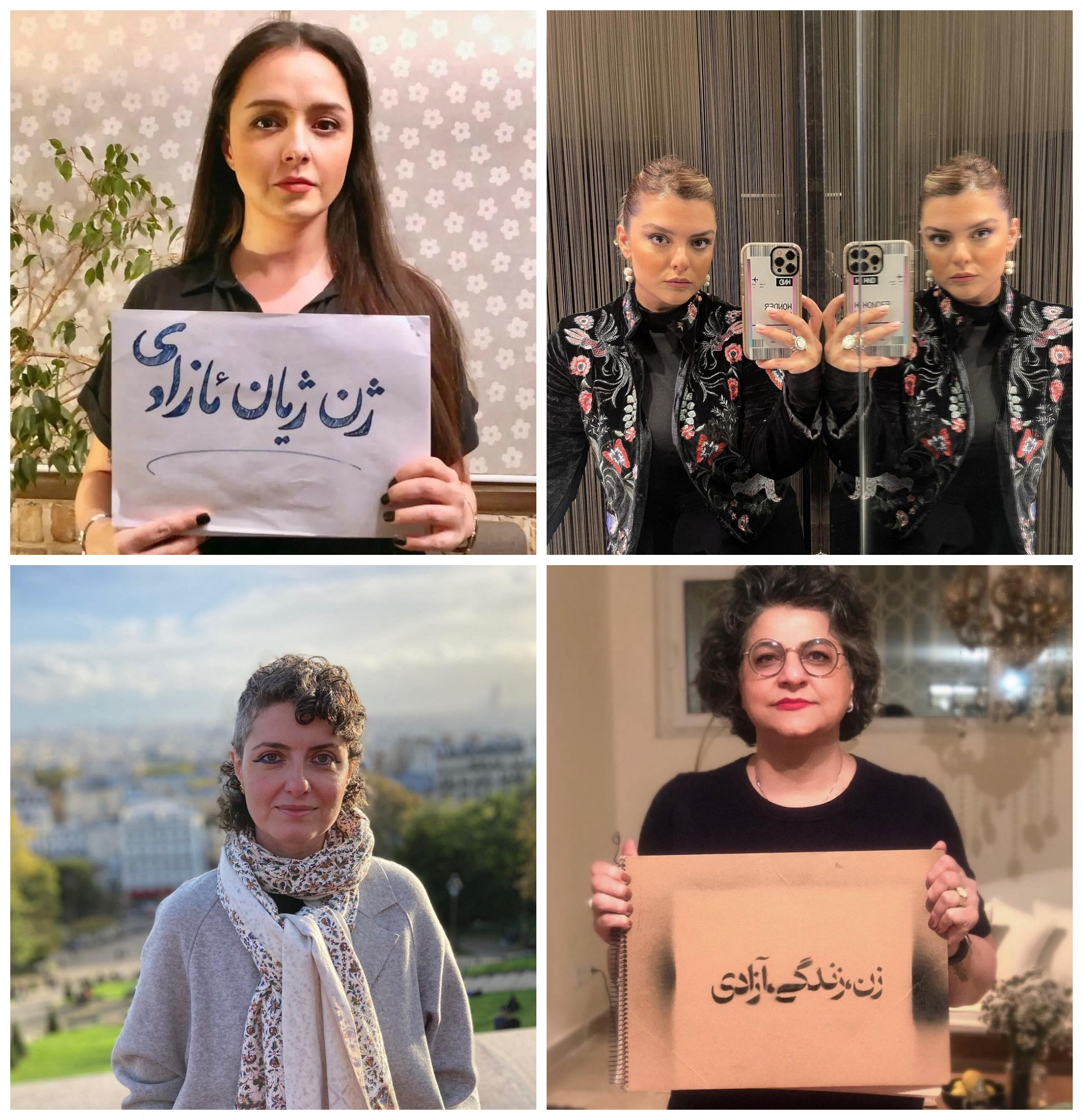 More and more films are made without permits, many of which were showcased in international festivals last year, leaving no room for state-approved cinema.
Female characters who appear in these films do not comply with the mandatory hijab, reflecting many women in real life. Many international festivals refuse to invite films funded and supported by the Iranian government.
The evolution of Iranian cinema independent from state apparatus has solicited a strong response from Iranian authorities who have summoned and interrogated hundreds of men and women working in the Iranian film industry in the past year, some of whom spend short or long periods in prison.
Speaking on the sidelines of a cabinet meeting, Iranian Minister of Culture and Islamic Guidance, Mohammad Mehdi Esmaili, warned actresses who appeared in public without the hijab following the death of Mahsa (Zhina) Amini that "those who break the law cannot work."
Mahsa (Zhina) Amini, a 22-year-old Iranian woman accused of wearing an "improper hijab," lost her life on Sept. 16, 2022, while in the custody of the Morality Police in Tehran. Her death sparked a nationwide protest that evolved into a national uprising, gaining international support with the 'Woman, Life, Freedom' slogan.
The Ministry of Culture's list of people banned from working for defying the mandatory hijab included 20 prominent actresses who cannot appear in any film that requires a ministry permit.
One of Iran's most celebrated actresses, Taraneh Alidousti, the star of Asghar Farhadi's "Salesman" — which won the 2017 Academy Award for Best Film in a Foreign Language — was briefly imprisoned in 2022.
Writing on her X account (formerly Twitter), Ms. Alidoosti said: "Unfortunately, I see no end to your rhetoric as I remain silent. If I refuse to play in your films, do not think for a second that you have banned me."
"The reason for turning my back to your cinema is that we continue to bleed because of mandatory headscarves you force us to wear in bedrooms and shower scenes in your movies. We are still bleeding. I will not wear the cloth that killed my sisters on my head," she added.
"We are in a situation that we do not even spit on the culture minister's face," Pegah Ahangarani, another Iranian actress on the Ministry of Culture's list, said in an interview with BBC Persian. "Many in the film industry and society do not recognize the legitimacy of the Ministry of Culture and the culture minister."
Another prominent and prolific Iranian actress, Pantea Bahram, said: "Being banned from working is the least of my worries."
Iranian Filmmakers, Actors Win Major Awards At Festivals In Lugano, Tokyo
The government does not target only women in the Iranian film industry. The Judiciary and intelligence agencies have harassed several male actors and directors in the past year.
For instance, Saeed Roustaei, the director of "Leila's Brothers," was imprisoned for six months for refusing to comply with the Culture Ministry's censorship demands before submitting the film to the 75th Cannes Film Festival in 2022, where it won the International Federation of Film Critics (FIPRESCI) award.
Summons, imprisonment, imposing work, and travel bans are not the only ways the Islamic Republic persecutes independent filmmakers, actors, and others involved in Iranian cinema. Raiding homes and stealing mobile phones to access stored personal information are other ways the state security and intelligence agencies harass those working in the Iranian film industry.
The suspicious and shocking death of director Dariush Mehrjui, the father of the Iranian new wave cinema, who, along with his wife, Vahideh Mohammadifar, was brutally stabbed to death at their home in a Tehran suburb on Oct. 14, has raised many questions.
Many people believe that the Iranian security agencies were behind those killings. There have been several reports about the increasing number of famous artists being threatened and mugged at knife and gun point, and having their wallets, purses, and mobile phones stolen.
Zohreh Soltanabadi, wife of the famous Iranian musician Kayhan Kalhor, posted a message on her Instagram account on Oct. 31 saying that many items were missing from their house after a forced entry.
Ms. Soltanabadi's message reminded many social media users of Vahideh Mohammadifar's last message posted on her Instagram account only a few days before she and her husband's tragic death, in which she reported being held at knifepoint by an unidentified person and their house being burgled.
Robbers reportedly broke into the house of Iranian actor Amir Nouri on Oct. 31, stealing various items, including financial documents and his safe. The thieves also vandalized parts of his house.
Writing on her Instagram account on Nov. 6, Iranian film and theater actress Mona Farjad said she and her sister, Maral Farjad (actor/writer), and several friends were attacked outside a Theran restaurant the night before by a man in a black hat and mask brandishing a machete, causing her to go to a hospital.
"I felt the true meaning of being insecure today," Ms. Farjad said.
On Nov. 4, Mohammad Hossein Misaghi, the host of the TV show "Football Bartar," had his mobile phone snatched from his hands for the second time in the past three months.
Some people believe that stealing the mobile phones of prominent public personalities is part of a deliberate and broader plan to access stored information on these devices.
A university graduate with a degree in political science who lives in the same neighborhood as the slain Mehrjui couple said: "The number of stolen mobile phones has increased in Iran significantly. In this same alley where we live, a woman was robbed of her mobile phone at knifepoint."
"Security agents do not need to use force or wield a machete," the person explained. "They summon you or raid your house and seize your mobile phone and tablet with no effort."
The graduate indicated that there was "a specific and concerted plan to frighten artists."
Similar Articles to This Post