---
By Ahmad Rafat
---
The body of the Lebanese publisher, researcher, political activist and commentator Lokman Mohsen Slim was found in his car on Feb. 4 in the Zahrani District of South Lebanon. He was reportedly shot five times in the head.
Although the identity of the person or persons who carried out the apparent assassination is unknown, the family, friends, and associates of Mr. Slim believe that Lebanese Hezbollah ordered the killing.
Slim had received several death threats and even a bullet in the post in 2019. Unknown individuals even sprayed the word 'traitor' on his house in the Haret Hreik neighborhood, south of Beirut. Subsequently, Slim released a statement in which he stated that the Secretary-General of Hezbollah Hassan Nasrallah and the Speaker of Lebanon's Parliament and head of the Amal Movement (Hope Movement) Nabih Berri were directly responsible for anything that might happen to him.
In the same year, Hezbollah supporters in Beirut set fire to a tent where Slim was scheduled to deliver a speech.
In 2004, Slim and his wife Monika Borgmann founded the UMAM Documentation and Research (UMAM D&R), a nonprofit cultural organization in his Haret Hreik neighborhood. The center frequently published reports criticizing Hezbollah and the Amal Movement and describing them as the "operational arms" of the Islamic Republic.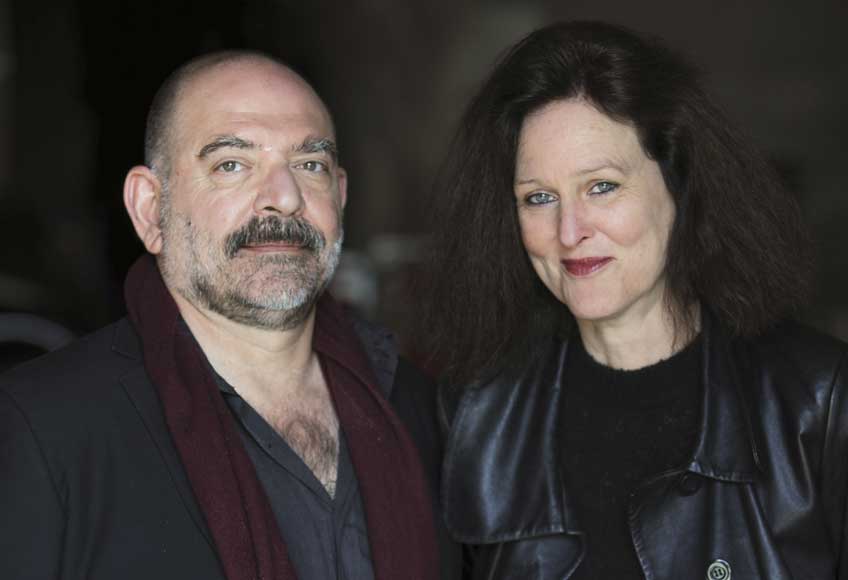 Lokman and his sister Rasha al-Ameer Slim founded Dar Al Jadeed Publishing House in Beirut in 2000, which notably translated and published a book by former Iranian President Mohammad Khatami (who was in office from 1997 to 2005).
In a recent interview with Kayhan Life, Ms. Slim said: "To know the perpetrators and culprits of his murder, all we need to do is to look at the area where Lokman was killed, and recognize who controls those districts."
The following is the text of a brief Interview with Rasha Slim.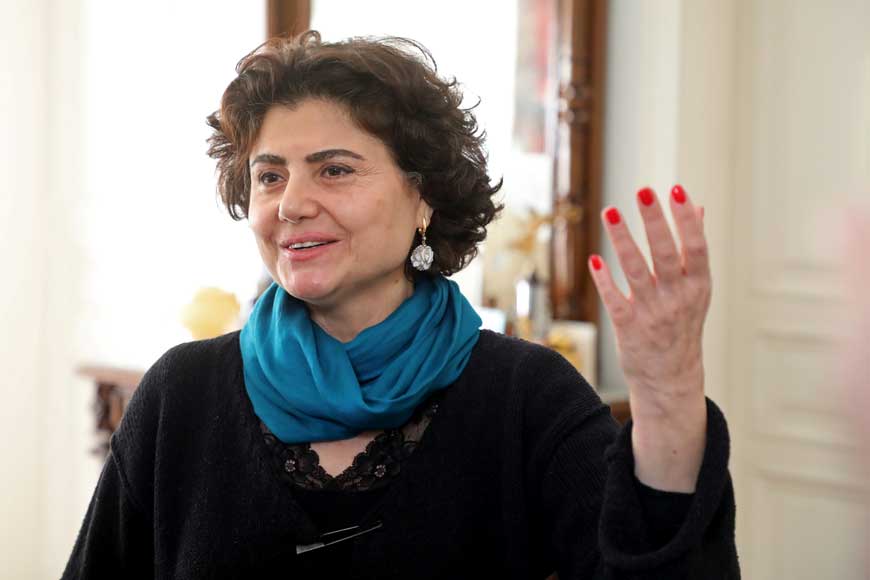 Why do you think Hezbollah killed your brother?
My brother used to say that his biggest weapon was his views. Lokman knew well that his ideas had spread beyond Lebanon and had found a global audience. As a result, those whom Lokman criticized feared him, and ultimately killed him. Lokman was a thoughtful man whose views found a large audience. He did not seek only people who agreed with him, and reached out to those whose views clashed with his, because he wanted to inform them about Lebanon's prevailing realities.
Lokman Slim was known as one of the staunchest critics of Hezbollah.
Yes. Lokman believed Hezbollah had been deeply involved in Lebanon's internal crisis for many years, and the organization was gradually collapsing. Lokman argued that Hezbollah could no longer use the fight against Israel to divert attention from its domestic problems, and that is why the organization expanded its activities outside Lebanon. By sparking conflicts in the region, Hezbollah hoped to deescalate its struggle inside Lebanon.
Why have you asked for a second autopsy to be performed at a private hospital in Beirut? What do you hope to discover that was not included in the first autopsy?
The first postmortem examination at the Sidon [Governmental] Hospital in south Lebanon left many unanswered questions. We wanted to know whether my brother was tortured before he was shot dead. We are dealing with forces in Lebanon whose goal is not to rebuild the country. They plan to turn this country into a slaughterhouse and silence everyone. They have been wrong about our family, however. Not only do we not remain silent, we speak out louder than ever before, but not in their rhetoric, which advocates death.
Why has your family called for an international investigation into Lokman's death? Don't you trust the Lebanese Judiciary?
Lokman's wife Monica Borgmann and I do not trust the judicial system in Lebanon. It is unclear which group or political party their loyalty lies with. This is not just conjecture on my part. Lebanese security and judicial agencies have not shared their findings of the incident with the public. The last statement they ever released was about the massive explosions at a port in Beirut [in August 2020]. They may have killed Lokman because he unearthed evidence relating to the blast.
What information did Lokman uncover about the incident?
During a roundtable discussion on the [Dubai-based Arabic-language] Al-Hadath TV, Lokman mentioned Syria and Russia concerning the incident. He asserted that the ammonium nitrate, which caused the blast, had been transported and stored in the port in Beirut with Russia's help. He added that the chemical compound was destined for Syria to make bombs to kill innocent people. Lokman believed the explosion at Beirut's port was a war crime, and therefore the case must be prosecuted by international courts.
What role do you think Iran has played in Lokman's murder?
I do not have any evidence linking Iran to the murder directly. It is possible that the decision was made with the knowledge of senior officials in Tehran and the country's embassy in Beirut, given Hezbollah's close link with the Iranian regime. Our appeal to international courts aims to find the perpetrators and culprits of my brother's murder. Calling for Hezbollah's disarmament and its transformation into a political party independent from any foreign influence could have been one reason behind my brother's killing.
Rasha al-Ameer Slim also noted that his brother's death had sent a shock wave through the community of journalists, reporters, and writers in Lebanon.
Writing in the Feb 5. issue of the English-language The National online daily, Middle East correspondent Aya Iskandarani wrote: "The murder of a prominent Lebanese publisher marked a resumption of assassinations against outspoken members of the intelligentsia in a country where freedom of speech has eroded over the past decade."
"A vocal critic of the group, Slim had received threats in December 2019, after its supporters accused him of promoting normalization with Israel," Iskandarani added. "His assassination is reminiscent of that of other outspoken writers and activists over the years."
A day later, Iskandarani tweeted: "Lokman Slim's killing reminded many of us of the assassinations of other writers and intellectuals over the decades, most of them murdered with total impunity."
Lokman Slim's killing reminded many of us of the assassinations of other writers& intellectuals over the decades, most of them murdered with total impunity.https://t.co/taTdGcT2Dn via @TheNationalNews

— Aya (@Aya_Isk) February 6, 2021

Hezbollah does not tolerate any criticism, especially those leveled against it by journalists and prominent Shia figures, many of whom have received death threats in recent years, including Dima Sadek, Luna Safwan, and Mahassen Moursel.
Qassem Qasir, a Pro-Hezbollah Lebanese political analyst, had to apologize for criticizing the organization for its close links with the Islamic Republic and receiving its orders directly from Iran's Supreme Leader Ayatollah Ali Khamenei.
In an interview with Lebanese NBN TV (which has close ties with the Amal Movement) on Feb. 6, Mr. Qasir said: "Hezbollah's first problem has to do with its relations with Iran. With all due respect to this relationship, which had many advantages, Hezbollah cannot keep going the way it has been. It needs to be a Lebanese political party."
"It has a religious affinity [with Iran]. That is not a problem," Qasir noted. "But it cannot continue to say that it abides by orders of the Guardianship of the Islamic Jurist [Velayat-e Faqih]. This problem must be resolved."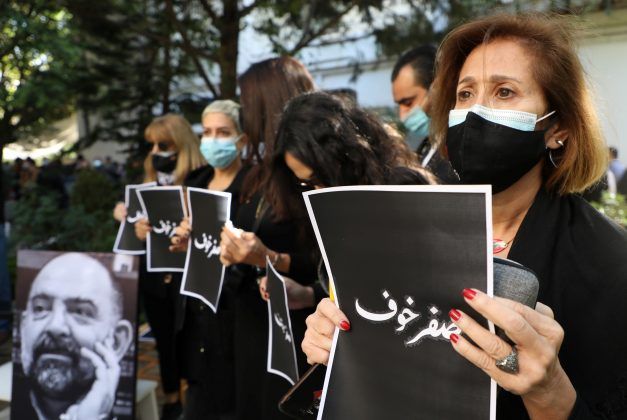 "The second problem has to do with the resistance. Hezbollah cannot continue to wage resistance all by itself. It must be incorporated within a [Lebanese] defense strategy," Qasir added.
Qasir retracted the remarks three days later and reaffirmed his support for the "Axis of Resistance."
Axis of Resistance refers to an alliance between Iran, the government of Syrian President Bashar al-Assad, and Lebanese Hezbollah.
Lebanese people have poured in the streets of Beirut and other cities since October 2019, protesting against the government's mishandling of the economy, Iran's meddling in the country's internal affairs, and Hezbollah. They have been calling for a fundamental change in the country's governing system.
This article was translated and adapted from Persian by Fardine Hamidi
---
Similar Articles to This Post