---
By Kayhan Life Staff
---
Seyyed Ebrahim Taghavi Shirazi, better known as Ebrahim Golestan — a literary figure, screenwriter, filmmaker, translator, and a pioneer of Iranian "new wave" cinema —  died at his home in Britain, surrounded by his family on Aug. 22. He was 101 years old. According to his wishes, Mr. Golestan will be laid to rest in a private ceremony.
Golestan stopped making films in 1973 and publishing any of his stories after 1995. Yet he remained a significant and relevant figure in Iranian arts and culture because of his unique artistic vision, critical views, and creative integrity.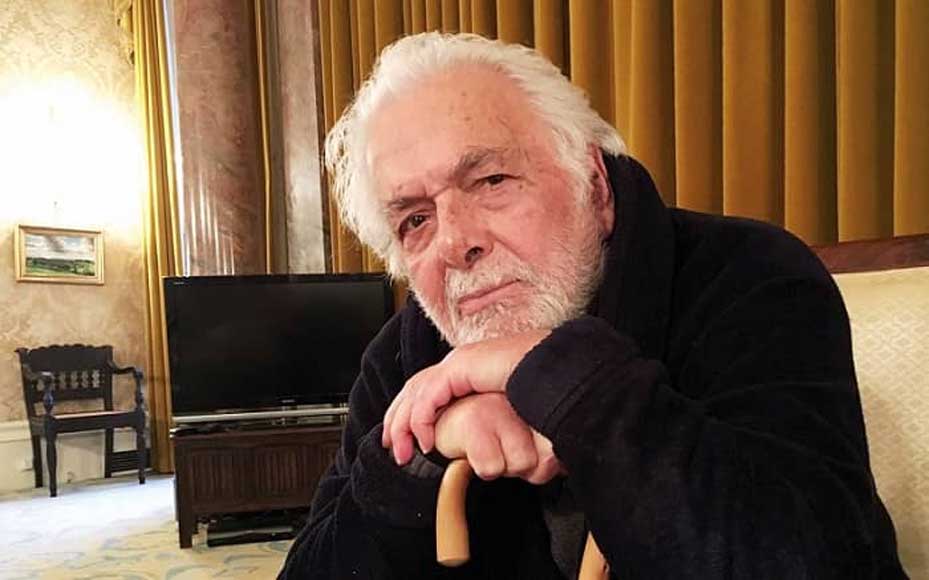 Golestan was born on Oct. 19, 1922, in Shiraz, the capital of the central province of Fars. His father was the managing editor of the Golestan newspaper in Shiraz.
Soon after enrolling in the Tehran University Law School in 1939, Golestan joined the Tudeh Party of Iran (the Iranian communist party). He eventually dropped out of university and left the Tudeh Party as well.
Golestan worked for several years for Abadan Oil Company's publication office as a "contractor for the International Oil Consortium in the news and photo department" in the southwestern province of Khuzestan.
After returning to Tehran in 1957, Golestan founded the Golestan Studio, a space dedicated to filmmaking. His first film was a documentary titled Cheshm Andazha ("Visions"), which he made for the International Oil Consortium. It took Golestan five years to complete the project, from 1957 to 1962.
The celebrated Iranian poet Forough Farrokhzad (1934-1967) edited the first part of the film, titled Yek Atash ("A Fire"), documenting efforts to battle the fires at oilfields, which blazed for 65 days.
The film won the Venice Film Festival Golden Mercury Prize for a documentary in 1961 and the San Marco Golden Lion. It was the first Iranian film to win a prize at international film festivals.
Golestan's other documentary films included his 1962 "Moj, Marjan, Khara" ("Wave, Coral, and Rock"), "The Hills of Marlik" (1963), and "The Crown Jewels of Iran" (1965).
His most notable drama films included "Brick and Mirror" (1963) and his 1974 "Asrar Ganje Dayaye Jinni" ("The Ghost Valley's Treasure Mysteries").
Golestan also produced "The House is Black," directed by Forough Farrokhzad.
The 1963 "Brick and Mirror" was his first full-length feature film. Some argue that "Brick and Mirror" was the first example of alternative or arthouse Iranian cinema.
Film historians believe that Ebrahim Golestan, Farrokh Ghaffari (1922-2006), and Fereydoun Rahnema (1930-1975) were the pioneering filmmakers who shaped and developed Iran's "new wave" cinema.
View this post on Instagram
Ebrahim Golestan's literary career started in 1946 with the publication of his collection of short stories "Dozdi Rafteha" ("The Stolen," not an official English translation). It was first published in the Tudeh Party's monthly magazine "Mardom," and two years later as an anthology titled "Azar, Mah-e Akher-e Pa'iz" ("Azar, The Last Month of Autumn").
Around the same time, Golestan began translating English-language novels, including works by Ernest Hemingway and William Faulkner.
Golestan wrote several books, including "Shekar-e Sayeh" ("Shadow-hunting," 1955), "Juy, Divar, Teshneh" ("The Stream, The Wall and the Thirsty One," 1967), "Madd-o Meh" ("Tide and Mist), 1969), "Rooster" (1995). "Neveshtan Ba Dourbin" ("Writing with Camera", 2005)
Golestan's critically acclaimed collection of stories, "Shadow-Hunting," deals with the human condition, failure and despair.
Golestan's last work, "Rooster," was published in the U.S. in 1995.
The Directors Guild of Iran released a statement on Aug. 23 eulogizing Ebrahim Golestan as a visionary filmmaker who "breathed new life into the Iranian films before the start of the new wave cinema."
"Ebrahim Golestan, a literary figure and a storyteller, was unequalled as a writer and an auteur," the statement added. "He was a documentary filmmaker who composed poems about water, fire, wind, and iron. It all happened in 100 years that passed in a blink of an eye."
Golestan was 21 when he married his cousin (his paternal uncle's daughter) Fakhri Golestan. They had two children: a son named Kaveh, and a daughter named Lili.
Kaveh Golestan, a photojournalist, died in a landmine explosion in 2003 in Iraq. Lili Golestan, a writer and translator, manages the Golestan Gallery in Tehran.
Ebrahim Golestan had a close eight-year relationship with Forough Farrokhzad.
Link to Kayhan.London/Persian
Celebrated Photojournalist Kaveh Golestan Lives On Thanks to His Photographer Wife 
Similar Articles to This Post