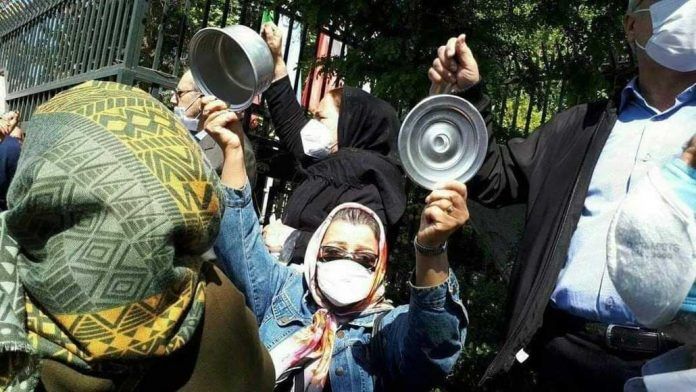 ---
---
Nationwide protests by trade unions and striking oil workers on fixed-term contracts have significantly grown since they started a few months ago. They have now spread to all segments of Iranian society.
The widespread protests are a response to the Islamic Republic's mismanagement of the economy for the past four decades, which has pushed a large segment of the Iranian population into poverty. It has created an unhappy labor force that is underpaid and works in unsafe environments with no job security or benefits.
Workers, farmers, teachers, merchants, doctors, nurses, university faculties, and taxi and truck drivers are among union members who have held protests in front of government buildings, including the Judiciary and the Majlis (Iranian Parliament).
Islamic Republic laws ban independent trade and labor unions, enabling the Judiciary and security forces to crack down on striking workers and brutalize protesters with impunity. As a result, the line between striking labor activists who demand better working conditions, and political parties and groups who oppose the Islamic Republic, has blurred significantly.
Despite being pressured, threatened, arrested, tried, and imprisoned by the security and judicial authorities, labor activists continue to challenge the ineffective structure of the Islamic Republic through protests.
Some political observers believe that labor movements and trade unions will play a critical role in dismantling the Islamic Republic, given that the state's inability to tackle the economic crisis has transformed the workers' protest into a battle for daily survival. Hunger, lack of job security, and low monthly wages — which only cover the cost of living for a maximum of two weeks — have radicalized the labor activists and their slogans.
A nationwide strike by Iranian oil workers on fixed-term contracts, which started a day after the June 18 Iranian presidential elections, continues. Dozens of companies under contract with the Iranian Oil Ministry employ some 105,000 oil industry contract workers and technicians in various parts of the oil and petrochemical industries, including facilities, drilling, storage, repair, and distribution.
Oil industry workers on fixed-term contracts have complained for many years about the discrepancy between their low wages and lack of job security, and the higher pay and benefits which their counterparts on permanent contracts receive. They staged a protest in the summer of 2020 but returned to work after the oil minister and the contractors promised to investigate their demands.
The nationwide strike by tens of thousands of workers, which started in June, quickly spread to 114 oil, gas, and petrochemical companies in 12 provinces.
Striking oil industry workers' principal demand is to have the same working hours and the same number of days off as workers with permanent contracts. The demand, commonly known as "Twenty-Ten," is the primary concern of the oil workers on fixed-term contracts. While they get six days off for every 26 workdays, workers on permanent contracts get 10 days off for 20 workdays.
Striking workers also demand that the companies which employ them pay their wages on time, provide job security, benefits, and a safe and hygienic work environment. They also want to be free to form independent labor unions.
Dozens of domestic trade unions have supported the striking workers, including the Haft Tapeh Sugar Cane Mill Labor Syndicate, the Syndicate of Workers of Tehran and Suburbs Bus Company, the Association of Retirees Union, the Coordination Committee for Establishing Trade Unions, the Union of Eslamshahr Cultural Association, the Retirees Alliance Group, the Union of Aligudarz Cultural Association, the Union of Kurdistan, Saqqez, and the Ziviyeh Cultural Association.
Meanwhile, the Islamic Republic has done its utmost to create division and discord among the protesters to undermine their resolve and unity. Companies that employ the workers have tried to force them back to work by threatening to fire them. Although some workers have returned to their jobs, most of those on fixed-term contracts are still on strike.
Workers in various parts of the Haft Tapeh Sugar Cane Agro-Industrial Complex have been on strike since July 13. The striking workers have called for the removal of Omid Asadbeigi, the majority shareholder and owner of the Haft Tapeh Sugar Cane Agro-Industrial Complex. Mr. Asadbeigi became the company's chief executive officer (CEO) after it was privatized in 2015.
Asadbeigi — who reportedly did not have the specific expertise and executive experience to run a sugar cane mill — supposedly received large cash loans shortly after taking over the company. However, he allegedly transferred the money abroad instead of investing it in the Haft Tapeh Sugar Cane Agro-Industrial Complex.
Asadbeigi has allegedly tried to sell parts of the company's land and equipment. He has reportedly failed to pay workers' wages. Former President Hassan Rouhani's government did not remove Asadbeigi as the CEO of Haft Tapeh, even though he has been implicated in a financial corruption case.
Dr. Mohammad Kaab Omair, a Majlis (Iranian Parliament) deputy representing the Shoosh electoral district in the southwestern province of Khuzestan, recently warned the government against maintaining Asadbeigi as the head of Haft Tapeh Sugar Cane Agro-Industrial Complex. There have also been unconfirmed reports about allegedly close ties between Asadbeigi and the former First Vice President Eshagh Jahangiri.
Striking workers also demand that the companies pay back wages, rehire all workers who have lost their jobs since the nationwide protests, and renew their contracts. They have called on the government to vaccinate all workers against the coronavirus quickly. They have also called on the Judiciary to dismiss charges against Farzaneh Zeilabi, a lawyer representing workers.
A protest last week by workers at the Saman Tile Company, near Borujerd in the western province of Lorestan, was a glaring example of the Islamic Republic's chronic incompetence in the manufacturing and production sectors.
In March 2015, Saman shut down its operation, citing financial difficulties, the inability to buy raw material, and the lack of government support. The company laid off some 350 workers on permanent contracts and another 120 on fixed-term contracts — all of whom had been with the company for many years.
Seven years on, these workers are still in limbo. Some workers have used their own money to resolve problems with their pensions. The company owes up to four years in back pay to some 100 workers. Another 120 workers on fixed-term contracts, who had been with the company for nearly 15 years, have received no pension and have been without jobs since the factory shut down.
Teachers are also among the protesters. Under the Islamic Republic, teachers' salaries are not adjusted according to the inflation rate and the cost of living index, making them one of the most vulnerable segments of the country's workforce. In recent years, runaway inflation of nearly 50 percent has tremendously pressured teachers who have a tough time making ends meet.
Iran's Teachers' Trade Association (ITTA) has organized several protests in recent years. However, the government has done little to raise salaries and improve work conditions for teachers.
Several teacher trade unionists, including Esmaeil Abdi, Rasoul Bedaghi, and Mahmoud Beheshti, have been arrested and imprisoned for being trade union activists.
---