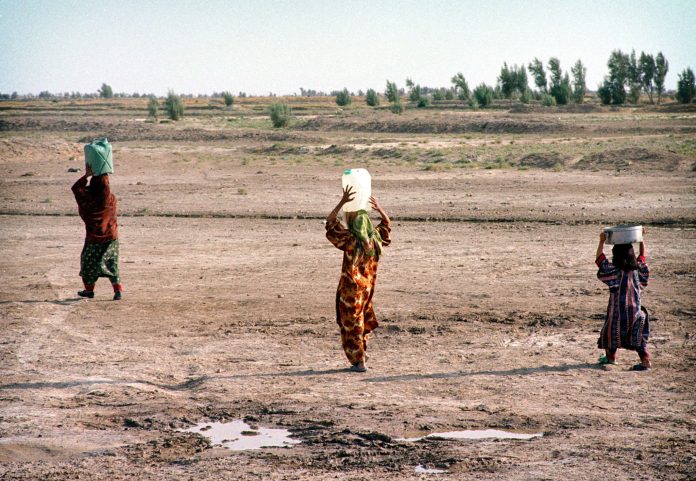 ---
By Ahmad Rafat
---
Climate change poses a clear and present danger to our planet. The situation is even more critical in the Middle East and Iran, where water shortage, drought, and forest fires have turned what previously were fertile lands into deserts.
Chronic drought has sparked conflicts over water rights in various parts of the region after several Middle Eastern countries built dams over rivers within their borders to protect their water resources.
Disputes over water rights have also sparked clashes among neighboring villages in many countries in the region, including Iran. For instance, dams built on several rivers in the northern part of the southwestern province of Khuzestan to create water reservoirs have deprived people living in the southern parts of getting access to those resources.
The situation has created severe problems for farmers in those regions, sparking widespread and bloody protests in Khuzestan in the past few weeks, resulting in five deaths, scores of injuries, and many arrests at the hands of security forces. Agriculture and dairy farming are vanishing in some parts of Khuzestan.
Iranian Documentary Filmmakers Support Protests Over Water Shortage in Khuzestan
Khuzestan's Upper Gotvand Dam is one of the principal culprits in worsening the water crisis in the province. Shortly after the construction started on Gotvand, many conservationists warned that the dam would have a catastrophic impact on the environment.
Gotvand is on Karun, Iran's second-longest river (590 miles), which rises in Zardkuh in the Zagros Mountains in the southwestern province of Chaharmahal and Bakhtiari, and passes through Khuzestan's capital Ahvaz before emptying into Arvand Rud on its way to the Persian Gulf.
Three days after Gotvand Dam became operational, a wall separating the lake from the salt deposits collapsed, unleashing an environmental disaster. The event exacerbated the environmental crisis in Iran, which has been struggling with severe drought.
Nikahang Kowsar, an Iranian-Canadian journalist who has studied geology and water crises, recently spoke to Kayhan Life about the severe drought and its environmental effects in Iran.
Mr. Kowsar said: "As many scientists have recently pointed out, we are facing an anthropogenic drought in Iran that is devastating the country because of human decisions and activities above what we used to consider as a drought that was a sign of water deficit."
"Decisionmakers have destroyed surface water and groundwater resources because of policies that encouraged excessive food production without understanding the importance and value of water," Mr. Kowsar noted. "Climate change is real and has had its effects on the region's resources, but I can state that since 1988 Iranians have been aware of changes that would affect Iran's temperature and annual rainfall and the reduction of the snowpacks in major mountain ranges."
"These dams became a source of wealth for a certain group of people and organizations such as the Revolutionary Guards'  [engineering wing] Khatam al-Anbiya Construction Headquarters and the Mahab Ghodss consulting firm [a major contractor] as well as individuals that were connected to these expensive projects," Kowsar explained. "Farmers dug more wells and gradually depleted most of the aquifers in the country, and the government shut its eyes on hundreds of thousands of illegal wells."
"Today, we know the leaders lacked an understanding of sustainable development and had no regard for environmental justice, and the impact of their policies has been destruction and water shortage," Kowsar added. "Iranian leaders have brought nothing but misery and have turned Iran into a water-bankrupt nation."
ANALYSIS: As Iran Faces "Water Bankruptcy", Drought Exposes Past Problems, Future Threats
Water shortage and drought have forced many people in several provinces, including Khuzestan, Markazi (central), and Baluchestan (southeast), to abandon their homes and farms and move to big cities in search of work. Inadequate policies and mismanagement of the crisis by consecutive governments have worsened the situation in many regions.
If the trend continues, wars over access to water resources will break out in the country and pit farmers against each other in a battle for survival. Two years ago, clashes over water rights broke out between villagers living along Zayandeh Rud in the Iranian plateau. The Syrian Civil War started as a dispute over access to water resources before growing into a full-blown war.
A conflict over water can spark a full-scale war that can consume the entire region. Ultimately, there are no winners in the water wars.
"In the last eight years, over 10 million people have moved to city margins, shantytowns, and slums, mostly due to water shortages in rural areas.This is not a good sign," Nikahang Kowsar noted. "Many farmers have fought over common water resources, and lives have been lost. On another note, whenever there is a highly expected political or an economic issue, people that have been affected by water shortage are the first to go to the streets and fight the armed and dangerous oppressors."
Water scarcity and drought are not the only problems affecting Iran. Forest fires also pose severe problems to the environment and wildlife reserves. Since April 10, fires have destroyed large sections of the forest in the Zagros Mountain range, stretching from southern Turkey to southwestern Iran and covering 30 million hectares. The government has made no serious efforts to battle the fire.
Despite repeated pleas by environmentalists, the government has dispatched no planes or helicopters to fight fires in the affected areas. In contrast, the IRGC sent firefighting planes and helicopters to battle fires in forests near Antalya and Mersin in Turkey. The measure outraged residents of Firozabad village in the Zagros Mountain range who have been fighting forest fires themselves for weeks now, some of whom have even lost their lives.
While the IRGC was busy sending aerial firefighters to Turkey, four people in the village of Chahar Gush, in the northern province of Lorestan, died fighting forest fires in the Zagros Mountain range.
Ahmad Rahmani, a member of Iran's Research Institute of Forests and Rangeland, told Kayhan Life: "Trained personnel, helicopters, and planes are necessary to fight forest fires in the Zagros Mountain range effectively, but we are forced to use untrained residents who use shovels, picks, and buckets. Individual efforts and sacrifices cannot put out fires."
Forest fires in the Zagros Mountain range have destroyed a vast number of old oak trees. There are 40 to 45 oak trees, each around 50-year-old, in every hectare of forest in the Zagros Mountain range, meaning the destruction of one hectare because of fire inflicts close to $1.6 in financial damages. A 50-year-old oak tree is worth $37,000.
Even if we were to plant a new oak tree to replace one burned in a fire, it takes some 50 years to grow. Sadly, the Iranian government does not have a coherent plan to replenish the areas burned in the Zagros Forest fire.
The Zagros Mountains Forest steppe spans 11 provinces, mainly through the country's western border, and is home to 400 plant and wildlife species. With an annual rainfall of 800 millimeters, the steppe provides 40 percent of the country's water supply.
The steppe plays a significant role in maintaining the country's ecosystem, given that only 7 percent of Iran's land area is forested. It is also home to varieties of species of oak that support a wide range of wildlife, including wolves, leopards, and Persian fallow deer.
Some 15 million people live along the Zagros Mountains Forest steppe. Close to 19 million farm animals graze in the Zagros Forest, providing livelihoods for 400,000 families, many of whom have been forced to flee their homes and farms because of raging fires.
---