---
---
Gender apartheid in countries such as Iran should be a recognized crime under international law, according to the United Nations Special Rapporteur on the situation of human rights in the Islamic Republic of Iran, Dr. Javaid Rehman.
Rehman made the comment at a June 22 event held in London by the Baha'i International Community (BIC) to commemorate the 1983 execution, of 10 Baha'i women in Iran. The women were killed for refusing to renounce their faith.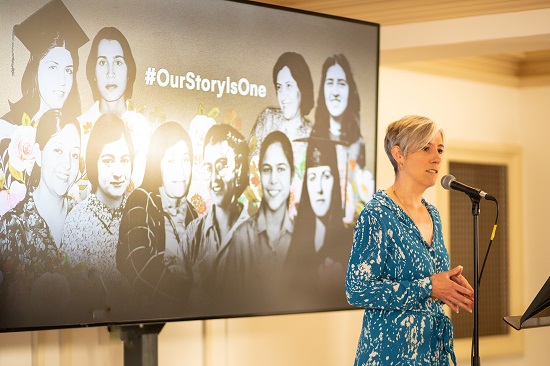 The event at the Methodist Central Hall in Westminster which marked the 40th anniversary of the execution of the 10 women — including one 19-year-old girl — incorporated speeches by prominent parliamentarians and human rights advocates, as well as music by performers and artists from around the world. It was also held to launch BIC's "Our Story Is One" campaign, which it said linked "the struggle for rights for Iranian women and girls to this day."
The event was moderated by Padideh Sabeti, the director of the Office of Public Affairs for UK Baha'is. Speakers included:
Kayhan Life Editor Nazenin Ansari;

Baha'i International Community Representative to the United Nations Simin Fahandej;

The UN Special Rapporteur on the situation of human rights in the Islamic Republic of Iran, Dr. Javaid Rehman;

The UK Prime Minister's Special Envoy for Freedom of Religion or Belief, Fiona Bruce;

The UK Deputy Liberal Democrat Party Leader Daisy Cooper;

UK lawmaker and Democratic Unionist Party member Jim Shannon;

Attorney and member of the Permanent Court of Arbitration at The Hague, Payam Akhavan;

Actor and comedian Omid Djalili; and

Nassim Papiyyani, a spokeswoman for Amnesty International.
Nationwide anti-government protests in Iran sparked by women erupted in September following the death of 22-year-old Kurdish-Iranian Jina Mahsa Amini while in police custody. Amini was detained for allegedly failing to wear her headscarf in accordance with compulsory hijab laws. She died of head injuries while being questioned by Iran's morality police.
Iran ranked in the bottom five countries of the latest annual gender-gap index published in July 2022 by the World Economic Forum (WEF).
"What is happening today in Iran is in fact gender apartheid, and has taken place for over 40 years. The international community must recognize the crime of gender apartheid. It ought to be a crime in international law, and all perpetrators of this crime must be held accountable," Rehman said.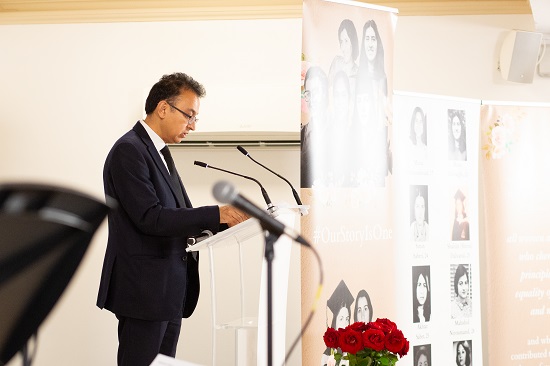 The Islamic Republic, which was established in 1979, has been routinely condemned by the UN, and international human rights watchdogs for its violent suppression of protesters, including the use of the death penalty to quash protests and intimidate women and minority groups. Amnesty International called the practice "a horrific state-sanctioned killing spree under the guise of judicial executions," in a June 2 press release.
More than 200 Bahai's have been executed since 1979, according to a report by BIC. Iran's constitution does not recognize the Baha'i faith and considers its members to be "unprotected infidels" according to a 2019 UN report by Rehman. There are more than 300,000 Baha'is in Iran, making the group the largest religious minority in Iran.
Amnesty International, the UN, the US and the European Union have stated that Baha'is in Iran are regularly subjected to arbitrary arrests, false imprisonment, torture, and unlawful executions. Iran has also been accused of the confiscation and destruction of Baha'i land and property; denial of education, employment and government benefits; and denial of their human rights.
In a speech, Ansari described the Iranian government's resort to executions. "Some 6,000 people were executed in 1980 alone in Kurdistan," she said. "Since 2010, there have been at least 7,326 executions. And the executions go on."
"Today our story is told to the roar of Zan, Zendegi, Azadi, woman, life, freedom, and no to the Islamic Republic. The courage and the determination of the youth, their resilience, the resilience of those on the streets in Iran. That is our story," Ansari added.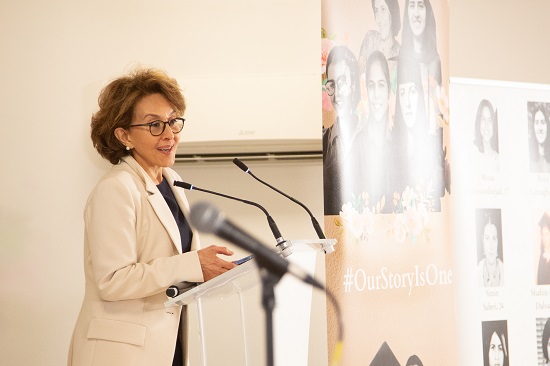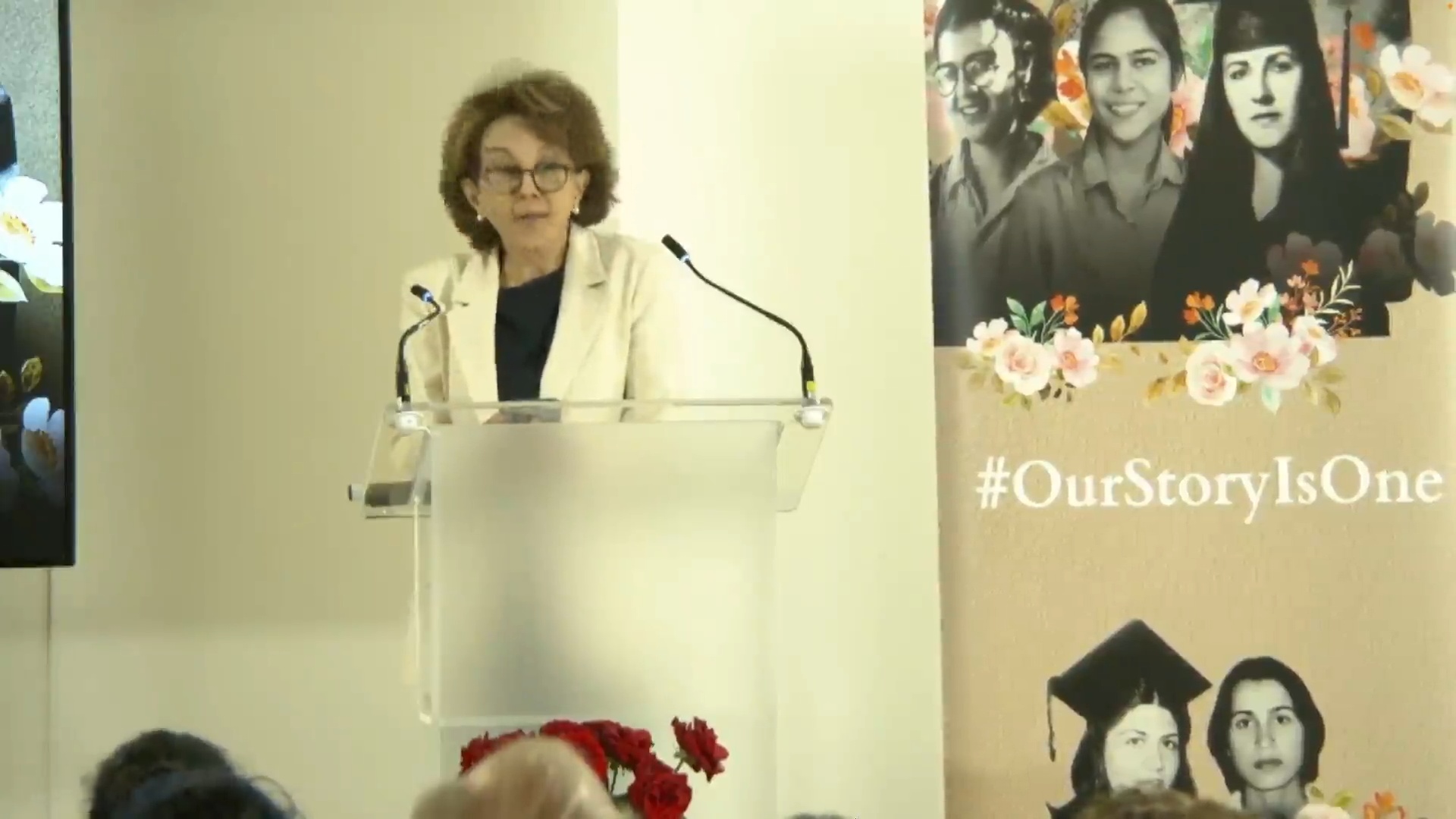 Cooper said the UK's Liberal Democrat Party had asked the British government to establish an asylum scheme for women and LGBTQ+ individuals fleeing Iran. It also tabled an amendment to a bill in the British parliament which would prevent assets of Iranian officials from circulating in the UK.
The Liberal Democrats have also asked Westminster City Council to rename the street where Iran's embassy is located after Mahsa Amini. "The Liberal Democrats stand with the Iranians in their call: Zan, Zendegi, Azadi," Cooper said.
"We call upon those states where Baha'is have been discriminated against, persecuted, tortured, even killed," Bruce said. "We call on these states to ensure that Bahai's can earn a livelihood on an equal basis to their neighbors, that Bahai's can access university and complete their degrees, that the property rights of Bahai's are respected, that confiscated assets and property are returned to them. That bahai's are allowed to reply privately and publicly to accusations made against them, and the beliefs that they hold."
"The ongoing widespread and systematic attack against the Baha'i minority is part and parcel of the crisis of systematic impunity that has long prevailed in Iran, whereby crimes under international law and other serious human rights violations by the Iranian authorities go uninvestigated and unpunished," Papiyyani said. "The hurt and destruction costs to society in Iran by not only these cruel violations to the right to life of the 10 Baha'i women, but also crimes under international law and other serious human rights violation is an open wound that cannot begin to heal if the crisis of systematic impunity in Iran remains unaddressed."
Speaking about the 10 Baha'i women who were executed, the actor and comedian Djalili, who is a practicing Baha'i, said, "These people were killed because they believed in personal transformation. And they believed if you personally transform, society will transform. And that when society transforms, people will transform and we will get together, better. This is what they died for."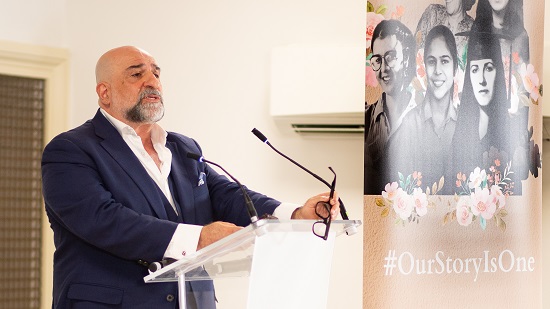 "Now, 40 years later, a regime that did its utmost to extinguish the lives of these innocent people has failed, because we are here, we are defined, and for every one of those precious lives that was extinguished thousands have arisen to speak truth to justice," Akhavan said.
Describing the impact of the executions on Iranian human rights campaigners, Fahandej said:, "The Iranian government may believe that by executing innocent individuals for their beliefs it can silence them, but indeed as this event shows today, their voices actually multiply and their legacy continues and becomes inspiration for millions."
The names of the 10 Baha'i women who were executed are: Mona Mahmoudnejad, 17; Roya Eshraghi, 23, who was executed with her mother, Ezzat-Janami Eshraghi; Simin Saberi, 24; Shahin (Shirin) Dalvand, 25; Akhtar Sabet, 25; Mahshid Niroumand, 28; Zarrin Moghimi-Abyaneh, 29; Tahereh Arjomandi Siyavashi, 30 whose husband Jamshid Siavashi was executed two days earlier; Nosrat Ghufrani Yaldaie, 46, whose son Bahram Yaldaie was executed two days earlier; and Ezzat-Janami Eshraghi, 57, along with her daughter Roya, 23, whose father was executed two days earlier.
---
 Video recording provided by UK Bahá'i Office of Public Affairs.
---
OPINION: Iranian Baha'is Deprived of Electing International Leadership  
Similar Articles to This Post