---
By Ahmad Rafat
---
Two-day summit attended by senior representatives from more than 60 countries titled "Ministerial to Promote a Future of Peace and Security in the Middle East" concluded its work on February 14 in Warsaw. The first evening of the conference provided an opportunity for delegates to meet and pose for a group photograph and attend a formal dinner hosted by Poland's President Andrzej Duda.
Heightened security measures implemented at the airport and public places disrupted normal lives of Warsaw residents, who had to wait for hours in subzero temperatures at various intersections blocked by motorcycle police to allow motorcades of delegates to make their way to the former Royal Palace where U.S. Vice President Mike Pence delivered the opening speech of the conference.
U.S. Secretary Mike Pompeo, British Foreign Secretary Jeremy Hunt, United Arab Emirates (UAE) Minister of Foreign Affairs and International Cooperation Sheikh Abdullah bin Zayed Al Nahyan, and the former Saudi Minister of Foreign Affairs Adel bin Ahmed Al-Jubeir were among a group of delegates who on February 13 took part in a closed-door discussion on the war in Yemen.
Yusuf bin Alawi bin Abdullah, the Sultanate of Oman's Minister Responsible for Foreign Affairs, told reporters: "This conference can usher in a new era for the Middle East which has endured much pain and suffering in recent years."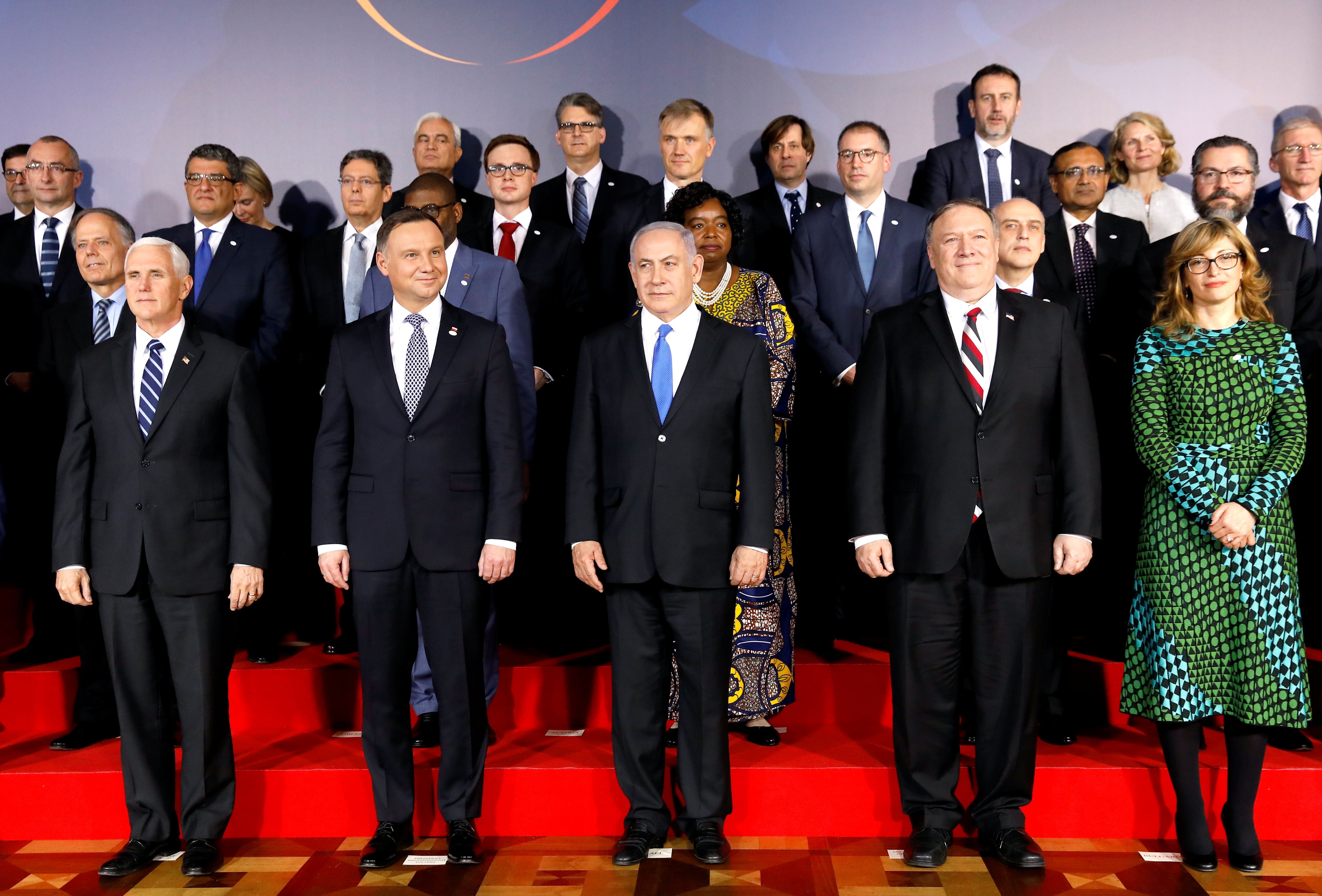 Israeli Prime Minister Benjamin Netanyahu told Polish media: "This conference has created a strong regional coalition against the Islamic Republic of Iran. Four out of five Arab foreign ministers who addressed the conference spoke strongly against Iran. They were as clear as possible about the issue, and Israel's right to defend itself against Iranian aggression. They mentioned the Palestinian issue, saying it would not be solved as long as Iranian aggression continues."
Some unconfirmed reports suggested that in an interview with an Israeli TV station, Mr. Netanyahu had hinted to a possible "war" against Iran. According to Israel's Foreign Ministry spokesman Emmanuel Nahshon, however, Netanyahu used the word "confrontation" and not war. Under the current tense political situation misinterpretation of a word could have dire consequences.
Brian Hook, director of planning and senior policy advisor to Secretary Pompeo, and President Donald Trump's son-in-law Jared Kushner were other members of the U.S. delegation to the Warsaw summit. Many of the European signatories to the 2015 Joint Comprehensive Plan of Action (JCPOA), better known as the Iran nuclear deal, had boycotted the conference. China, Russia, Turkey, Palestine, and Qatar had also declined invitations to attend the summit, citing as reasons Jared Kushner's "biased views in favor of Israel in the Middle East peace negotiations."
Two Iranian opposition groups held rallies at the conference venue on February 14. The monarchists who had traveled from various European cities to Warsaw gathered at an entrance to the building. They were holding up pictures of the former Crown Prince Reza Pahlavi, the eldest son of the late Mohammad Reza Shah. Some demonstrators were chanting: "We will fight, we will die, we will reclaim Iran." Others were shouting in English "change, change, regime change."
Footage shows people wrapping themselves in the pre-Islamic Republic Iranian flags and declaring that Iranian people "had no problem with any nation and were not against any country." Others were carrying placards written in English which said "Reza Pahlavi For Freedom in Iran."
The People's Mojahedin of Iran (MKO) held a separate rally at a different gate to the building. Former New York Mayor and President Trump's lawyer Rudy Giuliani spoke at the MKO demonstration. According to U.S. media, Mr. Giuliano is paid thousands of dollars for his frequent appearances at events sponsored by the MKO. In his speech to the crowd in Warsaw, Giuliani said he was there to support Maryam Rajavi not as a representative of the US government but as a private citizen. He said he hoped for a day when the MKO would come to power in Iran and establish democracy in the country.
---
Translated from Persian by Fardine Hamidi
---