---
In 2007, I travelled to Iran from Australia in order to engage in Islamic Studies. I was publicly ordained as an Imam in 2010 in the Holy City of Qum, and relocated to Iraq in 2013 to continue with my advanced Islamic studies until 2015.
During my seven-year journey in Iran, I experienced many situations, and witnessed things which eventually changed me as a person. I have spoken in much detail on my experiences within my recently released book 'The Tragedy of Islam: Admissions of a Muslim Imam'. Here however, I wish to shed light on a chapter of my life among Iran's most notorious Ayatollahs: Makarem Shirazi.
In the years 2011-2012, Shirazi's office assigned me as the Head of the English Department. I was responsible for the translation, editing, and publication of Makarem's books and lessons, along with what was published on his website and social media accounts. I worked with two other colleagues, both named Mohammad, which made us three Mohammads. One day a caller to the department requested to speak with Mohammad, and all three of us went to the telephone at the same time.
Grand Ayatollah Makarem and his son Masoud saw that I wasn't only a translator who translated from Arabic to English, but also a scholar who eloquently crafted the context of his works in English, as I understood the subject matter. Other translators would translate word for word without giving too much importance to the fluency or context of the subject. He was very impressed with the feedback he received from his English-speaking followers on my work.
Makarem placed me on an extremely high salary compared to all of his other employees. I was possibly the second highest paid individual throughout his entire jurisdiction. I was receiving approximately $500 a fortnight, with gifts of $1000 on celebration days. Even though $500 a fortnight doesn't sound like a lot of money to those living in the West, it is a very large amount compared to the student allowance granted by the university, which equated to less than $30 a month. Ayatollah Makarem wanted to buy me as a person, and he saw me as a potential asset for his empire. The following are a few electronic payment receipts sent to my email from the headquarters of Grand Ayatollah Makarem Shirazi.
---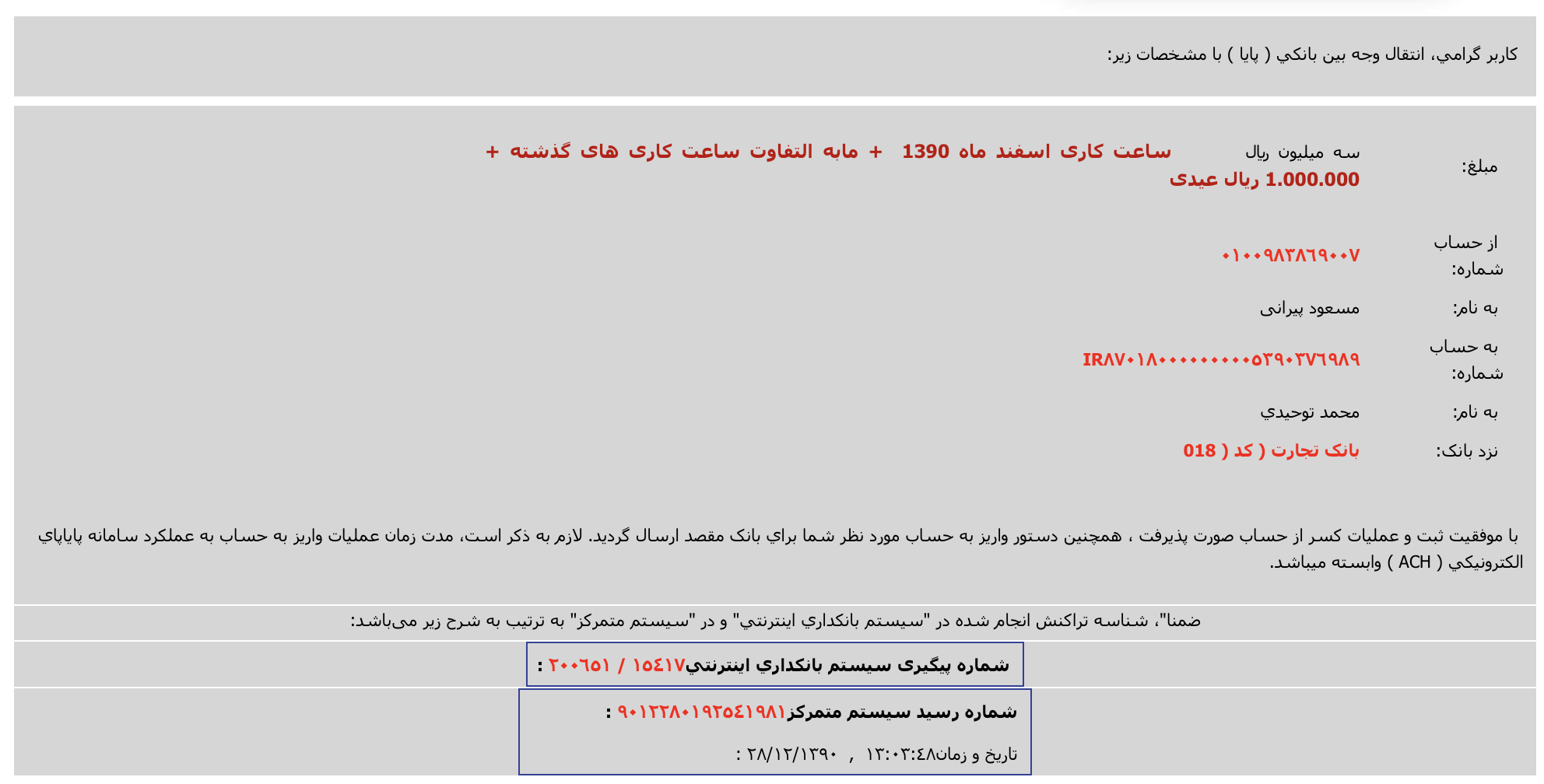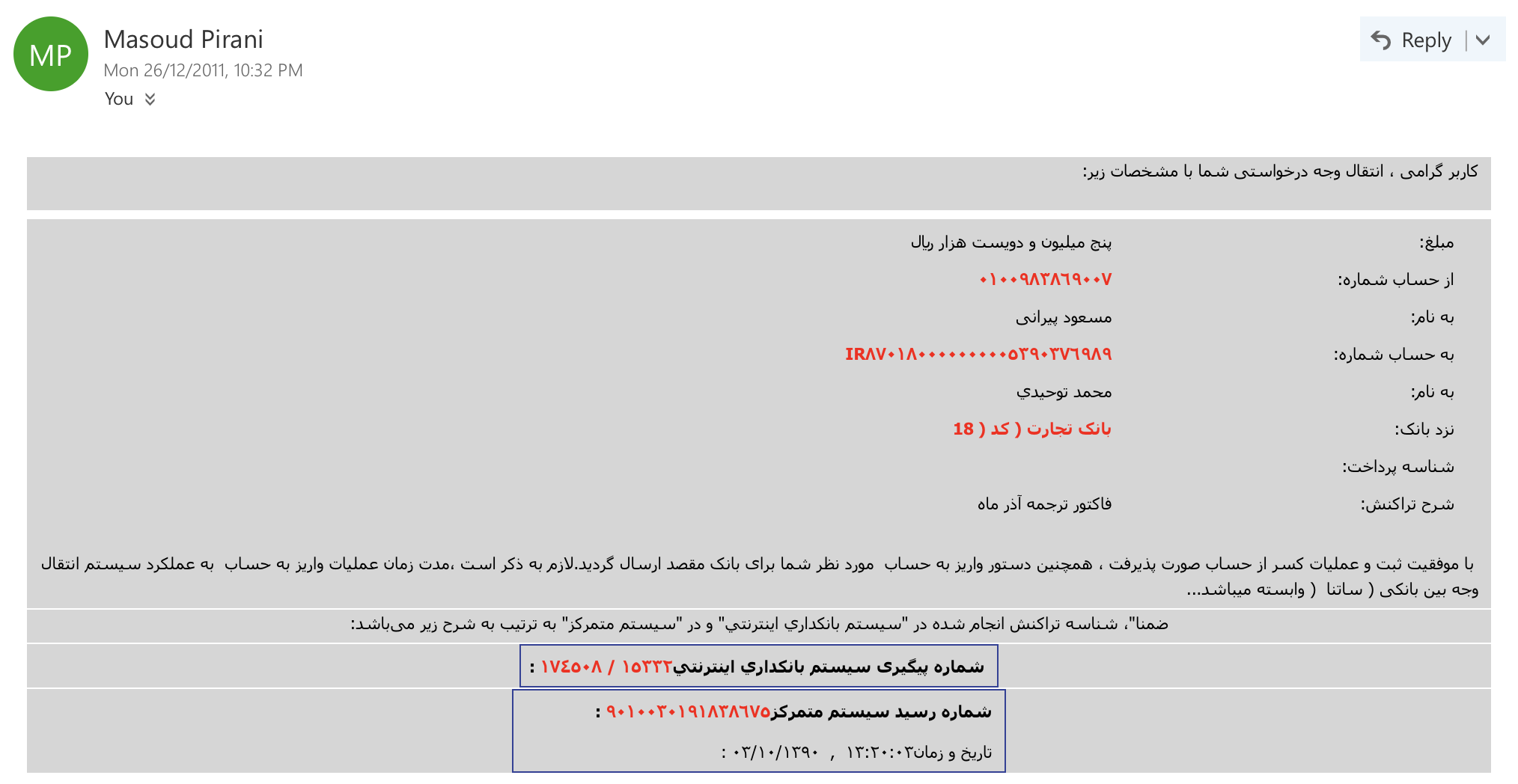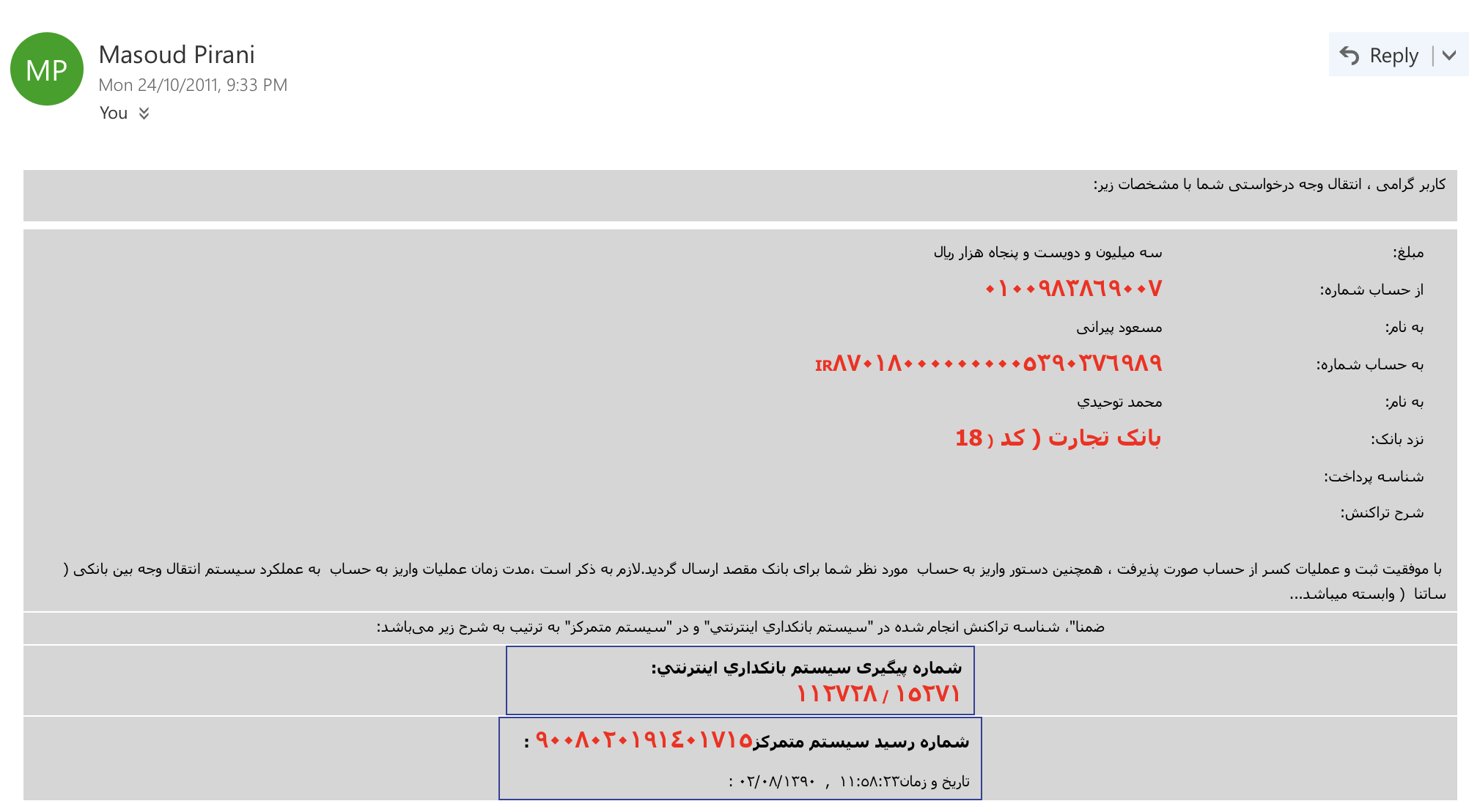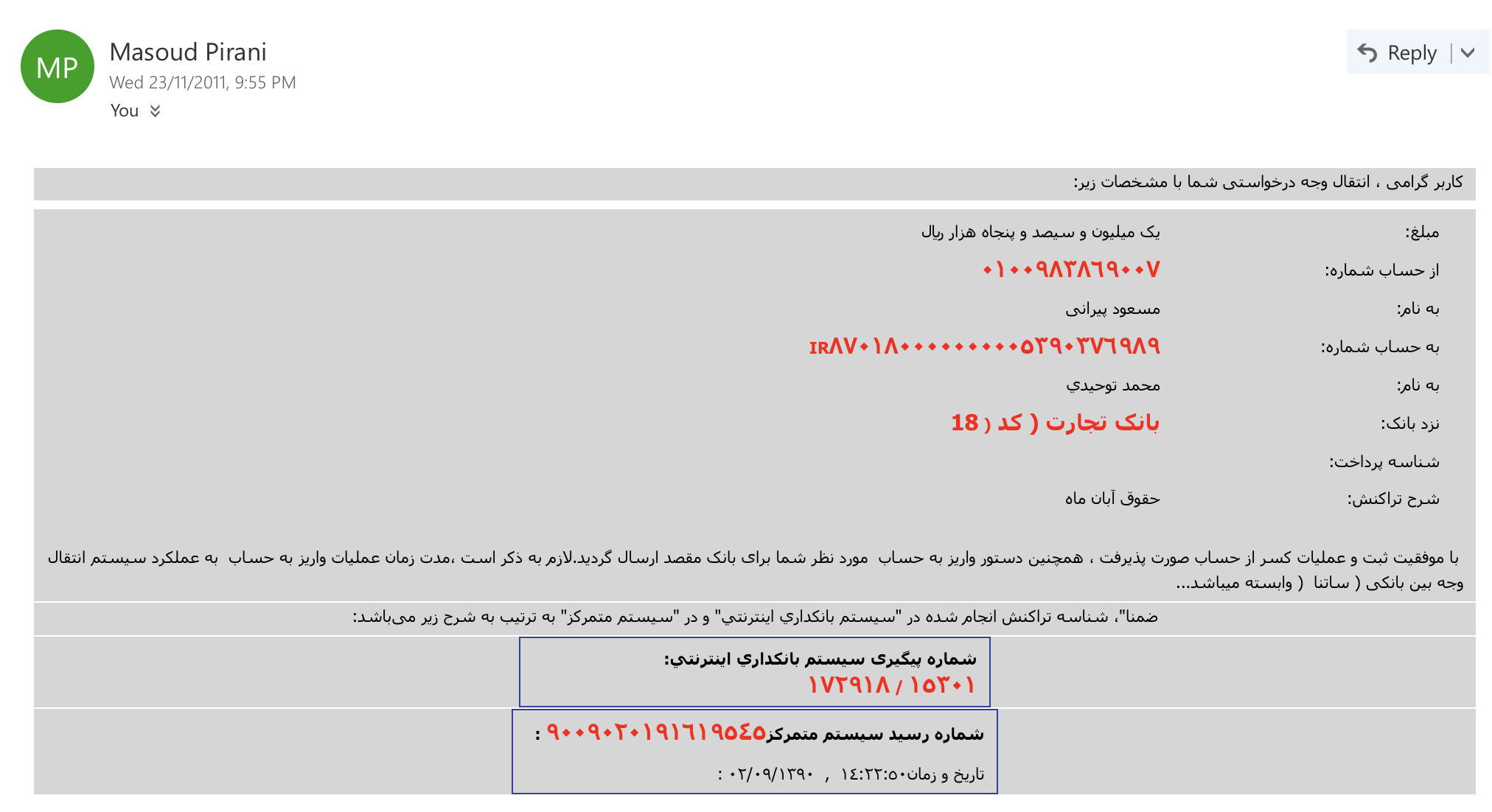 ---
The point I am making here, is that I knew Makarem really well, and am very familiar with the entire system within his office and jurisdiction; and Islamic leaders who pledge allegiance to the Islamic government live a life of luxury and endless benefits.
---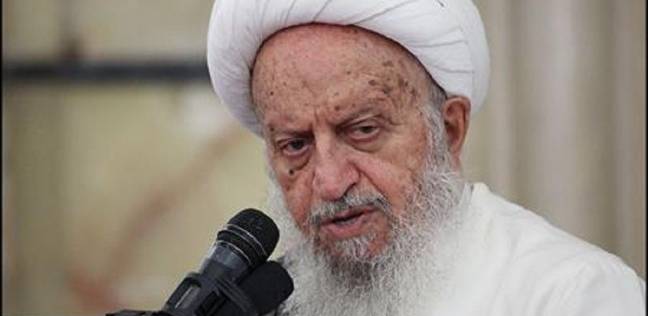 ---
Shirazi, who has been described as the "Verse of God," actually lives a double life. Without going into all the details of his personal life and his three wives, Makarem is also known as the "Sultan of Sugar" or "Mafia of Sugar." As Voice of America TV has exposed, he has a deal with the government to receive all royalties and taxes from the sugar being imported and exported from Iran, just as Khamenei receives from petrol and the late Rafsanjani from top-quality pistachios.[i] Despite him being strictly a religious figure, he receives a monthly payment of over $50,000 from the local government, alongside the religious payments he receives on an hourly basis through his offices across the Middle East. His castles, disguised as "research centers," are located in just about every major city in Iran, with his offices in every Islamic city including those outside of Iran.
---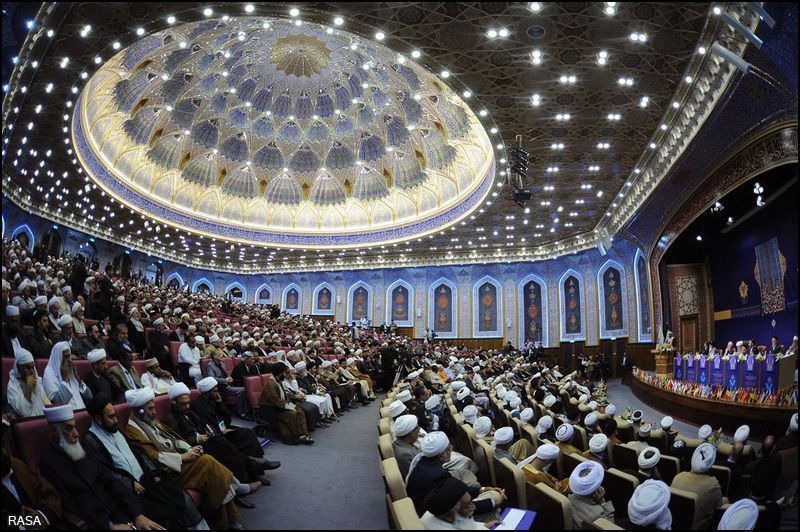 ---
The latest castle built by Makarem is located in the Holy City of Qum, Iran, and was given the name the "Cultural Complex of the Theological School of Imam Kadhim." The smallest theatre within these structures cost millions of dollars, all established from religious income and illegal royalties, without the slightest sympathy towards the fact that between 44.5 per cent and 55 per cent of Iran's urban population lives below the poverty line.[ii]
In return, Makarem's entire jurisdiction is placed under the service and command of the government. To support the tyrannical regime, he issued a fatwa banning women from attending football matches in stadiums on April 25, 2006,[iii] followed by another fatwa on June 20, 2015 banning women from attending volleyball matches, resulting in the complete ban of women from sports arenas.[iv]
In 2010, there was a rise in the pet trade within the Islamic government, with advertisements related to buying and selling pets filling the main streets of Tehran. Since dogs are considered filthy and prohibited animals under Sharia Law, the government requested Makarem to intervene once again. He issued a fatwa on June 19, 2010, this time banning pet dogs, saying "Friendship with dogs is a blind imitation of the West."[v] He continued, saying, "There are lots of people in the West who love their dogs more than their wives and children." He also claimed that owning dogs would result in "evil outcomes."[vi] Despite the fact that his ancestors were Jews who had sought refuge in Iran,[vii] he stated that "The Holocaust is nothing but superstition," only to please the Islamic government.[viii]
In 2012, I assisted in the development of his $12,000 website (www.makarem.ir). I recall his office director, Mr. Masoud Pirani, informing the website developers to ensure the website functioned at high speed. The speed needed to compete with the high-speed internet available to followers in the West. In September 2014, I was shocked to hear that Makarem had issued a fatwa denouncing high-speed internet, saying that "3G mobile services are against Sharia Law" and violate "human and moral norms."[ix] Such hypocrisy left me confused, and reminded me of the phrase, "Do as I say, not as I do."
During his career as an Islamic leader, Ayatollah Makarem has attempted several stunts to elevate himself amongst the Muslim world. In 1986, he turned against Shariatmadari, the most senior Shia cleric in Iran,[x] leading to his house arrest along with his family members by Khomeini, and the brutal torture of his daughters-in-law.[xi] In 2015, he issued a death fatwa against Mohammad Ali Taheri, an Iranian researcher on alternative medicine, who remains in prison while suffering torture to this day.[xii]
Although this loyalty to the Islamic regime made him a prominent and wealthy religious leader, he tried to paint a legendary image for himself, similar to that of Mirza Hassan Shirazi, leader of the Persian Tobacco Protest. Makarem released a fatwa banning smoking, expecting national outrage against the importation of American and other western cigarettes.[xiii] However, this stunt failed miserably as the leaders of the government are addicted to cigarettes and pipes themselves.[xiv]
Makarem is one example of the tens of 'clerical-pillars' established and promoted by the regime; and since such morally and intellectually bankrupt figures are the best they can produce, the regime is not only doomed… but has also begun fading away.
[i] "The Family of Ayatollah Makarem, and the Mafia of Sugar," Voice of America Farsi, November 3, 2015.
[ii] "Poverty in Iran on the Rise," Borgen Magazine, July 23, 2014.
[iii] "Islamic Clerics Oppose Women's Presence in Football Stadiums," BBC Persian, April 26, 2006.
[iv] "Volleyball Ban for Female Fans Reignites Debate in Iran," The Guardian, June 20, 2015.
[v] "Iran Cleric Says Dogs 'Unclean' and Not to Be Kept as Pets," Reuters, June 19, 2010.
[vi] Ibid.
[vii] Parvaneh Vahidmanesh, "Sad Fate of Iran's Jews," Institute for War and Peace Reporting, May 11, 2010.
[viii] "Senior Iranian Cleric Dismisses Nazi Holocaust as 'Superstition,'" Daily Mail, September 6, 2010.
[ix] "Iranian Cleric Issues Fatwa Against the Internet," The Washington Post, September 2, 2014.
[x] Michael M. J. Fischer, Iran: From Religious Dispute to Revolution, Madison, WI: University of Wisconsin Press, 2003, pp. 34–35.
[xi] Ibid, pp. 221–222.
[xii] "Makarem Shirazi Sentences Taheri to Execution," France Médias Monde, August 25, 2015.
[xiii] Ayatollah Nasir Makarem Shirazi, "Prohibition of Smoking in Islam," Islamic Insights, February 2, 2009.
[xiv] "Profile: Iran's 'Unremarkable' Supreme Leader Ayatollah Khamenei," BBC, August 4, 2011
---