---
July 23, 2018
---
Iranians hoped that the 2015 Joint Comprehensive Plan of Action (JCPOA) would ease sanctions, reboot the economy and improve their lives. Yet instead of investing in the country and its people, the Islamic Republic has spent billions of dollars on proxy wars in Iraq, Syria, Lebanon, and Yemen in the past four years.
Iran's Supreme Leader Ayatollah Ali Khamenei, President Hassan Rouhani and First Vice President Eshaq Jahangiri have all said that Iran is in the throes of an economic crisis. Yet they do not admit to having played a role in it.
Ali Rabiei, Iran's Minister of Cooperatives, Labor and Social Welfare, recently visited the southwestern province of Chaharmahal and Bakhtiari, which has the highest poverty rate in the entire country. Speaking to reporters, Mr. Rabei warned: "The enemy is intent on manipulating public opinion more than ever before. The situation will get worse in the coming days. Global arrogance has triggered psychological warfare against our nation."
"We'll achieve economic stability within a year. Other countries will invite us back to the negotiating table," Rabei said. "We shouldn't fall into the enemy's trap. To achieve prosperity, people must have more faith in the Islamic Republic system and the government."
Shortly after a protest in Tehran's Grand Bazaar on June 25, Ali Motahari, the deputy speaker of the Majlis (or Iranian Parliament), said: "People should wait six months. Things will get better by then."
Ayatollah Ahmad Jannati, secretary of the Guardian Council, echoed Mr. Motahari's advice. He said on July 8: "People should be content and patient." During a Friday prayer sermon at Tehran University in January 2015, he had warned: "There may come a time when we can only eat one meal a day."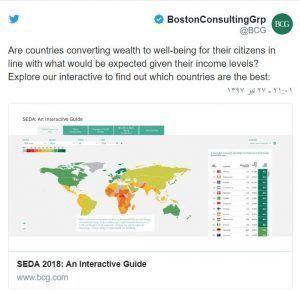 As for Mr. Jahangiri, the first vice president, he recently said: "We must stand up to those who line their own pockets. Their actions are treasonous."
In a July report, the Boston Consulting Group (BCG), an American management consulting firm, said: "Countries can make the overall welfare of citizens the top priority, while promoting sustainable and robust economic growth. Countries that are better at converting wealth into well-being tend to have faster economic growth."
The top 10 countries on the BCG's 2018 Sustainable Economic Development Assessment (SEDA) list include Norway, Switzerland, Iceland, Luxembourg, Denmark, Sweden, Singapore, Finland, Austria, and the Netherlands. Out of the 152 countries on the list, Iran is ranked 88th, after the Kingdom of Bhutan.
---
[Translated from Persian by Fardine Hamidi]
---
---