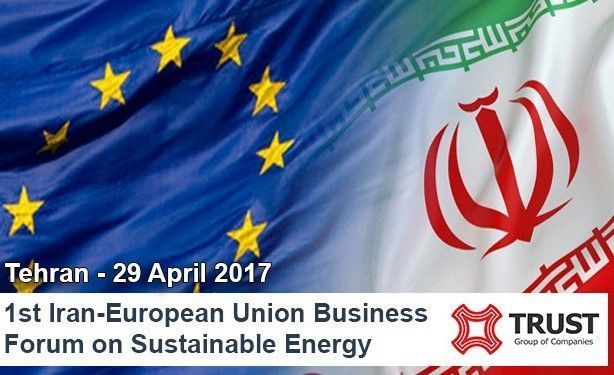 May 11, 2017
By Alissa de Carbonnel
TEHRAN (Reuters) – Desperate to show off the rewards of his landmark deal to get sanctions lifted from Iran, President Hassan Rouhani has rolled out the red carpet for global investors before he faces the voters in an election next week.
But so far the executives jetting into town have made more speeches than deals.
"If at the end of the day, it is only words and no facts, there's a problem," Stephane Michel, French oil major Total's president for exploration and production in North Africa and the Middle East said at an EU-Iran oil and gas forum last month.
"We are trying to make it work," he said on the sidelines of the forum hosted in Tehran's cavernous energy ministry, where speaker after speaker hailed the potential of Iran's vast oil and gas reserves.
Total has been poised to be the first European energy major to put real money into Iran since sanctions were lifted: a $2 billion deal to help develop South Pars 11, part of the world's largest gas fields.
In the wake of Rouhani's deal with global powers to curb Iran's nuclear programme in return for the lifting of sanctions, international energy firms reached more than a dozen agreements with Tehran last year to conduct oil and gas field studies. But none has yet turned into a contract to invest.
At least one potential investor has decided the prize is not worth the risk for now: oilfield services firm Schlumberger said last month it was ending an agreement for an oilfield study.
Rouhani's government points the finger for its failure to attract international billions squarely at Iran's oldest foe, the "Great Satan" United States.
The U.S. government is required by Congress to certify every 90 days that Iran is abiding by the 2015 nuclear deal or sanctions can be reimposed. Washington has also left some financial sanctions in place that have prevented Iranian banks from joining the international financial system.
And President Donald Trump has called the nuclear accord the "worst deal ever signed", leaving companies to worry about the prospect he could abruptly pull out of it altogether.
"The major thing is the political limitation for them and pressure on them in the United States," Iran's oil minister, Bijan Zanganeh, told reporters in Tehran on April 29, explaining why European oil majors have yet to invest.
"I hope the European Union supports companies."
OTHER RISKS
Those who do business in Iran say that they have to put escape clauses into contracts making clear that any agreement could be revoked if sanctions suddenly return.
"All our contracts are water-tight," said one Tehran-based businessman. "Put yourself in the shoes of the Iranians … We tell them, 'We have the right to pull out in twenty-four hours.' It adds a layer of suspicion to already complex relationships."
Oil companies have been asking for waivers from Washington to guarantee that any investments they make now would be protected if the United States reimposes sanctions in the future. Michel cited the wait for such a waiver as one of the main issues holding up Total's investment.
But privately, executives also cite many other risks closer to home in Iran itself: a lack of transparency, skeletal banking system, red tape and the chance that Rouhani himself and his pragmatist faction could be sidelined in next week's election by hardliners, who are sceptical of his moves to open the country.
In addition to holding up their deals while they wait for guarantees from Washington, the big oil companies are also holding out for more enticing commercial terms from Tehran.
That, in turn, could depend on Rouhani winning not only re-election but also a decisive enough mandate to keep his hardline opponents in check. He faces a slate of challengers mostly from hardline factions in the first round of polling on May 19, with a second round a week later if no candidate wins more than 50 percent of votes cast.
Companies like Total and Italy's Eni last invested in Iran in the 1990s under short-duration contracts lasting 3-5 years, which offered such poor terms that they lost money. They have made clear that they will come back only if Tehran can offer a better deal this time.
Rouhani's government is working on a new framework called the Iran Petroleum Contract, or IPC, that would permit foreign investors to form joint ventures lasting up to 25 years, with greater assurance that they will recoup their costs.
However, not a single IPC deal has so far been approved. The new model has generated criticism from parliamentarians and government hardliners, who see it as an attempt to sell resources for cheap to the West.
Many of Rouhani's opponents enjoy the support of the Revolutionary Guards Corps, a powerful military force that also has a vast business empire and is reluctant to see competition from Western investors.
Iran's self-imposed deadline for the signing of the first IPC has slipped by more than a year, with Western industry sources saying it has been complicated in part by internal Iranian tensions between the reformists and hardliners.
"We are still waiting the final decision … to look carefully at the new IPC and how this new IPC will be applied," ENI vice president Lapo Pistelli told forum attendees in Tehran.
The biggest choke point for big-ticket investors is the refusal of big Western banks to risk U.S. restrictions or the snap back of sanctions if Iran violates the deal. While some smaller banks are forging ties, Iran is a long way from international financial standards. Agreeing on a dispute settlement mechanism is another hurdle to sealing deals.
If Western firms prove too wary, Iran could seek its investment elsewhere, from Asian or Russian companies that may not have as much technical sophistication as the big Western oil majors, but appear less put off by the risks.
More than half of the 29 companies allowed to bid for Iran's much-anticipated first tender on oil and gas projects are from Asia or Russia.
"They can get a cheap solution from the Chinese or an off-the-shelf one from the Russians," one EU diplomat said. "That's not a long-term solution, but it might be what they're left with."
Ebra Gohari, partner at a Tehran-based consultancy, Parisa Business, said: "Europeans have the cutting edge technology, but that's not everything because of the legal, financial and political issues they face."
"We haven't had this problem with Korean or Chinese investors," he added.
(Additional reporting by Ron Bousso and Bozorgmehr Sharafedin Nouri in London; Writing by Alissa de Carbonnel; Editing by Peter Graff)