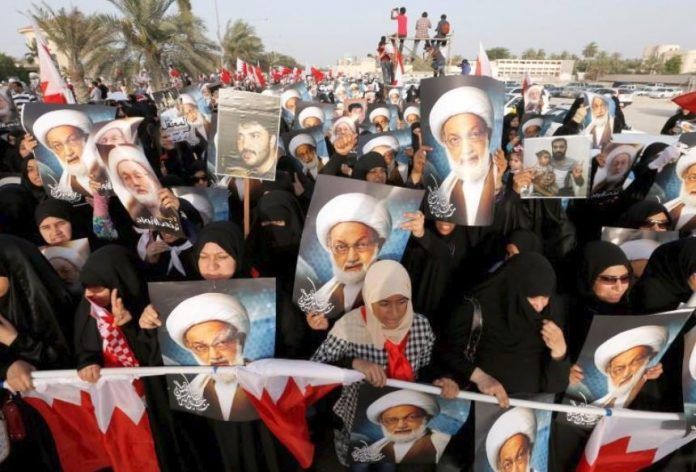 June 16, 2017
GENEVA (Reuters) – A crackdown on human rights in Bahrain, including a resumption of executions and suppression of dissent, is likely to spark increased unrest, U.N. rights investigators said on Friday.
U.S.-allied Bahrain, where the U.S. Fifth Fleet is based, crushed mass protests by the Shi'ite Muslim majority in 2011 and the Sunni-led monarchy has kept a lid on unrest since then by closing Shi'ite-led opposition groups and prosecuting activists.
"Trying to quell protests and criticism by resorting to repression and violence is not only a violation of international human rights law, it also undoubtedly leads to an escalation of tension," five U.N. investigators said in a statement.
"We fear that this increasingly hostile environment is undermining any prospect of alleviation of social and political unrest in Bahrain."
The five investigators – Agnes Callamard, Annalisa Ciampi, Michel Forst, Ahmed Shaheed and José Antonio Guevara Bermúdez – are independent experts who report to the U.N. Human Rights Council on executions, freedom of assembly, human rights defenders, freedom of religion, and arbitrary detention.
They said Bahrain's human rights situation had deteriorated sharply in the past year, since the Ministry of Justice began legal moves to dissolve the main opposition party, the Al-Wefaq Islamic Society, and stripped the country's highest Shi'ite religious authority, Isa Qassim, of his citizenship.
"The authorities have resorted to drastic measures to curb dissenting opinions such as torture, arbitrary detention, unfounded convictions, the stripping of citizenship, the use of travel bans, intimidation, including death threats, and reprisals for cooperating with international organizations, including the Office of the High Commissioner for Human Rights."
The U.N. investigators also said security forces had also used excessive and lethal force against peaceful demonstrations, tragically failing in their duty to protect life.
People who stood up for human rights were being charged for offences that could result in the death penalty under "repressive legislation" such as the Law of Associations and anti-terrorism laws, they added.
Earlier this week a Bahraini human rights group said lawyers for a leading rights activist, Nabeel Rajab, walked out of court after their demand to postpone the trial was rejected by the judge.
Bahrain denies any systematic abuse by police or in its prisons and says it is facing violent revolt backed by the Gulf region's Shi'ite power, Iran, which denies the accusation.