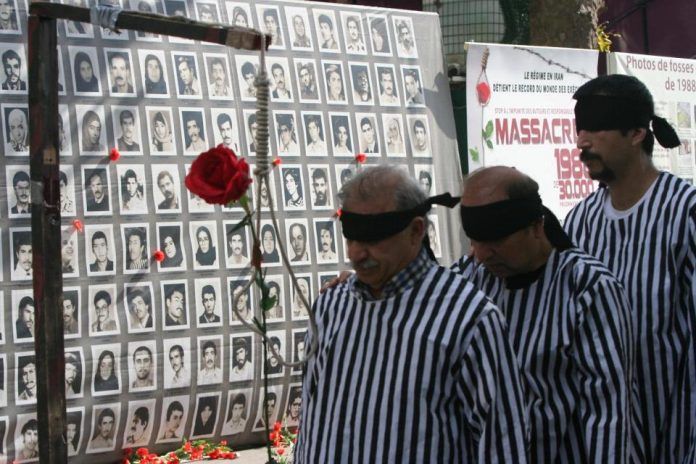 October 26, 2017 In her first address to the Third Committee of the United Nations General Assembly on October 25, Asma Jilani Jahangir, the U.N. Special Rapporteur, said that while Iran had taken steps to improve its human rights record, there were major areas of concern, an assessment that Iranian government officials disputed.
Jahangir, whose mandate is to monitor and investigate human rights violations in Iran, cautioned: "There are still many instances of gross human rights violations in the country. Civil rights activists and journalists are under great deal of pressure."
Jahangir said recent "hopeful signs" stemmed from the May 2017 presidential and municipal elections and the current government's Charter of Civil Rights, which in her opinion had "created a more open political atmosphere in the country." However, she added: "We are still very concerned about human rights violations in the Islamic Republic."
Jahangir's report highlighted the regime's continued "crackdown on free speech, torture of activists, execution of dissidents, death sentences against people under the age of 18, violation of women's rights, lack of medical care for political prisoners, and persecution of religious and ethnic minorities." The report stated that Iran had executed 435 people in the first six months of 2017.
Jahangir also expressed concerns over the plight of Nazanin Zaghari-Ratcliffe and Ahmad Reza Jalali. Zaghari-Ratcliffe is a British-Iranian who has been detained in Iran since April 3, 2016 for allegedly "plotting to topple the Iranian regime." Jalali is an Iranian-Swedish disaster medicine expert who has been held in Iran since December 25, 2016. He has been sentenced to death for being a "Moharebeh" [an enemy of God.]
In a news conference held on October 26, Jahangir said she had asked the Iranian authorities for more information about the 1988 [state-sponsored] mass execution of political prisoners and dissidents. She said: "We are certain that many of the perpetrators of those killings are still alive and hold official posts." Jahangir also spoke about the persecution of religious minorities including Sunni Muslims and people of the Bahai faith.
In section B of her report released in August 2017, Jahangir asserted: "At least 12 journalists as well as 14 bloggers and social media activists reportedly either were in detention or had been sentenced for their peaceful activities as of June 2017… The Islamic Republic of Iran was ranked 165th out of 180 countries on the 2017 World Press Freedom Index of Reporters without Borders."
Mohammad Hassani-Nejad, Iran's representative to the Office of the United Nations High Commissioner for Human Rights (OHCHR), said: "Mrs. Jahangir's report is full of inaccuracies. It distorts the truth. It doesn't mention anything about the unlawful and unilateral sanctions imposed on Iran by the U.S. government. It also makes no mention of the 17,000 Iranians who have been the victims of terrorism."
Hassani-Nejad argued: "The U.S. and Saudi Arabia have short memories. Saudi Arabia and its allies have killed more children than any other countries in the world. The findings by the U.N. Special Rapporteur cannot be deemed credible unless she produces similar reports for all other 192 countries in the world."
Bahram Qasemi, Spokesman for the Iranian Foreign Ministry, concurred with Hassani-Nejad. He said: "The report by the Special Rapporteur is clearly biased, unfair and politically motivated. It has been fabricated by a small group of countries which mean to harm Iran."
Qasemi argued: "This report will discredit those who claim to be the advocates of human rights in the world."
In recent remarks, Mohammad-Javad Larijani, secretary of Iran's High Council for Human Rights, said: "We view human rights through an Islamic lens. It is not the U.N. but God that bestows human dignity." Larijani said he believed that human rights in its modern form was a creation of "Western secular dictatorship." He called on the Islamic countries to combat "this dictatorship."