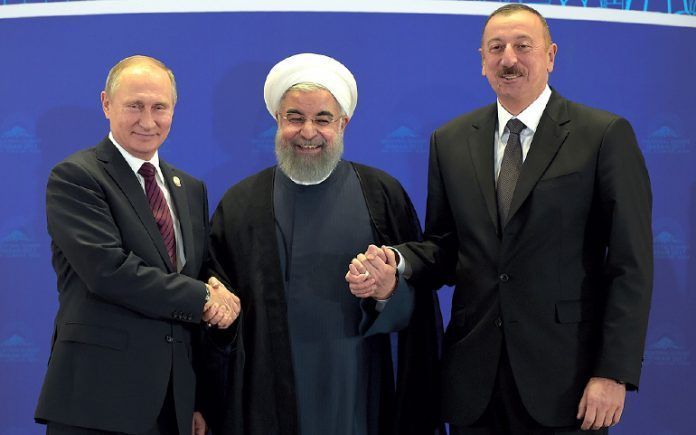 November 14, 2017 Following the creation of a safe zone in southern Syria by Russia, Jordan and the U.S., Moscow has agreed to urge the Islamic Revolutionary Guards Corps's Qods Force [IRGC-QF] to withdraw from the region.
Russian President Vladimir Putin travelled to Tehran on November 1 to attend the second trilateral Caspian Summit. He held talks with Iran's Supreme Leader Ali Khamenei, who reportedly told the Russian president that Tehran and Moscow should work together in isolating Washington. Khamenei cited the Syrian conflict as a good example of cooperation enabling Iran and Russia to achieve their common goals under very challenging circumstances. 
Putin and U.S. President Donald Trump met on the sidelines of the Asia-Pacific Economic Cooperation [APEC ] summit in Vietnam on November 11. The two leaders reached agreement on battling terrorism in Syria. The Russian government released a statement guaranteeing that Syrian President Bashar al-Assad "will adhere to the UN resolution, start constitutional reforms and hold free elections supervised by the UN."
Washington and Moscow have also agreed to continue their military cooperation in order to maintain security in Syria. They have asked the UN to increase its humanitarian efforts in that country. There is no sign that Russia is trying to isolate the U.S. as proposed by Khamenei.   
An anonymous source in the Trump administration recently said: "Ceasefire in the southern part of Syria has failed due to the presence of foreign forces." The source added: " This poses a threat to Jordan and Israel. The agreement calls for Jordan and Russia to remove Iranian-backed forces from Jordanian border and Golan Heights."
Israel would like to see Iranian-backed forces driven out of Syria. Israeli Prime Minister Benjamin Netanyahu said that his country couldn't wait for the U.S. and Russia to restore security in the region. Israeli fighter jets periodically attack Hezbollah troops in Syria.
Anticipating that Russia and the U.S. would urge the Iranian-backed forces to leave Syria, the IRGC has created battalions consisting solely of local Syrian nationals in the south and southwest of the country. Russia, the U.S. and Syrian regime are well aware of the existence of these IRGC-sponsored volunteered fighting units. They are similar to the Iraqi Shia Popular Mobilization Group (PMU).
Iran has reportedly been reorganizing the population of various parts of Syria along religious and ethnic lines. Many strategically sensitive regions have seen an increase in their Alawi [a Twelve Imam sect of Shiism] population loyal to Bashar al-Assad. 
Meanwhile, Russia is planning to withdraw some of its ground troops and reduce its air force presence in Syria, according to the daily Kommersant. The remainder of its forces will be concentrated around its Tartus naval base and Hamim air base. Some military and security Russian advisers will remain in Syria. Moscow is promoting a political solution to the Syrian conflict. A reduction in the number of Russian troops would offer an opportunity to Iran to expand its presence in the country. Iran has no plans to withdraw its forces from Syria.
It is estimated that Tehran maintains around 4,000 Iranian troops and 18,000 Afghan fighters in Syria at all times. The majority of Afghan troops are young, uneducated and unemployed men who are promised Iranian citizenship at the end of their service. Many of these men will most likely experience post-traumatic stress disorder [PTSD] upon returning to Iran. They may exhibit violent anti-social behavior. They will have a difficult time integrating Iranian society both as immigrants and as former soldiers.
The Iranian regime's hardliners still dream of conquering Jerusalem. In the past six years, they have managed to inch closer to Israel, and are not prepared to forfeit their hard-earned position in the region. Through its presence in Iraq and Syria, Iran is flexing its political and military muscle in the region.
Meanwhile, the U.S. needs to coordinate efforts with Iranian-backed groups in Syria, and that is why it hasn't included the IRGC on its list of terrorist organizations. If elections are held in Syria and Assad is voted out of office, Iran will do its utmost to replace him with someone who will safeguard Tehran's regional interest.