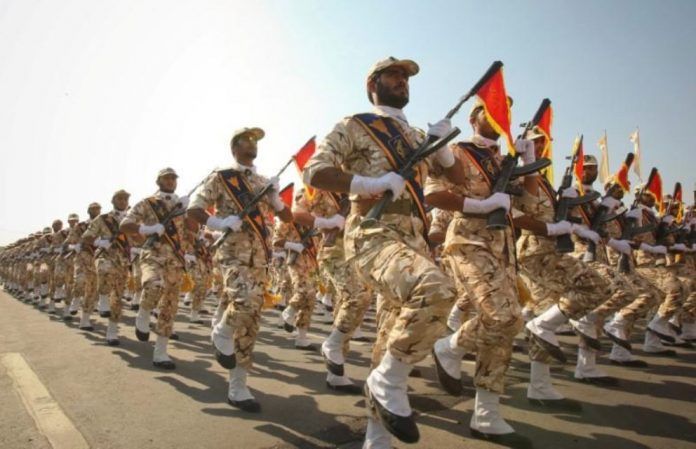 October 24, 2017
U.S. Secretary of State Rex Tillerson has called on Iranian-backed Shia militias to leave Iraq.
Speaking in Riyadh, Tillerson said: "Any foreign fighters in Iraq need to go home and allow the Iraqi people to regain control of areas overtaken by ISIS (the Islamic State of Iraq and the Levant) that have now been liberated — allow the Iraqi people to rebuild their lives with the help of their neighbors."
Rex Tillerson's mission is to encourage and facilitate closer ties between Baghdad and Riyadh. Crown Prince Salman of Saudi Arabia has enthusiastically embraced Tillerson's efforts to improve relations between Saudi Arabia and Iraq. This has placed Iraqi Prime Minister Haider al-Abadi in an awkward position. He is scheduled to travel to Tehran soon. Akbar Velayati, an adviser to Ayatollah Khamenei has said: "Haider al-Abadi's forthcoming visit to Tehran will be critical." 
The Iraqi Prime Minister is being pressured by U.S. President Donald Trump to choose between siding with Tehran or moving closer to Riyadh and Washington D.C. The big question is, what would the IRGC do if the Iraqi prime minister decides to throw his lot in with Saudi Arabia and the U.S.? In all likelihood, the IRGC would make life difficult for al-Abadi.
In 2013, Ahmad Reza Pourdastan, Commander of the Iranian Army Ground Forces, said that the Syrian Army was strong and "didn't need help from any other country." His remarks contradicted reports that Iran's regular army was fighting alongside the Islamic Revolutionary Guards Corps (IRGC) in Syria. 
In a recent interview with the Tasnim News Agency, Pourdastan, who is currently Deputy Commander-in-Chief of the Army, confirmed that the Iraqi state-sponsored Popular Mobilization Forces (PMF) operated under the supervision of the IRGC. Contradicting his earlier remarks, he said: "The Syrian military was not strong enough to fight against ISIS, Al-Nusra Front [a Salafist jihadist terrorist organization] and Ahrar al-Shams [a coalition of multiple Islamist and Salafist units]."
Pourdastan argued: "Between 400 and 500 ISIS fighters were able to defeat two Iraqi armies stationed in Mosul. That is what you call a military force." He praised the PMF, which is modeled after the Islamic Republic Basij forces. Pourdastan said the IRGC's Qods Force (IRGC-QF) will increase its cooperation with the Syrian military.
Ayatollah Naser Makarem Shiraz, a member of the Assembly of Experts, shared Pourdastan's assessment of the PMF. He recently told Yahya Safavi, the former commander of the IRGC forces and current adviser to Iran's Supreme Ayatollah Ali Khamenei, that there was ample evidence "proving that religious ideas laid the foundation for the IRGC and the PMF. Therefore, we will be able to solve many problems if we strengthen our religious beliefs."
Meshkini said: "Our religious faith is one of the main reasons that America doesn't attack Iran. Some American soldiers deployed to Iraq committed suicide and many others deserted. We, on the other hand, fought an eight-year war with Iraq without a single one of our soldiers deserting or killing himself."
He added: "The idea that our enemies would one day go away would be wishful thinking. They continually plot against us."
Iranian leaders don't believe that the defeat of the ISIS would signal an end to Iraq's problems. They point out that the Iraqi Security Forces reclaimed the Kirkuk Governorate from the Peshmerga militia at the end of the Battle of Kirkuk, which coincided with the independence referendum held in the Iraqi Kurdestan Region.
The Iraqi Government is predominantly Shia, and its leaders have close ties to Iran. It can be argued that Iran established the strongest foothold in Iraq after the fall of Saddam Hussein.
Tehran and Baghdad have signed a number of military agreements between 2013 and 2017. Iran exports weapons, munitions and semi- and fully armored vehicles to Iraq. They are transported without any problem across the border. Iran has made significant financial contributions towards rebuilding Iraqi roads, dams, power plants and sewage systems. It has made low-interest loans to Baghdad and lowered tariffs on imports. These moves are aimed at keeping Iraq in Iran's orbit.
Past experience has shown that Iran can easily start an armed conflict anywhere in Iraq. It can create mayhem and destabilize the country by using many groups under its control, including but not limited to:
Asa'ib Ahl al-Haq (Iraqi Shiaparamilitary group)
Shrine ofAhl al-Bayt (the Defenders of Shrines)

The Ashura and Al-Zahra battalions

Sariya al-Islam (under the control of Muqtada al-Sadr)

Saraya al-Kharasani (Iraqi Shia armed group)