---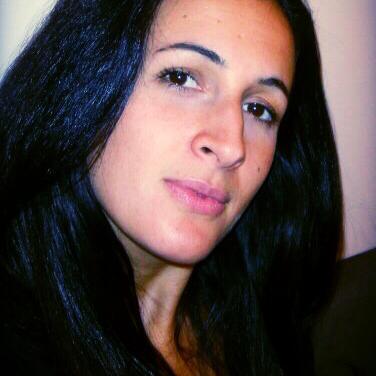 ---
Human rights violations in Iran are increasing and should be highlighted regularly by Western leaders, according to Nader Hashemi, a Middle East expert who heads the Center for Middle East Studies at the Josef Korbel School of International Studies at the University of Denver, Colorado. 
"We are seeing one of the darkest moments in history with respect to human rights in Iran," Dr. Hashemi said. 
He noted that there were "some creative ideas being initiated" to draw attention to conditions for prisoners inside Iran, including French President Emmanuel Macron formally inviting Iranian human rights lawyer Nasrin Sotoudeh to be part of the G7 gender advisory council, earlier this year. In 2003, the Iranian human rights lawyer Shirin Ebadi was awarded a Nobel Peace Prize for pioneering civil rights work in Iran.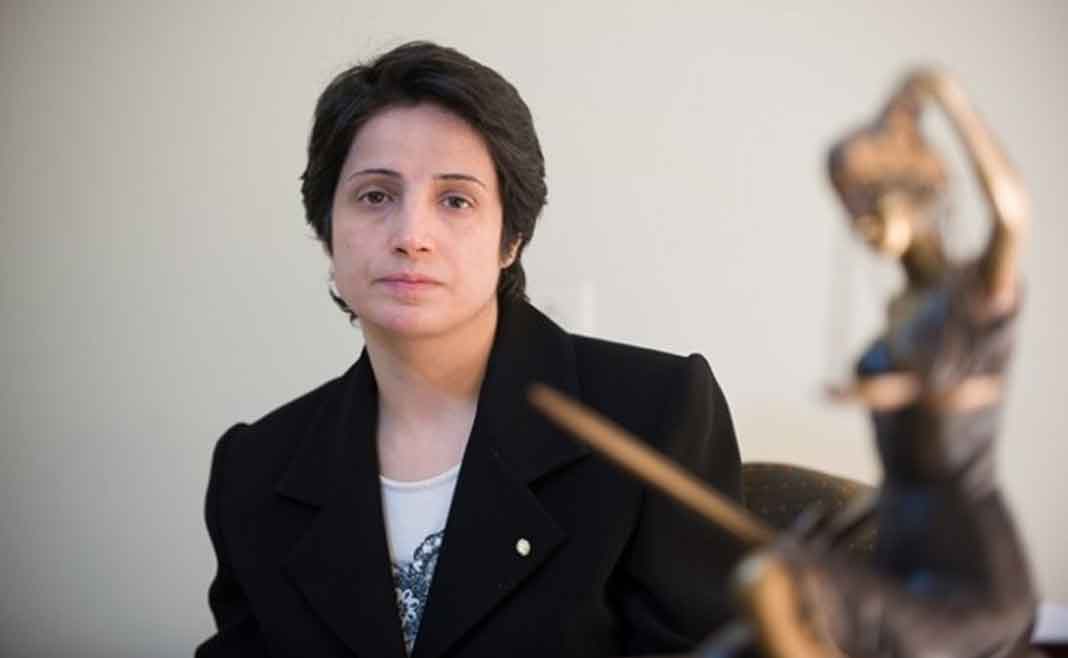 "When a prominent head of state publicly talks about human rights in Iran and explicitly mentions the names of political prisoners, this helps to elevate these stories on a global scale, and makes it much harder for the Iranian government to mistreat its prisoners," Dr. Hashemi noted. 
The U.S.-based academic's comments come after several controversial judgments handed down by Iranian courts, sparking domestic and international concern about the severity of the punishments. 
The arrest and detention of 'Blue Girl' Sahar Khodayari, who died on September 8 after setting herself on fire, drew worldwide attention and highlighted the current ban in Iran on women entering football stadiums. Ms. Khodayari had been charged with "appearing in public without a hijab" and sentenced to six months in prison after entering a football stadium dressed as a boy. Iranian officials then imposed reporting restrictions on Iranian media outlets, preventing them from publishing any information about Ms. Khodayari's death.
Iran is the only country in the world that arrests and punishes women for trying to enter football stadiums, according to Amnesty International, who has called on the Iranian government to stop barring women from football matches. 
Within hours of Sahar Khodayari's death being announced on social media, human rights activists inside and outside Iran took to Twitter, where Sahar's story went viral.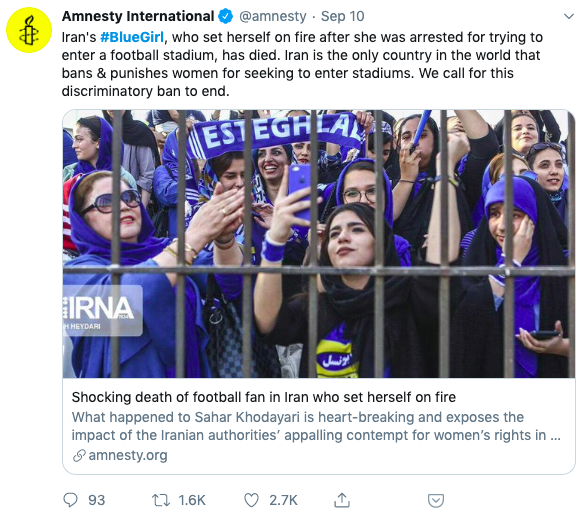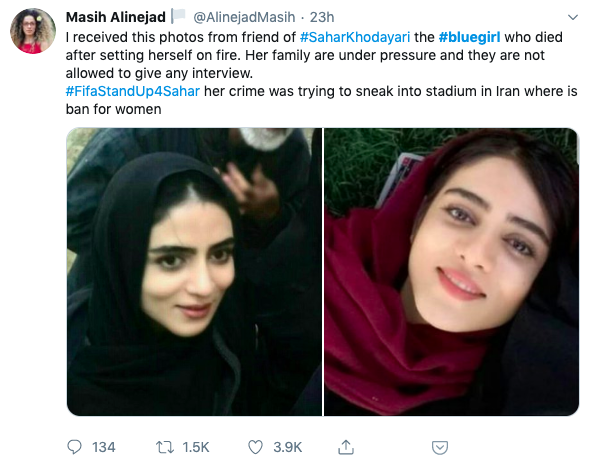 ---
"The use of social media as a way to highlight human rights violations is an effective tool, because it is harder for the Islamic Republic to block online access," Dr. Hashemi explained. 
The hearings for workers at the Haft Tapeh sugar cane plant have also been highlighted by activists inside Iran. They came together to condemn the mass arrests, charges and sentences of workers at the Haft Tapeh sugar cane plant, following nationwide protests over the government's mismanagement of the country's economy. Human rights campaigners used social media to raise awareness around the trials.
Human rights advocates have also sent a letter to the Iranian government demanding the workers' release after Esmail Bakhshi, a worker and the plant's union representative, was sentenced to 14 years in prison for "assembly and collusion against national security," according to a report by the Center for Human Rights in Iran. Several other workers who took part in the protests were also given hefty prison sentences. The letter called on the Iranian government to release all detained protestors, including teachers, students and women. 
Following the publication of the letter, the hardline judge and head of Iran's judiciary, Ibrahim Raisi, ordered a review of the sentences handed down in the Haft Tapeh sugar cane cases.
Analysts believe that recent human rights campaigns, as well as criticism from several Iranian lawmakers including Parvaneh Salahashouri and Mahmoud Sadighi over harsh sentences for labor activists like the Haft Tapeh sugar cane workers, civil activists and journalists may have led the Iranian judiciary to reconsider the sentences imposed. 
Yet experts say more should be done to highlight human rights issues inside Iran and promote change. 
Dr. Leila Alikarami, an Iranian lawyer and human rights advocate based in London, told Kayhan Life that pressure from the international community was vital. 
"The international community needs to take action, because talking about these human rights violations is no longer enough," Dr. Alikarami explained. 
"We need concrete action. For example, the international community could engage in bilateral meetings with the Iranian government and find ways to reach an agreement," she added. 
Video from social media analysis site shows how the #BlueGirl (#دختر_آبی) hashtag exploded in Iran and then spread to other countries. It's about Sahar Khodayari, who set herself on fire in #Iran because she thought she would have to go to jail for trying to watch a soccer match. pic.twitter.com/RznKqcVyLu

— IranHumanRights.org (@ICHRI) September 10, 2019
Dr. Alikarami, who was an active member of the award winning One Million Signatures campaign aimed at repealing discriminatory legislation in Iran, hopes to see human rights groups working together. 
"We all accept the idea that human rights are universal rights for everyone. If we want a working government, then we need to work on the infrastructure of democracy. We need to work to build the structures first," she said. 
"There are several different approaches to the human rights challenges inside Iran which have caused a lot of tension between various advocacy groups," she added. "But the human rights community needs to put aside their differences, and accept that it's okay to adopt different approaches. If the communities inside and outside Iran can put aside their differences and focus on the goal — to advance the human rights situation and promote the culture of human rights inside the country — then they must respect each other's ideas." 
---