---
"Pakistan's Vision for the Future"
International Institute for Strategic Studies
London, February 13th, 2018
---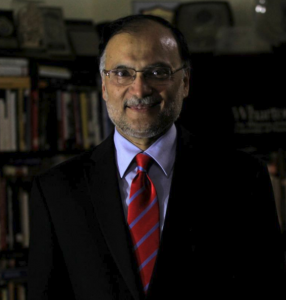 OVERVIEW
The meeting was chaired by Rahul Roy-Chaudhury, Senior Fellow for South Asia. Dr. Ahsan Iqbal, Pakistan's Minister for Interior and Planning, Development and Reform, was invited as Guest Speaker, to discuss his country's vision for the future.
SUMMARY REVIEW
Pakistan's economy is expected to grow at a rate of 6% by 2020. The country's prospects are enhanced due to 60% of the 207 million Pakistanis living in Pakistan being under the age of 30, as well as an expanding middle class. However, Pakistan is at the same time, facing vast challenges.
Ahsan Iqbal was appointed as Pakistan's Minister for the Interior in August 2017 and Minister for Planning, Development and Reform in September 2017. He previously served as Pakistan's Minister of Planning and Development and the Deputy Chairman of the country's Planning Commission, and was briefly Minister for Minorities, and for Education in 2008. He has been an elected member of Pakistan's National Assembly since 1993 and is currently the Deputy Secretary General of the Pakistan Muslim League party.
HIGHLIGHTS
Ahsan Iqbal began his comments by saying that the world was going through a strange period. It was on the one hand the best of times for humanity but simultaneously the worst of times, given the level of unprecedented challenges it had to cope with. He said that as the world had become more connected, it had at the same time become less controlled . As a result of the new information revolution, citizens had become more empowered and active in their countries, and beyond. 
Ahsan Iqbal described this developed phenomenon as the "New Weapons of Mass Conflict", given that people can now freely broadcast their own individual messages and agendas. It was his view that all responsible authorities now needed to take a much more integrated response to these developments. But Instead of collaboration, Mr Iqbal felt that the world was seeing greater fracture with prejudices springing up. He noted that fanatical extremism was an offshoot of this outcome. he offered the view that in order to break the walls of such prejudices, it was essential to hold ongoing dialogues in an atmosphere that was not restricted by the boundaries of a nation state.
Addressing the situation in Pakistan, Ahsan Iqbal said that his government came into power in 2013. It had inherited a dire economic situation that had resulted in very high and unprecedented levels of unemployment with people literally on the streets at a time when there were more than 18-20 hours of power shortages throughout the country.
Ahsan Iqbal said that back then, pundits had thought that the state was on the edge of collapse. This notion was given momentum by the general state of anxiety caused in large part by security incidents involving violence on a daily basis, in almost every part of the country. Meanwhile, economic growth had plummeted to just 2.5% annual growth. 
However, according to Mr Iqbal, that terrible situation had now been turned around by gains that have been achieved in the following areas:
1. Energy: Ahsan Iqbal noted that today, after 4 years since the accession to power of the current government, there are 'zero hour' shortages in 70% of the country. This has been made possible by the introduction of some 11,000 MW (mega watts) of new electricity. He said that prior to this development, in the entire history of Pakistan – that being over 60 years, a total of only 18,000 MW of electricity had been made available to the country. He took the view that this success was a result of his government's commitment to large investments in the field of energy.
2. Economy: Ahsan Iqbal said that in this area, annual economic growth had risen from below 3% in 2013 to 5.5% in 2017. Growth was expected to reach 6% in 2018.
3. Security: Ahsan Iqbal said that today there was a huge decrease in incidents of terrorism and extremism. He noted in particular the improvements that had taken place in Karachi, which he said had been a hostage to violence for many years. He said that today the situation in Karachi was stable and mentioned the fact that while Karachi had been ranked as the 3rd least safe' city in the world in 2013, its ranking in 2017 had dropped to 51st place. 
4. Education: Ahsan Iqbal said in the course of the past 4 years, higher education in Pakistan had witnessed a 4-fold increase. He said that US-Pakistan and UK-Pakistan 'Knowledge Galaxy' had been a key factor in attaining these successes. This, he said, had been made possible by understanding on the part of the authorities that peace and development are two sides of the same goal.
Ahsan Iqbal said that the 16 December 2014 attack on a military school in Peshawar had provided a unique opportunity to motivate the nation by engaging them in the fight against extremism. As a result, civil and military leaderships had set up centers throughout the country to fight the war on terror together. This resulted in thousands of civil-military operations being conducted together in order to cleanse the nation, especially in the Tribal Areas and North Waziristan. He said that although all these areas were today under the total control of the government, this achievement had led to the loss of hundreds who had been martyred by the conflict. He went on to say that the benefit of their sacrifices was now fully evident.
Ahsan Iqbal said that this important success story had been attained only because the necessary actions had been taken in a unified manner. He said that these unified operations had succeeded in forging alliances. These included the active participation of religious centers and leading religious scholars who had, with their proclamations, condemned the violence while asserting that suicide killings could in no way be construed or accepted as Jihad.
Ahsan Iqbal went on to say that another important contribution was the development of a counter narrative to that of the extremist view . As a result the media in Pakistan was no longer glamorizing the extremist way of life or awarding them any cyber space. In addition, the government had taken serious steps to curtail their financing, and banks were now legally bound to close their accounts.
Having taken these important steps and having obtained its reward, according to Ahsan Iqbal, Pakistan was looking forward to what is being called 'Vision 2525'. This hopeful vision for the future of Pakistan hopes to lay down a road map to develop the country's potential,. This will include integrating a flowing and profitable economic arrangement with its regional neighbors so that economic opportunities that tie Pakistan as a nation located at the cross roads of Central Asia and South Asia together are exploited. He said given the fact that South Asia and Central Asia were the least integrated areas in the world, there was a universal incentive on the part of the countries in the region to try and improve quality of life for all its people. He said Pakistan was in a key location that tied Central Asia to China and South Asia. As a result, efforts to link these regions through Pakistan were already underway and was part of the 'Vision 2525' for the future of the country. This regional connectivity also provided the added bonus for Pakistan to encourage peace with both India and Afghanistan. Vision 2525 was also without doubt an instrument for confidence building and the promotion of understanding throughout the region.
On the subject of India, said that his government had asked India not to put an end to bilateral dialogues between them because of the unfortunate attacks that had been perpetrated in Bombay, given that any break in bi-lateral relations would simply play further into the hands of those terrorists who had perpetrated such attacks with the hope of further severing ties between the two nations. Only through greater cooperation and collaboration between India and Pakistan could extremists be sidelined and eradicated.
Finally, Ahsan Iqbal said that his country was being smeared by certain quarters despite all that it had done in relation to its cooperation with the West, namely its efforts in the war to rid Afghanistan of its Soviet invaders and later in the post-911 war against terror. 
He said that during the Afghan war, the West had forced its demands upon Pakistan and once the Soviets were expelled, they had simply walked away without any consideration to the damage that they had left behind.  He noted that as a result of the war in Afghanistan, Pakistan had to absorb some 3.5 million Afghan refugees. He cited the fury that had engulfed Western Europe for having to endure the presence of various unwanted refugees that in all totalled less than half of Pakistan's own intake over the course of several years. He concluded that Pakistan deserved recognition for the sacrifices it had made instead of being blamed as they have been in recent times.
Ahsan Iqbal concluded his remarks by saying that only through dialogue and collaboration could extremism be defeated, as seen in Pakistan in the course of the last 4 years.
★★★★★
[Q & A Session]
Key Points
Having just been in meetings with key State Department officials in Washington, Ahsan Iqbal said that the current US narrative on Pakistan was not one that was based on facts. He said in the war against terror in his region (and more specifically in Afghanistan), Pakistan and its limited resources had achieved a great deal more than the US and all its enormous spending.
Ahsan Iqbal reiterated the view that there could be no military solution to the mounting difficulties in Afghanistan. He said sending 20,000 more troops to a location where 100,000 troops had previously failed to make an impact spoke for itself. He emphasized the need to find a political solution, something that was crucial for Pakistan, as it could not change its geographic location. Highlighting this point, he said that Pakistan today fully controlled its borders. However, on the Afghan side, there was not even a single border post, yet his country was expected to single handedly accept responsibility for all trans-border transgressions. Mr Iqbal explained that this was a situation which involved three and half million Afghan refugees – whom Afghanistan did not want – and who were still living in Pakistan almost 30 years after the withdrawal of Soviet forces from Afghanistan.

 
Ahsan Iqbal complained that Pakistan was expected to jeopardize the peace and security of its citizens, in the absence of the trust and confidence that was required to deal with the kind of security issues present. He noted that on some occasions, the Afghans had provided names of people long dead as dangerous persons of interest, demanding that Pakistani resources be allocated in search of them.
It was essential that the US and the international community put up an economic package to support the 3.5 million Afghan refugees in Pakistan as well as providing much needed assistance for their repatriation. This was imperative since Pakistan could not control their movements especially given the fact that the open borders with Afghanistan (i.e. on the Afghan side) had no supervision whatsoever.
He highlighted the fact that there was a merge between peace and development taking place, and he welcomed the progress that was being made through different schemes to connect Central Asia, China and South Asia through Pakistan.
In response to the kind of harsh rhetoric employed by India over their ongoing differences (i.e. Kashmir), he said that Prime Minister Nawaz Sharif had gone out of his way to try and keep dialogue alive in view of the difficulties that had arisen following the Bombay attacks. Mr Iqbal

  

ended the discussion by saying, "while we would gladly drink a jug of poison offered to us by a friend, we would never submit to drinking a jug of honey, if we were to be bullied into drinking it!"
★★★★★