---
By Ahmad Rafat
---
In a recent interview with the Khabar Online news agency, Iran's Foreign Minister Mohammad Javad Zarif has indicated that some influential people in Iran have benefited from money-laundering schemes. His comments have caused a political storm.
Mr. Zarif said: "The Foreign Ministry's entire budget is $262 million. Some groups have greater financial resources than the ministry. They can generate a profit of $7.15 billion from a single transaction. We can't compete with these cultural institutions which have close links to the country's powerful organs."
Conservatives and opponents of President Hassan Rouhani's government have suggested that unless Mr. Zarif can produce hard evidence to support his claims, he should be arrested and put on trial for making false accusations.
There are 55 million suspicious bank accounts in the country, according to a report by the Central Bank of the Islamic of Iran. The data indicates that 49 million bank accounts have been opened using invalid national ID numbers. There are more than a million numbered bank accounts where the identity of the holder is unknown. The report also says that two million bank accounts are opened using fake national ID numbers and three million lack national ID numbers altogether.
It is, therefore, not surprising that Iran should be near the top of the Financial Action Task Force on Money Laundering (FATF) blacklist. The FATF is an intergovernmental organization founded in 1989 by the Group of Seven nations (the G7) to combat money laundering. In 2001, its mandate expanded to include terrorism financing.
The FATF blacklist refers to "Non-Cooperative Countries or Territories" (NCCTs.) Other countries on the list include Afghanistan, Tajikistan, Guinea, and Mali. In its 2017 Public Statement, FATF placed Iran at the top of a list of 146 countries that posed the highest risk for money laundering activities.
The FATF Public Statement on October 2018 said: "Until Iran implements the measures required to address the deficiencies identified in the Action Plan, the FATF will remain concerned with the terrorist financing risk emanating from Iran and the threat this poses to the international financial system. The FATF, therefore, calls on its members and urges all jurisdictions to continue to advise their financial institutions to apply enhanced due diligence, including obtaining information on the reasons for proposed transactions, to business relationships and transactions with natural and legal persons from Iran."
Iran must fulfill all articles of the FATF Action Plan which includes Anti-Money Laundering (AML) and Countering the Financing of Terrorism (CFT) by February 2019. Otherwise, it will be placed on the organization's blacklist, which effectively excludes the country from the international monetary system. The FATF operates under the auspices of the Organization for Economic Co-operation and Development (OECD).
The Guardian Council's rejection of the CFT thus puts Iran in an awkward position. Russian and Chinese banks have warned Iran that they are prepared to sever all their financial ties if the country fails to comply with the FATF's "Recommendations." President Rouhani has, therefore, every right to be concerned about the FATF's ultimatum. The proponents of the CFT, however, argue that as soon as Iran signs up to the agreement, the FATF would include the Lebanese Hezbollah in its list of terrorist organizations. The list currently comprises Al-Qaeda, the so-called Islamic State (ISIS), Taliban and Al-Nusra Front (a Salafist jihadist organization fighting against Syrian government forces in the Syrian Civil War.)
The Europeans have so far failed to devise an effective method to bypass U.S. sanctions against Iran. Federica Mogherini, the High Representative of the European Union for Foreign Affairs and Security Policy, has not been able to gain much support for her "special purpose vehicle (SPV)" plan that aims to protect non-American companies from U.S. economic sanctions against Iran. Brian H. Hook, the director of policy planning and senior adviser to U.S. Secretary of State Mike Pompeo, recently said: "European banks and firms which engage in a special European Union initiative to protect trade with Iran will be at risk from newly reimposed U.S. sanctions." He added: "Any major European company will always choose the American market over the Iranian market.
Foreign Minister Zarif makes no secret of his concern over the EU's inability to circumvent U.S. sanctions. In an interview with the London-based Al-Arabi Al-Jadeed newspaper, he said: "The EU is sincere in its commitment to the Joint Comprehensive Plan of Action (JCPOA) [better known as the Iran nuclear deal], but things are not moving fast enough. European countries are not prepared to pay the economic price for upholding their political principles." Zarif also hinted that Iran might look to China and Russia for finding ways to counter U.S. sanctions.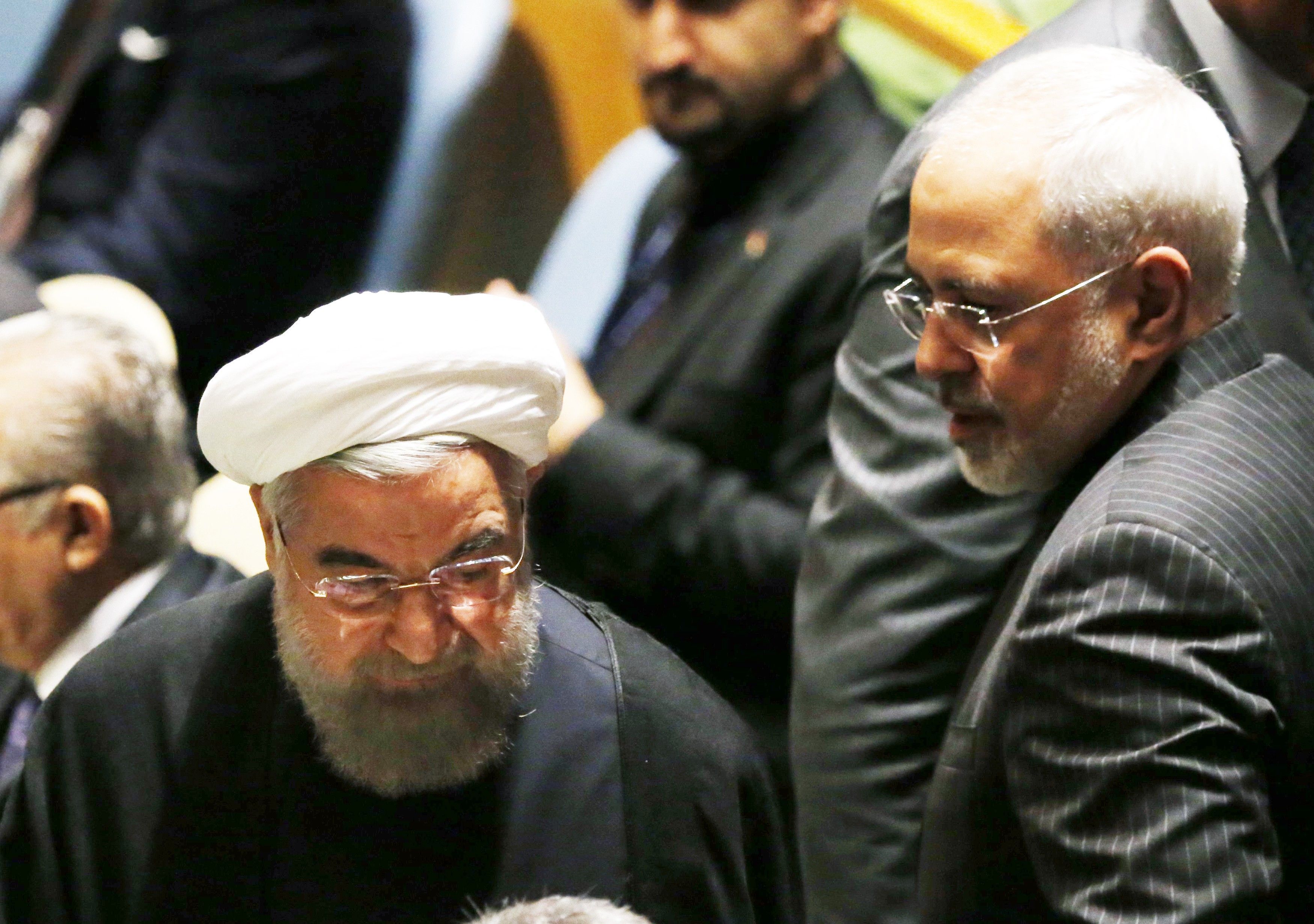 Zarif, however, didn't mention Iran's ballistic missile program and its role in destabilizing Syria, Iraq, Lebanon, and Yemen. The Europeans, which are geographically closer to Iran and the Middle East than the U.S., are naturally more concerned about the country's missile capabilities and regional activities. French President Emmanuel Macron and German Chancellor Angela Merkel have repeatedly called on Tehran to halt its military operations and change its behavior in the region.
Recent attempts by the regime to assassinate opposition figures in France and Denmark have angered many European governments. In early October, France accused Iran's intelligence services of plotting a terrorist attack against the People's Mojahedin of Iran (MKO) group in Paris. A couple of weeks later, Denmark accused Iran of planning to assassinate three Arab-Iranian political activists on its soil. Those arrested have been working at the Iranian embassies and have been in direct contacts with Tehran.
In an interview with FRANCE 24 on November 13 – conducted in English – Kamal Kharrazi, the head of Iran's Strategic Council on Foreign Relations and a foreign policy adviser to the Supreme Leader Ayatollah Ali Khamenei said: "Certainly there could be elements [trying] to disrupt Iran's relationship with Europe. There may be elements [in Iran] planning for this, yes. However, we must first clarify what the situation is. Then certainly we have to make the findings public."
Iranian regime's failed economic policies and wasteful military expenditure in Syria, Iraq, Lebanon, and Yemen in addition to its political and military support for Lebanese Hezbollah and Iraqi Popular Mobilization Forces have brought the country to the brink of political and financial collapse. The last set of U.S. sanctions, which target Iran's banking, oil, and shipping sectors, aims to bring the Islamic Republic to its knees. "We think the [Iranian] government is under real pressure and we intend to squeeze them very hard," John Bolton, the U.S. National Security Adviser, said recently.
Despite President Rouhani's claim that "sanctions will not have a major impact on the Iranian economy," the country is facing a bleak future. Vice President Eshagh Jahangiri, who doesn't share Mr. Rouhani's optimism, recently said: "We can't deny the fact that the sanctions will have a serious effect. Of course, they will, but we must minimize their impact."
---
Translated from Persian by Fardine Hamidi
---