---
By Kayhan Life Staff
---
The war of words between Iran and Saudi Arabia has escalated in recent weeks, after Riyadh announced that its security forces had dismantled a terror cell operating under the auspices of the Islamic Revolutionary Guards Corps (IRGC).
Saudi Arabia's King Salman bin Abdulaziz, who rarely makes public statements against Iran, criticized Tehran's "expansionist activities" during a speech at the annual United Nations meeting of world leaders on Sep. 23.
"Iran exploited the 2015 nuclear deal with world powers to intensify its expansionist activities, create its terrorist networks, and use terrorism," Reuters quoted King Salman as saying. "A comprehensive solution and a firm international position are required."
"Our experience with the Iranian regime has taught us that partial solutions and appeasement did not stop its threats to international peace and security," King Salman added.
The spokesman for the Iranian Foreign Ministry, Saeed Khatibzadeh, described King Salman's remarks as "unfounded."
In comments reported by the English-language Tehran Times, Mr. Khatibzadeh said: "Saudi Arabia has, for years, been pursuing a blame-game policy and seeking to distort realities."
A few days later, the Wall Street Journal reported that Saudi Arabia had claimed to have "dismantled a terrorist cell with ties to the IRGC."
"Saudi security forces arrested 10 people on Sept. 23, including three [who] the kingdom said had received military training and instruction in making bombs in late 2017 at sites in Iran belonging to the IRGC, the Saudi national security agency," the paper reported. "It did not identify the suspects, citing continuing investigations."
"The agency, known as the State Security Presidency, said it had seized nine improvised explosive devices and five kilograms of gunpowder, along with fuses, chemicals, and electronics used in bomb-making," the paper added.
Khatibzadeh described the terror allegations against Iran "as just another unfounded claim manufactured by Saudi Arabia against the Islamic Republic."
"Saudi leaders have abandoned all diplomatic norms, and once again have put on a show by fabricating an incident to divert attention from their failed policies and actions," Khatibzadeh was quoted by the Islamic Republic News Agency (IRNA) as saying. "These worn out, unfounded, and cliché accusations will not help Saudi leaders to achieve their aims. We Urge Saudi Arabia to adopt a wise and honest policy instead of spreading false and worthless stories."
Saudi Arabia was one of the first countries to join Operation Sentinel, a U.S.-led maritime security coalition in the Persian Gulf, mobilized in July 2019 after six foreign tankers were attacked between May and June near the Strait of Hormuz in the Gulf of Oman. The primary aim of Operation Sentinel is to protect vital shipping routes through the Strait of Hormoz, and "escort flagged vessels of participating nations in coordination with European, Asian, and Middle Eastern allies."
During Barack Obama's presidency, Washington-Riyadh relations were strained significantly. However, ties between the two counties have improved since Donald Trump took office in 2016. Most Gulf states have strengthened their ties with the U.S. in recent years.
Riyadh has also played a crucial role in helping Washington to reduce Iran's oil export to near zero. Saudi Arabia increased its oil production to offset any shortage caused by a lack of Iranian oil and prevented a price increase in the international market.
In retaliation, Iran allegedly hit Saudi Aramco oil-processing facilities in Abqaiq and Khurais on Sept. 14, 2019. The UN Secretary-General Antonio Guterres said that weapons used in the attacks on Saudi oil facilities were of "Iranian Origins," adding that they "may have been transferred in a manner inconsistent with UN resolutions."
During a cabinet meeting, broadcast on the Iranian state TV on Sept. 30, President Hassan Rouhani said: "An economic war has been waged [against Iran] in the past three years. Before that, it was, mostly, the sanctions and not [an economic] war."
By increasing its oil production, Saudi Arabia has actively taken part in what Mr. Rouhani has dubbed "an economic war" against Iran. Europeans would never take such a tough stance towards Iran.
Tehran and Riyadh have tried to defuse the tension between them in recent years. President Rouhani's letter to Riyadh in October 2019, titled "A Creative Peaceful Solution," was received well by Saudi officials, the Kuwaiti newspaper Al-Jarida reported. However, the initiative did not yield any concrete results.
Russia was also unsuccessful in its efforts to mediate between the Islamic Republic and Saudi Arabia. The war in Yemen is at the center of Tehran and Riyadh's fight for influence in the region.
Iranian Foreign Minister Mohammad Javad Zarif said in February that Riyadh had shown interest in holding talks with Tehran after the death of the former commander of the IRGC Qods Force (IRGC-QF) Lieutenant General Ghasem Soleimani, who was killed in a U.S. drone attack at Baghdad International Airport on Jan. 3. The initiative did not, however, resulted in negotiations.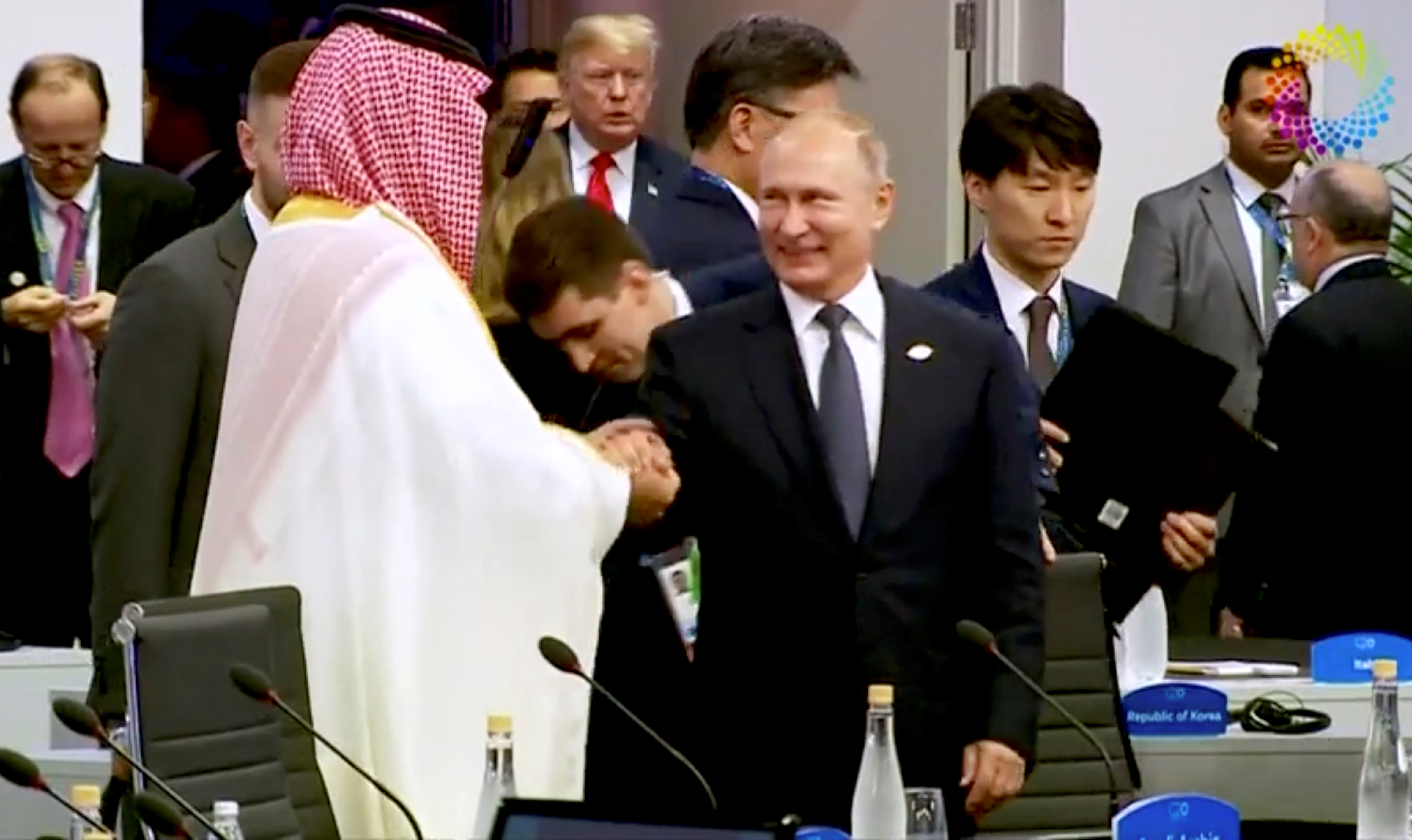 Iran provides weapons and financial support to Yemen's Houthi Shia rebels, which have been fighting the Saudi-led intervention in that country since March 2015.
Brigadier General Abolfazl Shekarchi, the spokesman for the General Staff of the Armed Forces of the Islamic Republic of Iran, has said that Tehran provided only military advisors and defense technology to the Houthi rebels.
"We help any country that stands up to the illegitimate Zionist and the blood-thirsty American terrorist regimes. We do anything we can for them," General Shekarchi said in a TV interview on Sept. 22. "We have transferred our [military] defense technology to the Yemenis. They have learned to build missiles and drones. They manufacture weapons domestically. They fire their domestically made missiles at their enemies. Iran does not provide Yemen with missiles."
During a cultural event titled "A Night of Yemeni Poetry," held on Sept. 29 in Tehran, the keynote speaker Hossein Amir-Abdollahian, a special aid in international affairs to the Majlis (Iranian Parliament) Speaker Mohammad Bagher Ghalibaf, said that Saudi Arabia had secretly reached out to Iran to establish a ceasefire in Yemen.
"I do not doubt that with God's help we will soon celebrate the victory of Yemen in all the countries that are part of the 'Axis of Resistance,' given the courage and fighting spirit that people of Yemen have shown in the past few years," the Qom-based Hawzah News Agency quoted Mr. Amir-Abdollahian as saying. "The Saudi Crown Prince Mohammad bin Salman called me, asking if they could send an envoy to Iran for secret talks."
"After consulting senior officials, including Haj Ghasem [Soleimani], I agreed to meet with the envoy who said Saudi Arabia could not tolerate the situation any longer and wanted our help to resolve the conflict," Amir-Abdollahian noted. "A Saudi major general and another senior military officer and a member of the Houthi Movement central committee met at the border and agreed to hold a week-long ceasefire. However, the U.S., Britain, and the Zionist regime urged Saudi Arabia not to honor the ceasefire. Subsequently, Riyadh broke the ceasefire."
Tensions between Iran and Saudi Arabia have not escalated since the "Abraham Accord," a peace treaty between Israel and the United Arab Emirates (UAE) on Aug. 13, and the Bahrain-Israel normalization agreement on Sept. 15. As the Gulf States leader, Saudi Arabia has spearheaded the efforts to normalize relations between Israel and the Arab countries.
Until recently, the Islamic Republic would not give the UN Atomic Energy Agency (IAEA) inspectors access to two suspected nuclear sites near Tehran and Isfahan. A recent report by the IAEA said that Iran's enriched uranium stockpile had reached 2,105kg (4,640lb), nearly 10 times the limit set under the 2015 Joint Comprehensive Plan of Action (JCPOA), better known as the Iran nuclear deal. The agreement set a limit of 300kg of up to 3.67 percent in enriched uranium-a particular compound form (UF6), equivalent to 202.8kg of uranium.
Following the IAEA report, Saudi Arabia urged the international community on Sept. 30 to adopt a tough stance against Iran's nuclear program. Riyadh has said it would do everything to protect the country's national security. A month earlier, the Cooperation Council for the Arab States of the Gulf had urged the UN to reimpose its arms embargo on Iran.
On Aug. 26, all 15 members of the UN Security Council, except the Dominican Republic, blocked a U.S. effort to trigger the snapback mechanism that would have ended the JCPOA completely. The U.S. withdrew from the agreement in May 2018.
In comments reported by The Wall Street Journal on Sept. 29, Neil Quilliam, a senior research fellow at Britain's Chatham House think tank, said the dismantling of a terrorist cell with alleged ties to the IRGC "fits with a new and bold pattern of Saudi messaging against Iran, which should draw international attention to Tehran's transgressions against its neighbors."
The ongoing Iranian threat to the region has brought Israel and Saudi Arabia closer together, and along with the U.S., they form a formidable front against Iran. While the Islamic Republic and the EU argue that the U.S. is alone in its efforts to isolate the country, many Arab countries, including the UAE, Iran's principal trade partner in the region, have joined the U.S. in its policy of "maximum pressure" against Tehran.
Saudi Arabia has stepped in to fill the vacuum created by the European governments' reluctance to join the U.S. in its "maximum pressure" campaign against Iran.
This article was translated and adapted from Persian by Fardine Hamidi.