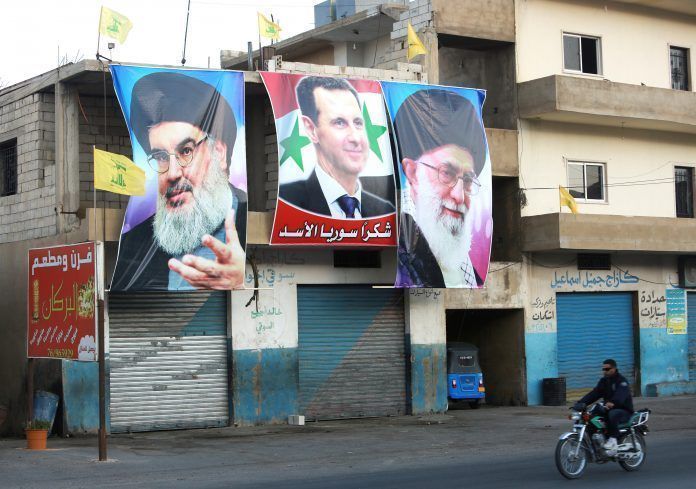 ---
By Ahmad Rafat
---
Hamas's unprecedented air and ground attacks against Israel on Oct. 8 shocked everyone and surprised Israeli intelligence agencies, famous for their capabilities and competence. The significance of Israeli intelligence being blindsided by the attack cannot be overstated.
The failure of Israeli intelligence to detect the attack, dubbed "Al-Aqsa Strom" by Hamas, and the Israeli military's response, codenamed "Swords of Iran," is hotly debated by the Israeli public these days. It will become an even more severe problem for Prime Minister Benjamin Netanyahu's government after the crisis ends with the Israeli public demanding answers.
Following a meeting between leaders of Hamas and Islamic Jihad and Iranian officials in Tehran in June, the Islamic Revolutionary Guards Corps Aerospace Force (IRGC ASF) released a statement that got little attention.
"Following extensive cooperation in sending equipment and with the valuable help of the IRGC Intelligence Organization, two underground workshops, measuring 1,600 square meters, were constructed in Gaza to build surface-to-air and surface-to-water missiles and assemble 'Arash' suicide [long-range loitering munition] drones," the statement by the IRGC AFS said. "This development can increase Hamas's strategic capabilities on Gaza's shorelines and in that region."
It has now become clear why the two workshops were built, which begs the question of why Israeli intelligence, especially Shin Bet (Israel's internal security service), did not pay enough attention to the information disseminated on open sources.
At the beginning of summer, Israeli media reported a massive movement of troops near the border with Lebanon, implying that the Israeli military expected a significant assault by Hezbollah, another terrorist group Iran uses in its proxy war. It has now become clear that Hezbollah's provocative troop movements near the border were decoy operations.
Most of the several thousand people killed on both sides in the ongoing war in the past few days have been civilians. The war was most likely planned while Hamas' political leader, Ismael Haniyeh, and the leader of the Islamic Jihad Movement, Ziyad al-Nakhalah, visited Tehran in June. The two terrorist groups had several months to plan the attack.
After meeting with Ziyad al-Nakhalah, Iranian President Ebrahim Raisi said Israel planned to "demoralize" young Palestinians by "normalizing its ties with Islamic countries." The improvement of relationships between Arab countries and Israel, reportedly expedited by Saudi Arabia's semi-secretive mediations, can pose an existential threat to the Islamic Republic, which has been trying to improve its ties to Arab states, hoping to reduce its isolation in the region and the international community.
The aim of Hamas's "Al-Aqsa Strom" operation in Israel was not to kill over 1,200 people, 1,100 of whom were civilians (not police or military) and included citizens of a dozen countries, including 12 Thai nationals identified among the victims.
The Islamic Republic knew Israel would respond with force to the attack. According to the Red Cross, over 1,200 Palestinians died, and 5,000 were injured in the first five days of the Israeli military's "Swords of Iran" operation in the Gaza Strip. A report by the UN said that some 320,000 Palestinians had been displaced in the Gaza Strip.
Islamic Republic's Leader Urges Muslim States to Back Palestinians Militarily, Financially
The Islamic Republic had predicted that the high number of deaths and Palestinian refugees would delay the normalization of ties between Israel and Arab countries. It would also strain relations between Israel and Saudi Arabia.
The close timing of Hamas' "Al-Aqsa Strom" operation and efforts to normalize ties between Israel and Saudi Arabia is not coincidental. A protracted war will hinder normalizing ties between Riyadh and Jerusalem (Bayt al-Maqdis.)
Other Arab countries will be forced to follow Saudi Arabia in normalizing relations with Israel, given Saudi Arabia's influential role in the Arab world.
In the past few weeks, the Palestinian National Authority that governs the West Bank and its President Mahmoud Abbas, also known as Abu Mazen, have been trying to include the plight of Palestinians in the talks between Riyadh and Jerusalem (Bayt al-Maqdis.)
Meanwhile, the Islamic Republic has predicted that Operation "Swords of Iran" would weaken Israel's standing in the international community. The solidarity and support of the West and the global community with Israel may suffer if its ongoing military operation in the Gaza Strip causes more civilian deaths and displacement of Palestinians. It would shift the focus from Hamas's terrorist acts to pressure Israel to end its military response.
Evidence does not support the Islamic Republic's claim that it is not involved in this war, given that senior Iranian officials and the leader Ali Khamenei have openly praised Hamas's "Al-Aqsa Strom" operation against Israeli (which Tehran refers to as the Zionist regime).
Most observers doubt Khamenei's claims that the Islamic Republic did not know of Hamas's planned attack, given Iran's long history of cooperating with and supporting terrorist groups in Gaza and Lebanon, Tehran's refusal to recognize the state of Israel, and boasting its missile capability to target Israel.
Despite detailed information about Iran's implicit involvement in the recent attack, the West and countries supporting Israel insist that they have no convincing evidence linking Iran to the recent terrorist operation. Their reluctance to implicate Iran stems from political and strategic considerations; otherwise, they would be compelled to take action against Tehran.
U.S. Secretary of State Antony Blinken and his European counterparts have said that despite Tehran's support for Hamas, Islamic Jihad, and Lebanese Hezbollah, "there is no proof of Iran's direct involvement in the attacks," which shows the West does not want to respond to the Iranian action while pressuring Israel to limit its military action to Gaza and not think about attacking Iran.
Similar Articles to This Post