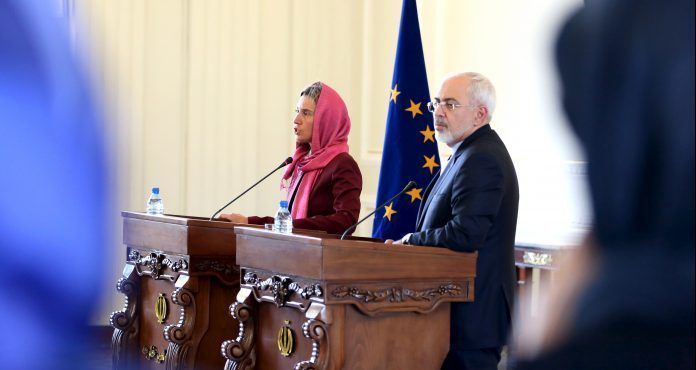 ---
By Ahmad Rafat
---
The European Union announced a new set of sanctions on January 8 against a particular unit of Iran's Ministry of Intelligence and against two individuals — Asadollah Assadi and Saeed Hashemi Moghadam — for allegedly plotting terror attacks against political figures and groups in various European countries.
The French authorities have accused Asadollah Assadi, an Iranian diplomat based in Vienna, of planning a bomb attack on a Paris-based opposition group, the National Council of Resistance of Iran (NCRI), on June 30. Germany extradited Mr. Assadi to Belgium in early October where he is awaiting trial. The EU's latest terror list also includes Saeed Hashemi Moghadam, the head of the Directorate for Internal Security in Iran's Ministry of Intelligence.
Iranian authorities were quick to respond to EU's punitive measures. Iran's Foreign Minister Javad Zarif wrote on his official Twitter account: "Europeans, including Denmark, Holland and France, harbor MEK [People's Mojahedin of Iran, MKO] who killed 12,000 Iranians and helped Saddam Hussein in his murderous campaign against the Iraqi Kurds. Accusing Iran will not absolve Europe of responsibility for harboring terrorists." Foreign Ministry Spokesman Bahram Ghasemi went even further in his criticism of the EU. He said: "The Islamic Republic will form an appropriate response to the EU's decision."
A subsequent meeting on January 9 between senior Iranian officials and ambassadors from EU member countries at the Iranian Foreign Ministry lasted only a few minutes. One diplomat who was at the meeting told Kayhan Life: "Iranian officials were rude and confrontational, so we left almost as soon as we got there. We're still waiting for an official apology from the Islamic Republic's Foreign Ministry." One of Mr. Zarif's colleagues, the diplomat said, called the EU diplomats "terrorists, and threatened to arrest them."
The Islamic Republic is under investigation for state-sponsored terrorism in Germany, France, Belgium, Sweden, Denmark, Norway, Netherlands, and Albania. Germany, France, and Albania have expelled Iranian diplomats in recent months. In the past, courts in France, Germany, Italy, UK, Austria, and Cyprus have tried the regime and its representatives for terror-related offenses.
Dutch Foreign Minister Stef Blok said in a letter to the parliament: "The Dutch intelligence service has strong evidence implicating Iran in the assassinations of two Dutch nationals of Iranian origin, in Almere in 2015 and The Hague in 2017."
The Islamic Republic allegedly hired local gangsters to assassinate a 56-year-old man, Ali Motamed, whose real name was Mohammad Reza Kolahi. A Revolutionary Court in Iran had tried and sentenced him to death in absentia for planting a bomb at the Islamic Republic party's headquarters in 1981 which killed 73 people. The second victim was Ahmad Mola Nissi, the 52-year-old founder of the Arab Struggle Movement for the Liberation of Ahvaz (ASMLA), who was shot dead in Hague in 2017.
Belgian counterterrorism units also arrested an Iranian-Belgian couple in relation to the foiled bomb attack on the NCRI rally in Paris. A statement by Belgium's Federal Public Prosecutor's Office identified the suspects as "Amir S., 38, and Nasimeh N., 33."
In late October, the head of the Danish Security and Intelligence Service (PET), Finn Borch Andersen, said: "Security forces have arrested a Norwegian citizen of Iranian origin and charged him with establishing an Iranian intelligence operation in Denmark and taking part in the attempted assassination of the leader of the Danish branch of the ASMLA."
In December, the Albanian government expelled Iran's ambassador to Tirana and another diplomat for "threatening the security of the country." A statement by the Foreign Ministry said "the pair's activities violated their diplomatic status." Some have suggested that the Albanian government expelled the Iranian diplomats out of concern for the safety of 2,000 members of the MKO who have moved from Iraq to Albania in the past few years.
The Islamic Republic has always denied sponsoring and conducting terror acts in Europe. However, when confronted with irrefutable evidence, it quickly blames rogue elements for the attempted assassinations and bombings of opposition leaders and groups. In an interview with France 24 TV in November, conducted in English, Kamal Kharrazi, a senior foreign policy advisor to Iran's Supreme Leader Ayatollah Ali Khamenei, said: "There may be elements who plan to just keep the current situation between Iran and Europe. There may be elements that [are] planning for this in Iran. Everything has to be clarified. What is the situation? Certainly this has to be made public."
A few days before Mr. Kharrazi's TV interview, the state-owned Iran newspaper published an editorial which argued that "the country's officials knew nothing about these acts, even if the allegations by the Danish government are true. Therefore, authorities must take decisive actions to address the situation. Some reports suggest that the President [Hassan Rouhani] has already decided a course of action, and will announce a plan shortly." However, the Iranian government has not released its final findings on the matter to date.
The investigations into the Islamic Republic's alleged terrorist activities in Europe will have a severe impact on Tehran's relations with the EU. Despite repeated assurances by Federica Mogherini, the High Representative of the Union for Foreign Affairs and Security Policy, the EU could not implement the Special Purpose Vehicle (SPV) devised to ease the effects of U.S. sanctions on European companies trading with Iran. Most EU member countries are reluctant to start the plan. Some reports suggest that Switzerland, which is not part of the EU, has offered to host the first working group on the SPV.
Deputy Oil Minister Dr. Amir-Hossein Zamaninia recently said: "The [eight] countries exempt from U.S. sanctions on Iranian oil don't buy a single barrel more than the limit set by the agreement."
Massoud Polmeh, the director of the Transportation, Shipping and Logistic Federation of Iran noted: "Even countries friendly to Iran are not allowing our tankers and ships to enter their ports. Close to 40 percent of dock workers have lost their jobs since the U.S. sanctions went into effect in November."
Establishing direct talks with the U.S. seems to have gained support among the Islamic Republic's senior officials, as Tehran's relationship with the EU continues to deteriorate. Upon returning from a visit to the Afghan capital Kabul in late December, the Secretary of Iran's Supreme National Security Council Rear Admiral Ali Shamkhani said: "The Americans contacted me twice wanting to set up a meeting. They are lying about Iran reaching out to them." Mr. Shamkhani has, however, repeatedly shown a preference for dealing with the U.S. rather than European governments. President Donald Trump has made it no secret that his administration hopes to negotiate a new nuclear agreement with Iran.
Shamkhani believes that America's willingness to reopen negotiations with Iran reveals a weakness in Mr. Trump's administration. He said: "The Democrats also tried to stop our nuclear program and failed, and that's why they changed their policy in favor of negotiations."
Speaking at a news conference with the visiting Italian Prime Minister Giuseppe Conte in July 2018, Trump said: "I would meet with Iran if they wanted to meet. I don't know they're ready yet. I ended the Iran deal. It was a ridiculous deal. I believe they will probably end up wanting to meet and I'm ready to meet any time they want to."
It is unlikely that Tehran and Washington will sit across from each other at a negotiating table soon if for no other reason than that there are many groups in Iran competing for the opportunity to manage the talks with the U.S.
---
Translated from Persian from Fardine Hamidi
---