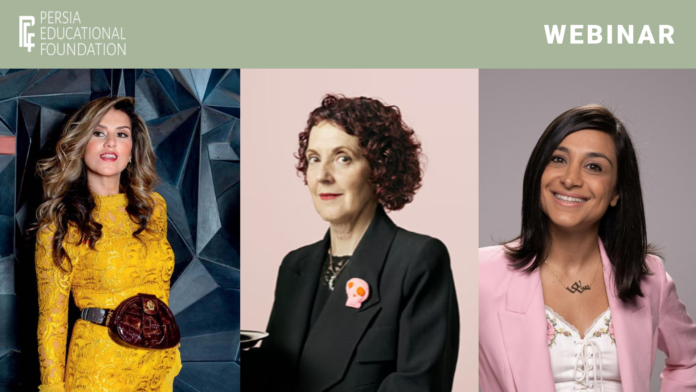 ---
By Tahirih Danesh
---
The Persia Educational Foundation focused on a highly topical issue in its latest webinar: sustainability and innovation in the world of fashion. The webinar featured pioneering women who are revolutionizing the world of leather goods through a sustainable plant-based approach.
The June 22 webinar was moderated by the journalist and lawyer Raha Dixon, the CEO of Tailor Here. She was joined by two innovative women who explore creativity and new business ideas that are changing the world.
The Persia Educational Foundation is a non-governmental UK-registered charity which provides educational support to Iranians worldwide who have an ambition to give back to their communities through the pursuit of public service. Persia is Gift Aid registered and 100 percent of all donations go towards its scholarships.
Dr. Carmen Hijosa is the mastermind of a trailblazing product that is created sustainably to replace leather goods. Amanda Navaian, an Iranian designer who has lived and worked in Sweden and is now based in the UK, is an entrepreneur who has turned this product into a luxury handbag line with a story that inspires women.
The result of the collaboration between Dr. Hijosa and Amanda Navaian is the House of Marici, the world's first plant-based sustainable luxury bag line. Following its UK debut at Selfridges last year, Marici's first store is on Draycott Road, in the heart of London's prestigious Chelsea area. The House of Marici was inaugurated on Earth Day in 2020, to celebrate the sun as the source of sustainable life and as a strong symbol of Iranian culture.
Sharing experiences and insights from places as far away as the Altiplano in Bolivia — the second highest plateau in the world to be inhabited by indigenous communities — or the tanneries in rural Philippines, the webinar focused on the importance of survival, the brief time we have left to turn our world around, and the importance of concern for the environment, especially for those who have the means and who consume the most, including luxury goods.
The speakers invited everyone to be mindful and aware — for instance, when shopping, to ask: where do the materials come from? How have they reached us? Who has been impacted by their production and in what way? What is my responsibility as a consumer through the choices I make? And how do I change the world for the better through the choices I make in my shopping?
Dr. Hijosa, an inventor, completed her PhD in London, then set up a company based on a deep conviction that she has a responsibility to preserve the world we live in by changing how we live and consume. She worked with farmers, weavers and researchers for the last 12 years to develop a new type of leather from pineapple leaf fiber, used in traditional textiles. She has meshed the fiber modeled after human skin and created a material called Pina Tex.
"It's vital that, whatever we do, we can really stretch our hands towards the new generations who are going to have a difficult time," Dr. Hijosa said in the webinar.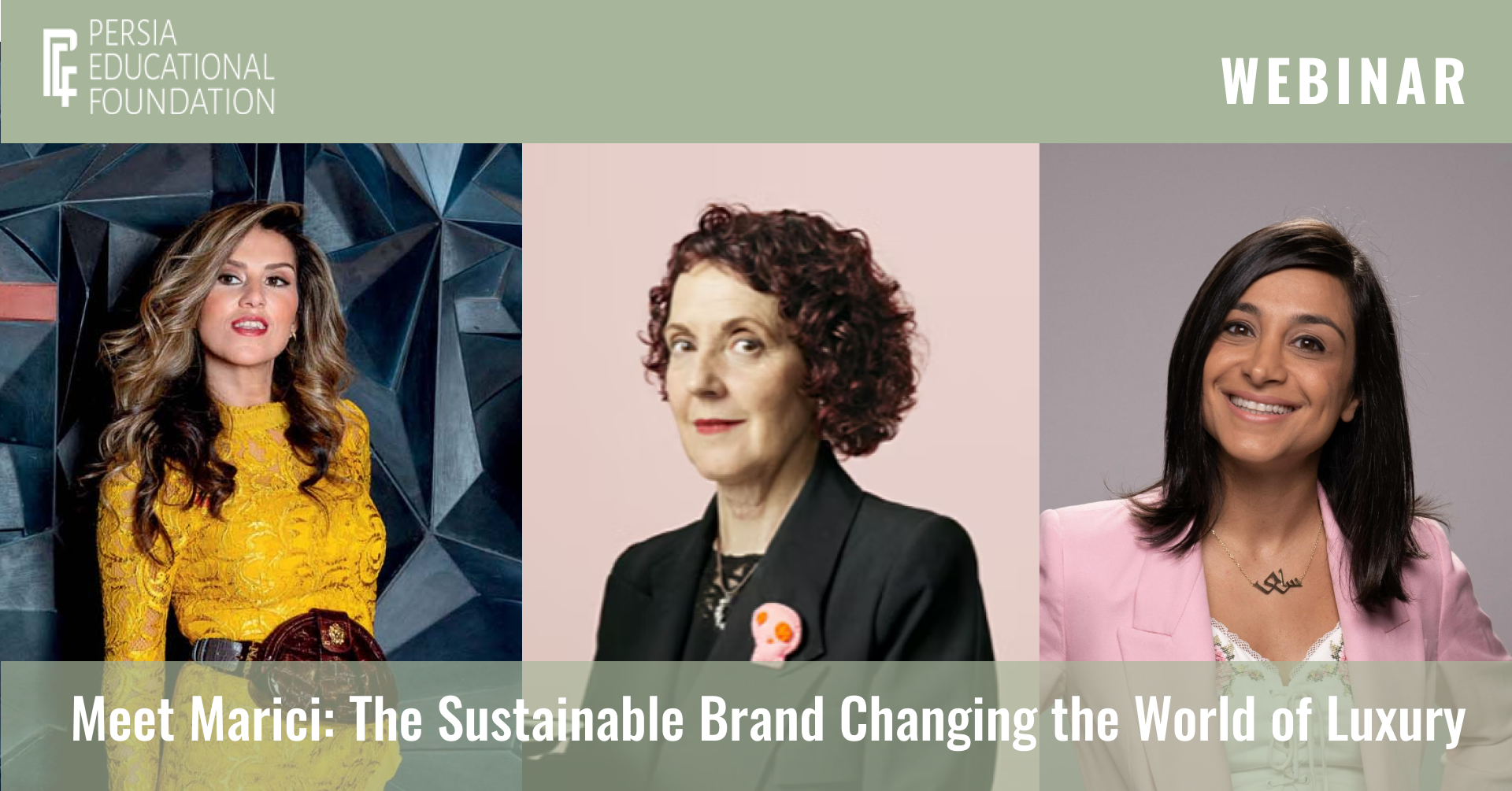 Amanda Navaian crossed paths with Dr. Hijosa's invention and created a luxury handbag line with it. Working to expand a community of conscious consumers, Navaian creates products that are based on principles of circular economy and community cooperation, as well as a collective approach to work, recognizing that we are a member of the human family. She encourages all to start small, and welcomes anyone who is interested, especially young Iranians, to contact her and explore ways of creating a better world.
Even if "we have a smaller piece of the pie, together we create a bigger pie," Navaian said. "One of the things that I try to do is instill hope in other people, to think that they can do it too!"
Both Hijosa and Navaian are firm believers in helping and inspiring the younger generation through education and through initiatives such as the Persia Educational Foundation, recognizing that the world we are leaving for our children is making them face difficult choices.
To place orders with Marici, please visit: https://houseofmarici.com/
To join future conversations hosted by Persia Educational Foundation, please follow our social media or visit our site at www.persia.education
To support Iranian-descent students through Persia's scholarship fund, please visit: https://www.persia.education/donate/
Similar Articles to This Post