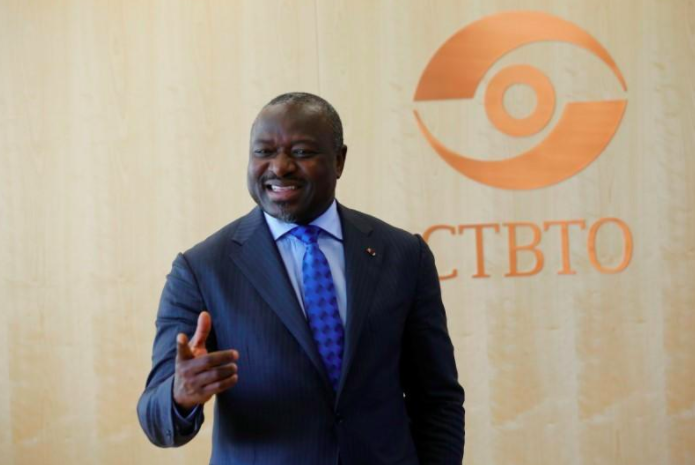 ---
By Tom Miles
---
GENEVA, April 23 (Reuters) – Iran may be interested in joining a key nuclear treaty if the United States withdraws its threat to rip up an existing deal on Tehran's nuclear ambitions, the head of the CTBTO nuclear watchdog said on Monday.
Lassina Zerbo, executive secretary of the Comprehensive Nuclear Test Ban Treaty Organization, was speaking on the sidelines of a nuclear non-proliferation conference in Geneva, where many diplomats are concerned about U.S. President Donald Trump's threat to quit the Iran nuclear deal known as the JCPOA.
While the United States distrusts Iran and says the JCPOA is too weak, Zerbo said that if Iran was trusted, he was hopeful it might ratify the CTBT, a total ban on nuclear explosions.
"I think any support of the JCPOA would get Iran to consider the CTBT," he told Reuters. "The only way to leverage (the situation) is to see trust and confidence in Iran that will push them into considering the comprehensive test ban treaty, and this is my hope and this is what I'm working for."
Zerbo told a meeting of diplomats that he had met Ali Larijani, the speaker of Iran's parliament, in St Petersburg in October 2017 and asked him why Iran was not considering ratification of the CTBT.
"He said they have nothing against the CTBT but they are looking at the JCPOA and his point was 'How do we come to the CTBT when there is doubt on the JCPOA?' That was his answer to me," Zerbo said.
"Let's see what the JCPOA brings, and that could open up opportunity to consider the CTBT by the Iran parliament, by the Iran authorities, and then to gather more consensus in civil society."
Asked how seriously he took Larijani's comments, Zerbo told Reuters that he regarded Larijani as a sincere and honest person who had not been under any obligation to hold such a discussion.
"We spent nearly 40 minutes discussing views, which I would say is unprecedented because we never had this kind of high level discussion from the CTBT perspective with high-level officials," he said.
"This was a deep discussion between my team and speaker of the parliament Larijani's team in St Petersburg."
Larijani had discussed the work done to get the JCPOA accepted in Iran, and Iran wanted to see the benefit of that before considering any other treaty, Zerbo said.
An Iranian delegate at the meeting, Tehran's former ambassador in Vienna, declined to comment.
U.S. Assisant Secretary Christopher Ford, Washington's nuclear non-proliferation envoy, was sceptical about Zerbo's hopes and the prospects for Iran's ratification.
"I remain to be convinced," Ford told Reuters.
Iran and the United States have signed but not ratified the CTBT. They are among eight nuclear technology states whose ratification is needed for it to come into force.
(Reporting by Tom Miles, Editing by William Maclean)