---
In a tweet on July 14, Foreign Minister Javad Zarif said Iran had filed a lawsuit against the U.S. with the International Court of Justice (ICJ) in the Hague "because Washington's decision to impose new sanctions, after withdrawing from the nuclear deal, violated a 1955 treaty between the two countries."
Mr. Zarif had previously outlined three possible scenarios in the event of U.S. withdrawal from the Joint Comprehensive Plan of Action (JCPOA), better known as the Iran nuclear deal. He had said: "Iran may decide to pull out of the agreement and restart uranium enrichment. Alternatively, we can trigger a formal dispute resolution mechanism set out for cases where one party feels a breach of the deal has occurred. We might even decide to pull out of the Non-Proliferation Treaty (NPT) altogether."
In July 2017, Foreign Ministry Spokesman Abbas Araghchi said: "We discussed various avenues available to us for resolving possible disputes. We couldn't decide who would be the best mediator between us and the P5+1, which are the members of the UN Security Council, excluding Germany. We also knew that it would take at least two years before the Hague would rule on a case. We had serious reservations regarding the qualifications of these two bodies as unbiased arbiters."
A ruling by the JCPOA's dispute resolution committee against Iran would trigger the "snap-back" provision which would rapidly reimpose the UN sanctions that were in place before the 2015 nuclear deal. That is why Iran has ultimately decided to argue the case in the Hague instead.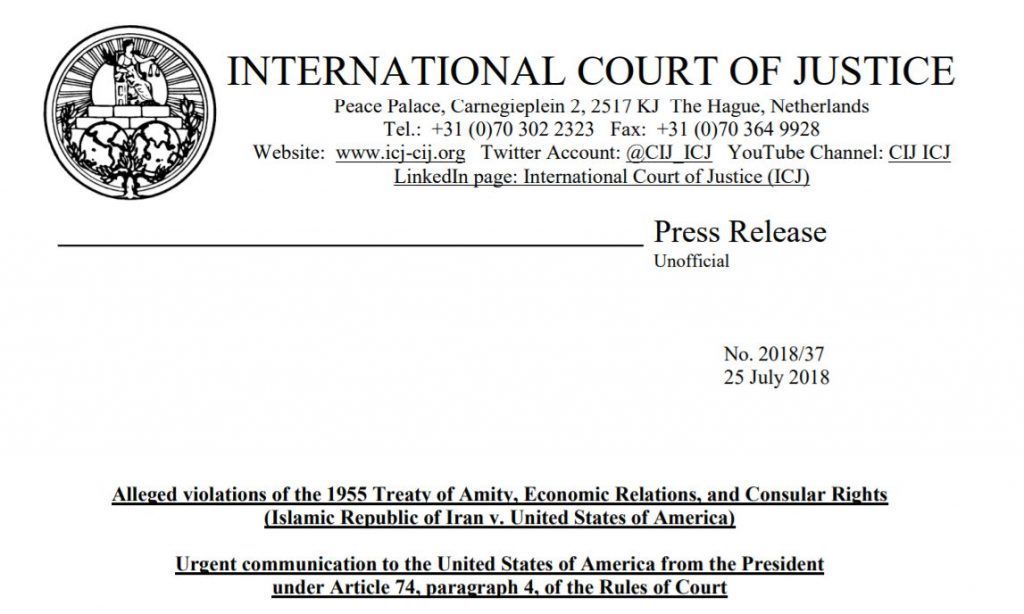 The ICJ's July 25 press release said: "Judge Abdulqawi Ahmed Yusuf, President of the ICJ, addressed an urgent communication to the U.S. Secretary of State, with a copy to the agent of the Islamic Republic of Iran, in the case concerning alleged violations of the 1955 Treaty of Amity, Economic Relations, and Consular Rights."
Iranian print and broadcast media have, however, presented the ICJ's letter to the U.S. Secretary of State, Mike Pompeo, as a victory for the Islamic Republic. Quoting Mohsen Mohebi, the head of the Presidential International Legal Center, the pro-government daily Iran said: "The ICJ has ordered the U.S. not to impose any new sanctions against Iran pending the outcome of the lawsuit. The 1955 Treaty of Amity obliges the U.S. to extend 'fair and equitable treatment' to Iranian citizens. We had urged the ICJ to ban the re-imposition of sanctions immediately."
Article IV of the 1955 treaty states: "Each High Contracting Party shall at all times accord fair and equitable treatment to nationals and companies of the other High Contracting Party, and to their property and enterprises; shall refrain from applying unreasonable or discriminatory measures that would impair their legally acquired rights and interests."
Meanwhile, the U.S. has dismissed Iran's lawsuit. A State Department official, who spoke on condition of anonymity, told Reuters: "While we cannot comment on the specifics, Iran's application is baseless, and we intend to defend the United States before the ICJ vigorously."
Iran would be unable to stop the U.S. from imposing the new set of sanctions on November 4 even if the ICJ were to rule in favor of the Islamic Republic. The only course of action available to Iran would be to refer the matter to the UN Security Council where the U.S. has a right to veto any decision.
Some Iranians have expressed their views on social media.
@javaddaliri tweeted: "A legal victory. The ICJ has ordered the U.S. not to impose any sanctions pending the court's final ruling."
@PadDolat wrote: "The ICJ has informed the U.S. of Iran's formal lawsuit. Court has ordered the U.S. not to reimpose sanctions. Waiting for the court to set a court date."
@Jalili_ro tweeted: "Iran has filed a lawsuit with the ICJ, accusing the U.S. of violating a 1955 treaty. The agreement dates back to the time when Iran was a lackey of the U.S. and was policing the region on its behalf."
---
[Translated from Persian by Fardine Hamidi]
---
---