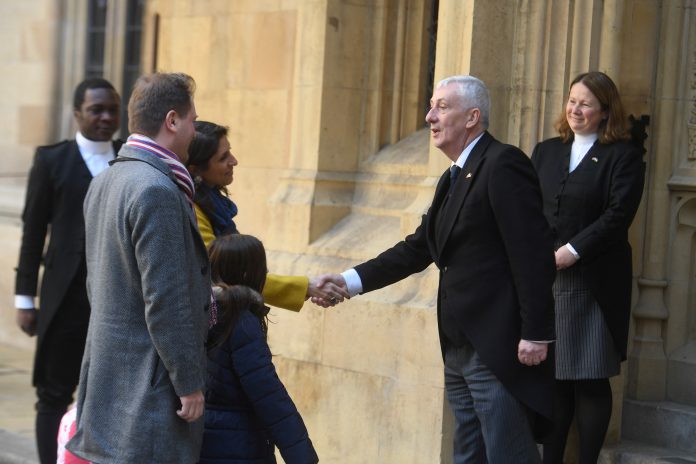 ---
---
Tulip Siddiq, the UK Member of Parliament representing the freed British-Iranian detainee Nazanin Zaghari-Ratcliffe, has asked the Parliament's Foreign Affairs Committee to review the reasons why it took six years to release her constituent.
Siddiq made the announcement at a March 21 press conference in London.
Zaghari-Ratcliffe was freed from detention in Iran on March 17, following an agreement between Iran and Britain to release her and the detained dual national Anoosheh Ashoori. The deal included a promise to furlough the detained foreign national Morad Tahbaz, an Iranian-American who holds British citizenship.
Zaghari-Ratcliffe and Ashoori's releases coincided with the settlement of a long-standing debt of 400 million pounds ($522 million) owed by the UK to Iran which was paid on the same day.
Until her release, Zaghari-Ratcliffe was repeatedly detained by Iran on charges including "plotting to topple the Iranian government," which the UK and the US called "baseless." The mother of one was charged again on April 26 for spreading propaganda against the regime and sentenced to a year in prison, which she had been serving under house arrest until her release.
Tahbaz — an environmental expert working for the Persian Wildlife Heritage Foundation (PWHF) — was charged with "collaborating with the enemy state of the United States" in 2018 and sentenced to 10 years in prison. Tahbaz's wife was issued a travel ban within Iran.
Responding to a Kayhan Life question on whether Zaghari-Ratcliffe was considering launching a judicial review into the British government's handling of her case, her husband Richard Ratcliffe said: "No [but] it is useful to review what happened and what we can learn from it. I think it would be valuable for Parliament to take up that challenge and talk it through."
Meanwhile, Siddiq said: "The two things I'll be asking the Foreign Affairs Select Committee to look at is, first of all, an incident that took place in 2013 when three Iranian officials came to Heathrow to negotiate the repayment of the historic debt that we owed Iran."
"They were arrested at Heathrow airport and then detained in a UK detention center. I spoke to [former Foreign Secretary] Jack Straw [on March 20], who said he never got to the bottom of why that happened."
"The second thing I'll be asking the Foreign Affairs Select Committee to look at if they accept the inquiry is to look at why there was a deal made last year which then fell through and why the payment wasn't made either," Siddiq said.
Speaking at the press conference, Roxanne Tahbaz — Morad Tahbaz's eldest daughter — said her father was no longer on furlough and had been sent back to prison, in what she described as a breach of the agreement made between Iran and Britain. She called on the Prime Minister Boris Johnson and Foreign Secretary Liz Truss to do all they could to bring her father home.
Describing her ordeal in Evin prison and the time she spent under house arrest, Zaghari-Ratcliffe said, "Justice in Iran does not have any meaning" and added that her experience would "always haunt me."
"I believe that the meaning of freedom is never going to be complete until such time that all of us who are unjustly detained in Iran are released," Zaghari-Ratcliffe said. "I followed the story of the [Joint Comprehensive Plan of Action] JCPOA because I was told many times my story was linked to that [deal], which shouldn't have happened. I don't think anybody's life should be linked to a global agreement."
Zaghari-Ratcliffe also criticized the British government, which she said should have secured her release six years ago. She added that she now needed to spend time with her family.
"It was lovely to get to hold [Gabriella], to braid her hair, to brush her hair, that was really, really nice. I realize that coming back to a daughter who is nearly eight — I left her when she was not even two — there is a whole lot to catch up with Richard and Gabriella and getting to know them better."