---
By Kayhan Life Staff
---
Mahboubeh Ramezani, the mother of Pejman Gholipour — a teenager killed by security forces during the November 2019 nationwide protests in Karaj, northwest of Tehran — has been given a one-month prison sentence and 100 lashes, a report by @1500tasvir said.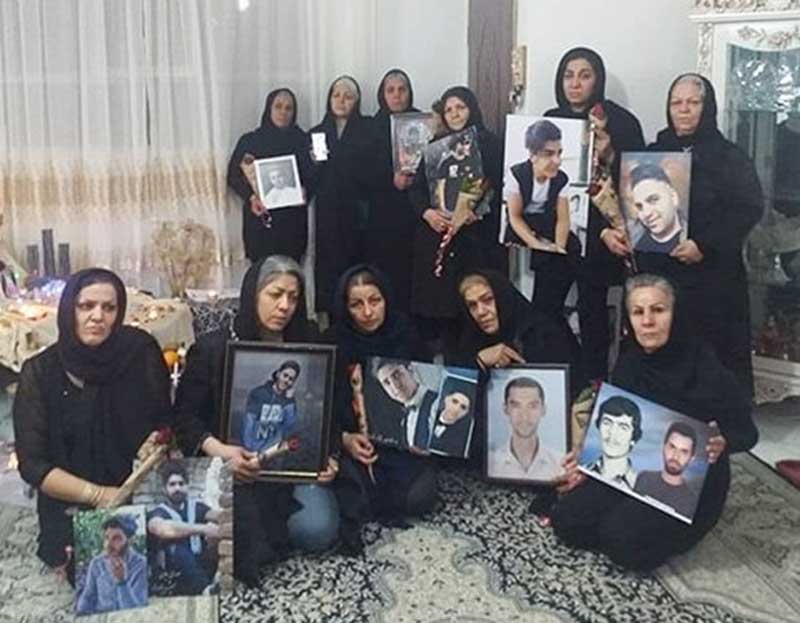 @1500tasvir is a popular "human rights" social media platform "dedicated to Iranian politics and protests," publishing news and information on its Telegram and Twitter accounts.
On July 11 and 12, security forces raided the family homes of the victims of the November 2019 protests, arresting at least 10 women, all members of the "Mothers for Justice," including Ms. Ramezani, the report added.
According to @1500tasvir, other women arrested included Nahid Shirpisheh (mother of Pouya Bakhtiari, a 27-year-old man shot in the head by Iran's anti-riot police in Karaj), Sakineh Ahmadi (mother of Ebrahim Ketabdar, a 35-year-old father of two killed by security forces in Karaj) and Rahimeh Yousefzadeh (mother of Navid Behboudi, a 23-year-old man killed by security forces in Karaj).
The report added that security forces seized mobile phones and other belongings in the coordinated raids. Mahboubeh Ramezani and Rahimeh Yousefzadeh were given a one-month prison sentence. Ramezani has also been handed an additional punishment of 100 lashes. Nahid Shirpisheh is held at Rajaei-Shahr Prison, on the outskirts of Karaj.
Several tweets by @1500tasvir included a video clip of Mahboubeh Ramezani, a message from Pejman Gholipour's brother, Peyman Gholipour, and a Twitter thread reporting on the challenges facing the families of young people who reportedly lost their lives at the hands of authorities in the past few years.
"Peyman Gholipour's brother Pejman Gholipour has said that his mother, Mahboubeh Ramezani, was sentenced to 100 lashes, adding that the authorities have been looking for an excuse to arrest her for a long time," @1500tasvir tweeted on July 16.
The tweet included a message reportedly written by Peyman Gholipour.
"I want to say a few words about my mother's arrest," Mr. Gholipour said in the message. "My mother has been under pressure for a long time. They [authorities] have threatened her and summoned her several times. However, they delivered the last blow a few months ago by sentencing her to 100 lashes, but that did not scare my mother."
"They were looking for an excuse to silence my mother," Gholipour noted. "The families for justice planned to hold their monthly gathering on July 11, at the house of Navid Behboudi's mother. Many thought the reason for getting together on that day was related to the 'Hijab_No_Hijab campaign.' However, that was not the case."
"The families for justice indeed stand shoulder to shoulder with the people," Gholipour explained. "We also respect anyone who works toward bringing freedom, including those involved in protests and the Hijab_No_Hijab campaign. However, our reason for getting together that day had nothing to do with that campaign. They were not planning to go out in the streets or do anything else."
"Arresting my mother a day before the Hijab_No_Hijab campaign could have been deliberate, given they had been looking for an excuse for a long time," Gholipour said. "Arresting a grieving mother would have been embarrassing for authorities, given that they are the ones who had killed her son. So they arrested her a day before the Hijab_No_Hijab campaign to avoid public backlash."
"My mother's only crime is to demand justice," Gholipour said. "What scares them [authorities] the most is that my mother speaks the truth," Gholipour added. "They fear her because she never puts down Pejman's photograph."
In another tweet posted on July 15, @1500tasvir said: "Every one of Mahboubeh Ramazani's words has shaken the state to its core, so much that it feels the need to take revenge on her."
The tweet included undated footage of Mahboubeh Ramazani holding a picture of her deceased son Pejman Gholipour.
"I, Mahboubeh Ramazani, mother of Pejman Gholipour, swear on my child's life and in honor of his blood which was shed unjustly, that every bullet becomes one of my fingers," Ramazani said. "The five bullets you fired have formed a fist with which I will strike the mouth of the oppressor and murderer."
Ms. Ramezani attended an online conference titled "No to the Islamic Republic, Yes to National Unity" on June 11, in which Iran's Crown Prince Reza Pahlavi and several political activists, pro-democracy campaigners, and rights advocates in Iran and abroad delivered speeches.
Ms. Ramezani opened the conference with a heart-wrenching video message in which she said: "I do not want another mother to hold a picture of her child and see a hole in his heart at a hospital. My son's share was five bullets!"
Twitter Account Names Children Allegedly Killed by Iranian Authorities
Similar Articles to This Post