---
FEB. 3 – Niloufar Bayani, one of the eight environmentalists who were arrested by Iranian authorities early last year, has reportedly spoken out against her treatment in prison during a secret court hearing, according to Katayoon Rajabi, sister of another jailed conservationist, Sam Rajabi.
In a tweet posted on February 2, Ms. Rajabi said: "What do you want from these environmentalists? Why does no one hear us? We understand that Niloufar Bayani has spoken out in protest during a court proceeding today. She has turned to everyone [in the courtroom] saying: 'You would also confess if they threaten you with an injection.' Why are we silent? Let's help them." The tweet included hashtags which translate into English as #hope-for-nature.
Iran's Judiciary has not responded to the allegations of physical and psychological torture so far. However, Mahmoud Sadeghi, a Majlis (Iranian Parliament) deputy representing Tehran, Ray, Shemiranat, and Iranshahr, has said the Supreme National Security Council determined that there was no evidence supporting the espionage charges against the imprisoned environmentalists.
On February 3, Mr. Sadeghi tweeted: "We understand that, after a thorough investigation, the Supreme National Security Council has concluded that the actions by the environmentalists did not constitute acts of espionage."
Sadeghi previously said the Ministry of Intelligence had found the charges of espionage against the environmentalist to be without merit.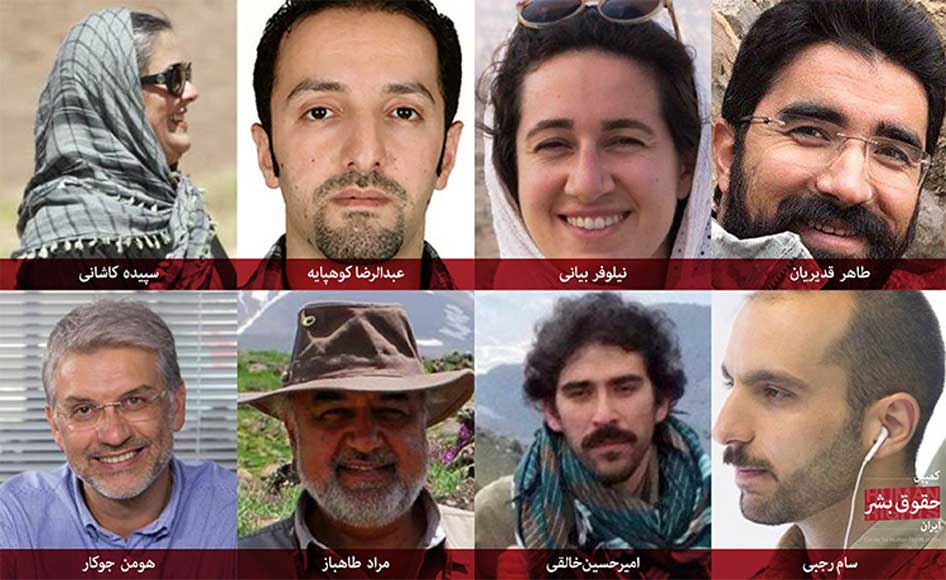 In January 2018, agents from the Islamic Revolutionary Guards Corps' (IRGC) Intelligence Organization arrested Ms. Bayani — the manager of the Conservation of Asiatic Cheetah Project (CACP) and a former adviser to the UN Environment Program — and six other members of the Persian Wildlife Heritage Foundation (PWHF), a non-profit organization.
Other detainees were Kavus Seyyed Emami, an Iranian-Canadian sociologist; Hooman Jokar, the director of CACP; Morad Tahbaz, an Iranian-American businessman; Taher Ghadirian, Amirhossein Khaleghi, and Sam Rajabi. The authorities arrested another environmentalist, Abdolreza Kouhpayeh, a month later.
The Tehran prosecutor's office initially accused the eight environmentalists of espionage but later amended the charges to include "spreading corrupting on earth." Mr. Emami, a sociologist and faculty member at Imam Sadegh University, was said by the authorities to have killed himself at Tehran's Evin prison a day after his arrest.
The Center for Human Rights in Iran, a U.S.-based  non-profit organization, previously posted a report on its website accusing the Iranian authorities of subjecting the jailed environmentalists to psychological torture during their interrogations and injecting them with hallucinogenic drugs. This was corroborated by Niloufar Bayani's testimony during her closed-door court hearing.
Bayani is a biology graduate of McGill University in Montreal, Quebec, Canada. As an advisor to the UN Environment Program, she worked in Afghanistan, the Democratic Republic of the Congo (DRC), Sudan and Tahiti.
Bayani is a granddaughter of Aligholi Bayani (1913-2009), a renowned engineer dubbed as the father of Iran's hydroelectricity. The Bayani family has sponsored many philanthropic projects, worthy causes and social programs for children, the elderly, the poor and the disadvantaged.
The IRGC arrested Bayani six months after she had returned to Iran to continue her research. Her grandmother died during the first month of her imprisonment. According to the Canadian Broadcasting Corporation (CBC), more than 300 environmentalists have signed a petition calling for the immediate release of Bayani and her colleagues from Iranian prisons.
In an interview with CBC's "As It Happens" radio program, Haley Lapalme, a close friend of Bayani, said: "It is shocking to find out that one the most cherished residents of Toronto is in prison in Iran."
Another friend of Bayani, Daniel Hoops @DanHoops tweeted in English: "My friend and scientist Niloufar Bayani has now been in Iranian prison, in isolation, for 1 YEAR. AFAIK, she's only been heard from once in that time. She is such a kind, generous, curious, and happy person and this is just so devastating."
According to an informed source, the indictment against the eight environmentalists is more than 300 pages long, and was reportedly drafted by the prosecution based on a false confession coerced out of Niloufar Bayani under extreme duress.
---
Translated from Persian by Fardine Hamidi
---