---
By Kayhan Life Staff
---
On October 25, Islamic Revolutionary Guards Corps (IRGC) security units beat up Parmis Hamnava, a schoolgirl in the southeastern province of Sistan and Baluchestan, after she allegedly tore out of her textbook a picture of the late Ayatollah Ruhollah Khomeini, the founder of the Islamic Republic, the human rights group International Voice for Baluch Missing Persons said.
The report added that Hamnava, a student at Iranshahr's Parveen Etesami secondary school, was battered in front of her classmates. She died of her injuries the following day in the hospital.
A source familiar with the events told Haalvsh news agency (which reports on events and developments in Sistan and Baluchestan regions) that security forces entered the Parveen Etesami secondary school on Oct. 25 and inspected all textbooks.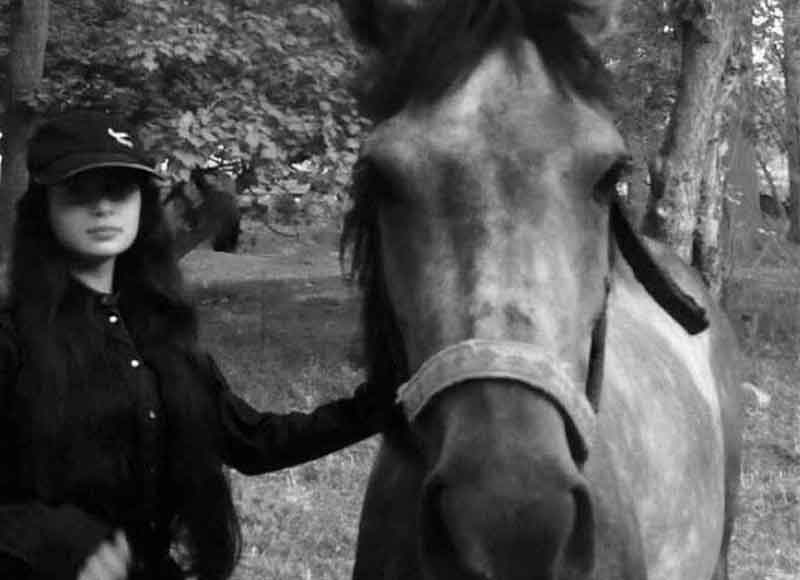 During their search of Parmis Hamnava's belongings, security forces discovered that a picture of Ayatollah Khomeini had been torn off one of her textbooks, the source added. The agents beat up Hamnava, causing her a severe nosebleed.
According to the same source, Hamnava was subsequently taken to the hospital, where she died a day later from her head injuries. Hamnava's body was transferred to the provincial capital Zahedan for burial.
The authorities released Hamnava's body to her family only after her parents, other students, and teachers promised not to report the incident to the news outlets, the source added.
According to Haalvsh, security forces seized all photographs of Parmis Hamnava at school.
"The incident occurred when Ms. Bokharaei, whose husband works for Iranshahr's intelligence office, was on shift," Haalvsh added.
High school students started tearing off pictures of Khomeini and Iran's Supreme Leader Ayatollah Ali Khamenei from their textbooks as a protest during the January 2020 unrest.
Videos Showing Iranian Crackdown on Protesters Go Viral as Anger Grows
Families have been sharing images of the torn-off Khomeini and Khamenei pictures on social media. Tearing off pictures of previous and current leaders of the Islamic Republic from school textbooks is an understated protest action, which tragically led to the death of a teenage girl in Baluchestan.
There is a massive social, political, cultural, intellectual, and generational disconnect between young Iranians who crave freedom and an open society and the revolutionary ideologues who founded the Islamic Republic, dogmatic religious establishment, and hardline politicians whose main priority is to perpetuate an autocratic governing system at all costs. They use any means, including violence, to ensure their survival.
Baluchi women, whose fight for their inalienable civil, legal, and human rights has not always been reported by the media, took to the streets after last week's Friday prayers, carrying placards with the emblematic slogan "Women, Life, Freedom."
The slogan became an international call for justice after the death of Mahsa (Zhina) Amini, a 22-year-old Kurdish Iranian woman who died while in the custody of the morality police on Sept. 16 in Tehran. Her death sparked a nationwide protest in Iran that has now entered its seventh week and is not dissipating despite the Islamic Republic's brutal crackdown on protesters.
Kayhan London is one of the news outlets that has reported extensively on the struggle of ethnic and religious minorities in Iran for their rights and freedom.
"Kurdish honor is Baluchi honor," a tweet by Kayhan London said on Sept. 25. "A protester in Sistan and Baluchestan faces the bullet saying 'lackeys of Khamenei, Kurdish honor is Baluchi honor.' #Mahsa_Amini. #Protests_nationwide. #IranProtest. #IranProtests2022."
The tweet included an undated short video clip of a man engaged in a gunfight. A recording of a man's voice over the video said: "lackeys of Khamenei, Kurdish honor is Baluchi honor. Death to the dictator." An unidentified man in the video clip says: "Baluchestan stands with Kurdistan."
"Baluchi women: 'in the hope of a free and prosperous Iran.' #Mahsa_Amini. #Protests_nationwide. #IranProtest. #IranProtests2022," a tweet on Oct. 18 by Kayhan London said.
The tweet included footage of four hands with the slogan "Women, Life, Freedom" and #Mahsa_Amini. #Protests_nationwide. #IranProtest written on them.
An unidentified woman off camera said: "Although we Baluchi girls and women have not come out into the street, we know your pain and suffering. We have always been and continue to be the victims of the regime and clerics' discriminatory policies against ethnic minorities. In the hope of a free and prosperous Iran."
Similar Articles to This Post