---
June 3, 2019 – Esfandiar Bakhtiari, a deputy representing the Zoroastrian minority in the Majlis (Iranian Parliament), has described as "discriminatory" a recent internal memo issued by the State Welfare Organization of Iran forbidding nurseries from hiring teachers who are not Muslim, the Iranian Student News Agency (ISNA) reported on June 3.
Mr. Esfandiari expressed his outrage at the new hiring guidelines in a letter to Mohammad Shariatmadari, the Minister of Cooperatives, Labor and Social Welfare, whose office oversees the State Welfare Organization of Iran.
"The caretaker of the State Welfare Organizations' office for children and adolescent affairs issued a bizarre and discriminatory directive on May 27, banning the recruitment of members of religious minorities by day nurseries, except those which are specifically for children from those minorities," the letter said. "It is abundantly clear that the directive is against the law and in direct violation of Clause 9 of Article 3 of the Constitution, which calls for eradicating discrimination and providing equal opportunity to everyone."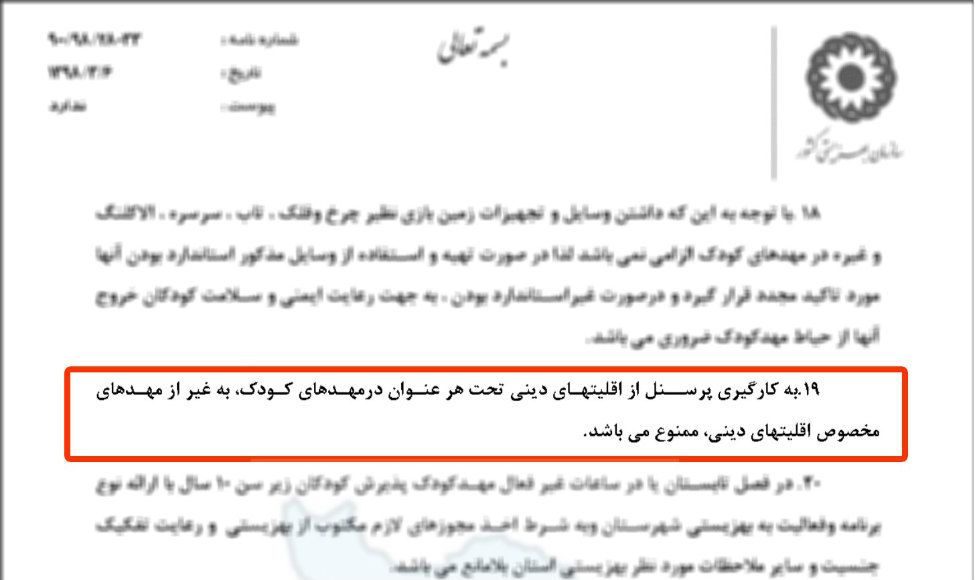 Mr. Bakhtiari added: "We discussed the matter with the esteemed director of the State Welfare Organization, Dr. Vahid Ghobadi Dana, who promised to rectify the situation. However, we have yet to see any tangible results. We therefore ask you to correct this mistake, and hopefully will never witness such inhumane and immoral actions again."
However, Masoud Asima, the director of the State Welfare Organizations' public relations office, argued that the directive was not discriminatory, only provided general guidelines for the recruitment of qualified teachers.
"The directive pertains only to religion classes and does not apply to music, fine arts, and physical education classes," Mr. Asima told ISNA. "General knowledge topics differ from religious teachings which focus on Islamic principles, and, therefore, should be taught by people who have the required credentials."
---
[
Translated from Persian
by Fardine Hamidi]
---