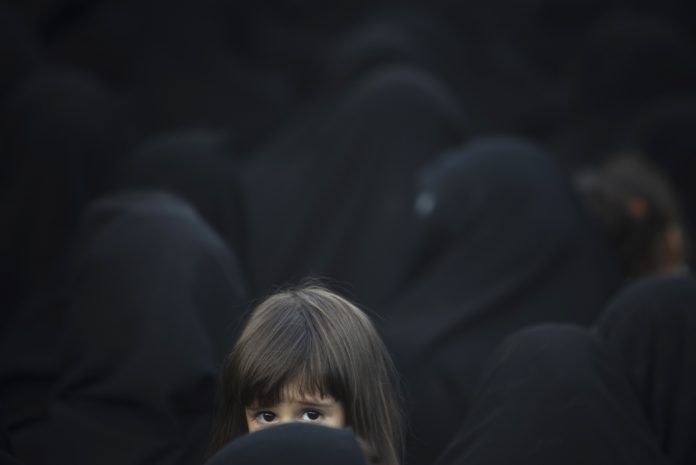 ---
By Kayhan Life Staff
---
A report by the government's Statistical Center of Iran (SCI) has said that 9,753 girls aged 10 to 14 became child brides in the spring of this year in Iran, an increase of 39 percent from the same period last year.
The figure is the highest total recorded in the last two years of child marriages by girls aged 10 to 14 over a three-month period.
Meanwhile, 45,522 girls aged 15 to 19 were married between mid-April and late July of this year, the report showed. Six boys aged under 15, and another 6,573 boys aged 15 to 19, got married in the same period.
According to the report, 31,379 girls aged 10 to 14 married in 2020, a 10.5 percent increase from the previous year.
Some experts believe that the actual number of child marriages is much higher than the official figure, given that many are not officially registered, particularly in rural areas.
A report by the National Organization for Civil Registration, which operates under the auspices of the Iranian Ministry of Interior, said 747 babies were born to women between 10 and 14 years old in the first six months of this year.
OPINION: Child Marriage in Iran Is A Legal Crime Endorsed by Religion 
The highest number of underage pregnancies has been reported in the provinces of Sistan and Baluchestan (southeast), Khuzestan (south), Khorasan Razavi (northeast), Golestan (north), Kerman (southeast), and East Azerbaijan (northeast). Many of the young mothers reportedly die during childbirth.
According to Sharia law, girls and boys reach puberty at ages 9 and 15, respectively. Under the laws of the Islamic Republic of Iran, underage girls and boys are allowed to marry. In the past four decades, the marriage of under-18s and debates over setting the legal age of marriage have become controversial issues, given that Iran legally promotes and funds the marriage of minors.
In comments reported by the Iranian Students News Agency (ISNA) in 2019, Dr. Mehdi Tondguyan, the deputy sports minister in charge of youth affairs, warned against increasing the number of wedding loans, arguing that that would "increase the number of fake marriages and child brides."
Dr. Tondguyan's comments followed reports by Iranian media on a widespread scheme involving fake marriages, which enables couples to apply for wedding loans (also known as marriage loans). Some officials have blamed the growing trend on a proposal by the Majlis (Iranian Parliament) to raise the amount of the wedding loan.
Samira Damavandi, a children's rights activist, recently said that raising the amount of wedding loans would tempt many disadvantaged families to give their underage daughters into marriage to ease their financial difficulties. Many of these are fake marriages arranged by families to receive a wedding loan, and are followed by a quick divorce once the money is split between the two parties.
While wedding loans are reserved for legally registered marriages, many families in rural regions receive so-called "bride money" from the groom's family after the divorce. Many struggling families see the wedding loan as an opportunity to solve some of their financial problems.
The newly appointed Deputy Vice President for Women and Family Affairs, Ensiyeh Khazali, married at age 16. Ms. Khazali is a proponent of child marriages.
"There are 16-year-olds and 16-year-olds," Khazali said in her first press conference. "There are 16-year-old [girls] who have gone through puberty and are intellectually mature."
The United Nations Convention on the Rights of the Child (CRC) — of which Iran is a signatory —   defines anyone who is younger than 18 as a child.
Clauses 1 and 2 of Article 1 of the Child Protection Act — passed by the Majlis (Iranian Parliament) and ratified by the Guardian Council in 2020 — divide children into two categories: "minors and adolescents." A minor is someone "who has not reached the age of puberty as determined by Sharia law," and an adolescent is anyone "under the age of 18 who has reached puberty age as set by Sharia law." The dates are based on the Iranian solar calendar, which starts on Mar. 21.
Under Article 147 of the Islamic Republic Penal Code — passed by the Majlis (Iranian Parliament) and ratified by the Guardian Council in 2013 — girls and boys reach the age of puberty at 9 and 15, respectively. The dates are based on the Islamic lunar calendar, starting on the 1st of Muharram, which falls on a different date on the Gregorian calendar each year.
Under this law, girls and boys younger than 9 and 15 are considered minors, and adolescence starts at 10 and 16 for girls and boys, respectively.
Iranian Child Rights Activist Arrested on Spying Charges as Mass Detentions Continue
---
---