The women's faction in the Majlis (the Iranian Parliament) has introduced an amendment bill which would ease travel restrictions on professional women whose jobs and interests may require them to visit foreign countries.
Under current legislation, a married woman requires her husband's permission to travel abroad, even if she holds a valid passport. A single woman is required to obtain a notarized permit from her father or male guardian. The current proposal, which will be discussed in the Majlis in September, aims to secure greater freedoms for women to travel abroad to pursue their artistic, scientific, academic and athletic work and interests.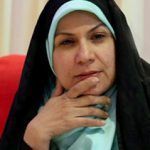 Fatemeh Zolghadr, a Majlis deputy from Tehran, told IRNA (the Islamic Republic News Agency) that the travel amendment bill was signed by 17 members of the women's faction of the Majlis. If it becomes law, it will enable educated and professional women from Iran to have a greater presence in the international community.
According to Zolghadr, the proposal was introduced to the Majlis less than two months after the Olympic and Paralympics archer Zahra Nemati was prevented by her husband from traveling abroad. Nemati won two gold medals in the 2012 London Olympics.
Zolghadr said: "The amendment bill to Clause 3 of Article 18 of the travel law will enable professional women to go abroad without their husbands' or guardians' permissions. The Majlis will discuss the bill after its recess, and following President Hassan Rouhani's inauguration ceremony and cabinet selection."
The introduction to the amendment bill states: "Female scientists, artists, academics and athletes have faced numerous problems since the ratification of the travel law in 1972.
"According to this proposal, the Hajj pilgrimage, sports competitions, scientific seminars, cultural exhibitions, artistic events and economic summits are considered special circumstances. Individuals invited to these events should be allowed to repeal the decision within 10 days, and with the approval of the office of the prosecutor general."
Parvaneh Salahshouri, a Tehran deputy in the Majlis and the head of the women's faction, said: "This amendment bill can pave the way for women to participate in international athletic and cultural events. We hope that the law will eventually apply to all women, and not just athletes, artists and professionals. We aim to eliminate those provisions in the law that enable husbands and male guardians to prevent women from traveling abroad. The amendment bill will protect women against humiliation and unnecessary hardship."