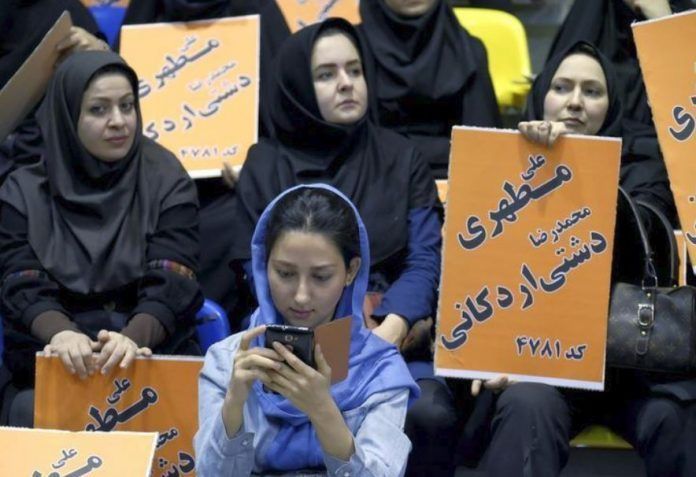 ---
---
Human rights groups continue their efforts to determine the fate of girls and women who were arrested during nationwide protests in December, including Vida Movahed, nicknamed "the girl on Enqelab Street," a 31-year old activist who was arrested after removing her headscarf in protest against the mandatory hijab. She was released on January 29.
Meanwhile, the country's most influential female politicians, including Masoumeh Ebtekar, the Vice President for Women and Family Affairs, and Shahindokht Molaverdi, the Special Assistant to the President for Citizenship Rights, have been less than proactive in safeguarding the civil rights of the female protesters who were jailed.
"The President has ordered a swift investigation into the fate of the detainees, and a quick release of female prisoners," Vice President Ebtekar said on January 28. 
Mrs. Ebtekar has been concerned, throughout the years, about the plight of the protesters who were brutalized, arrested and jailed in the summer of 2009 for contesting the results of the presidential election, which handed a second term to Mahmoud Ahmadinejad. She has even described the crackdown on the protesters as "the tragic events of 2009." By contrast, she has been reticent in her remarks about the recent popular protests, and reluctant to call for the immediate release of those jailed. 
Meanwhile, Mrs. Molaverdi has limited her involvement to re-tweeting messages from other people. She re-tweeted a message originally written by an Iranian journalist, Amene Shirafkan, which read: "Mohammad Kazemi [member of the Parliament from Malayer] told ILNA [the Iranian Labor News Agency] that Fatemeh Saeedi [a member of the Parliament from Tehran] was part of the delegation that visited Evin Prison." It later emerged that the delegation had been dissolved. Why hasn't she re-tweeted messages from women's rights activists and journalists about the plight of female prisoners?
Mrs. Molaverdi posted a single message on her Instagram regarding the jailed protesters which read: "We hope to secure the speedy release of those prisoners who don't have any prior arrest or conviction. We have not publicized our efforts. But we continue our work in this regard." She added: "The time has come for all those involved to take responsibility for creating this situation."
At no point, Mrs. Molaverdi acknowledges that the men and women who took to the streets were ordinary people who were speaking out against the failed policies of the government. Mrs. Molaverdi has clearly failed in her duty as the Special Assistant to the President for Citizenship Rights.
As a female reformist politician, Mrs. Molaverdi was able to gain the support of many Iranian women who pinned their hopes on her. But she has failed to fulfill her promises, most notably on the issue of gaining access to the sports stadium for women. She famously declared: "This government's Citizenship Charter guarantees the right of women to attend events at sports stadiums." But the government issued an official statement on December 24 banning women from sports stadiums."