---
By Roshanak Astaraki
---
A nationwide protest sparked a day after the death of Mahsa (Zhina) Amini, a 22-year-old ethnic Kurd, while in the custody of the morality police (guidance patrol) in Tehran on Sept. 16 is spreading every day with no sign of people backing down, despite the brutal crackdown by the Iranian authorities, who have shut down the internet and severely restricted messaging platforms Instagram and WhatsApp.
Efforts by the Iranian authorities to organize a march following the Friday Prayers on Sept. 23 failed to discourage people from pouring into the streets of 120 cities in some 30 provinces.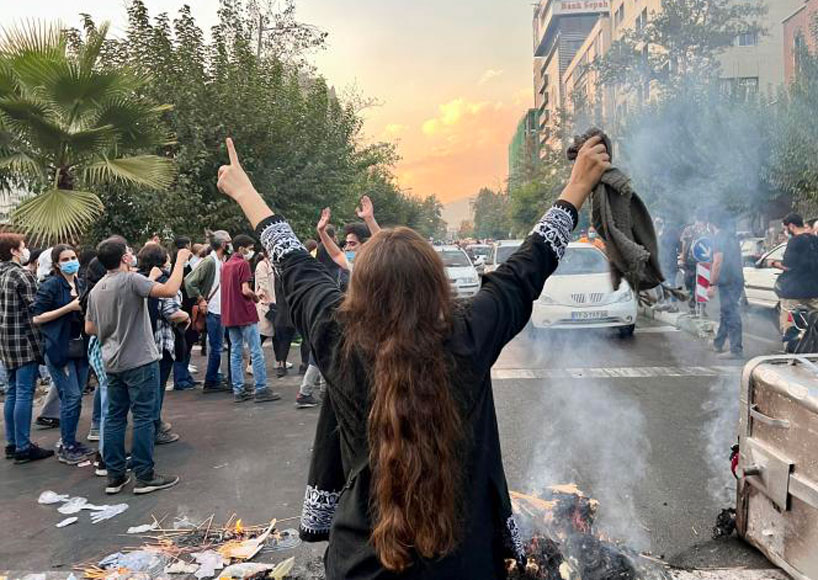 This 20 Yr old girl who was getting ready to join the protest against the murdering of #MahsaAmini got killed by 6 bullets.#HadisNajafi, 20، was shot in the chest, face and neck by Islamic Republic's security forces.
Be our voice.#مهسا_امینیpic.twitter.com/NnJX6kufNW

— Masih Alinejad ?️ (@AlinejadMasih) September 25, 2022
The deployment of riot police, security units, Basij (volunteer militias), and the Islamic Revolutionary Guard Corps (IRGC) forces onto the streets to confront the crowd has transformed the daily protests into a unified national revolution.
The unrest is the largest and most widespread protest in recent years. It is also, more importantly, the most unified protest by Iranians against the Islamic Republic in 43 years.
It is becoming increasingly clear that people are not complaining about a particular social, political, cultural, or economic issue, but rather calling for regime change, as is apparent in some slogans, including "this is the year of blood, Seyyed Ali will be toppled," and "cannons, tanks, bullets, clerics must get lost."
The morality police detained Ms. Amini, a native of Saqqez, in the western province of Kurdistan, outside a metro station in Tehran on Sept. 13 for allegedly violating the Hijab Law.
According to eyewitness accounts, Amini was beaten while transported in a morality police van. She died in hospital on Friday, Sept. 16, after spending three days in a coma.
Hundreds of thousands of people have protested in some hundred cities across the country during the past week, including Urmia, Tehran, Manjil, Amol, Sardasht, Semnan, West Islamabad, Ardabil, Gonbad Kavus, Varamin, Talesh, Tonekabon, Zarrin Shahr, Zahedan, Qeshm, Dehloran, Babol, Nurabad, Sarableh, Tabriz, Sanandaj, Nowshahr, Marvdasht, Mahabad, Hamadan, Oshnavieh, Saveh, Shirvan, Ghaemshahr, Garmsar, Babolsar, Kish, Lahijan, Qom, Ahvaz, Kashan, Rudsar, Paveh, Kerman, Quchan, Pakdasht, Dehgolan, Anzali, Isfahan, Bojnurd, Ghazvin, Zanjan, Fardis, and Bukan.
The Islamic Republic is doing its utmost to crush the protests and discourage people from entering the streets. Basij forces broadcast prayers and anthems on loudspeakers in some neighborhoods. Some reports suggest that the Basij force on motorcycles, plainclothes security units, police in riot control vehicles, and thugs on the Islamic Republic's payroll roam the streets, creating fear among the public.
The Islamic Republic authorities have found themselves in uncharted territory, as women have been at the forefront of growing national protests that have so far shown no sign of subsiding despite the regime's best efforts to crush the unrest and intimidate, terrorize, and brutalize the people.
Security units and riot police have had a strong presence in Isfahan.
A protester in Isfahan told Kayhan Life: "Security forces oversee operations in Isfahan and control the law enforcement and riot police units. Plainclothes armed Basij units are at the forefront of the state forces that attack protesters."
"My friends and I were in Chahar Bagh Avenue in Isfahan on Friday night (Sept. 23)," the protester said. "Basij units were seizing everyone's mobile phones and breaking them. They took the mobile phone of a woman standing next to me and crushed it under their feet. She had finished shopping and was calling someone to pick her up. Riot police units showed no mercy, ploughing through the crowd with their batons. They did not look at people, they just savagely beat them."
"The amazing thing is the people's presence," the person added. "Despite the crackdown, the people of Isfahan still pour into the streets. They face the batons and endure the beatings. They try to hit back. The events resemble scenes from a film in which the director tries to depict a wounded society fighting for its freedom."
"Cries of death to the dictator in Arya Shahr [Sadeghiyeh Square]," another tweet by Kayhan London read on Sept. 23. The tweet included footage of a large crowd walking through the night traffic and shouting "death to the dictator" while cars honked their horns.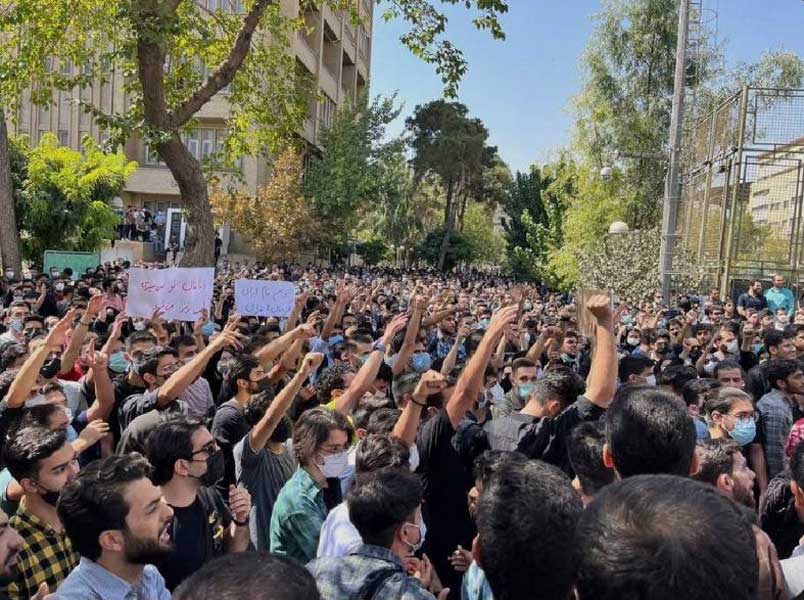 According to residents, Karaj, Mehr Shahr, Fardis, and Gohardasht experienced the fiercest clashes between the protesters and the security units on Friday night.
One protester told Kayhan Life: "People do not hold back in their chants. They look straight into the eyes of the special armed units of the security forces and shout in anger, 'This is the year of blood, Seyyed Ali will be toppled,' or 'This is the last message, the regime is the target.' I have taken part in protests since 2000, but this is unprecedented. Security forces are astounded, and riot police and special units are uncertain, as if they were awaiting their inevitable defeat."
"What we have witnessed during our protest in Alborz Province [northwest of Tehran] since Wednesday, Sept. 20, is nothing like the previous protests," the person explained. "The protests have entered a revolutionary phase since Wednesday. People are out to finish the job. People have seen this in the eyes of the state security forces. I have seen young people arrested shout, 'The end is near' as the police are dragging them away."
A protester in Tabriz, capital of the northwestern province of East Azerbaijan, told Kayhan Life: "Last night [Friday, Sept. 23], I went out into the streets with some trepidation. We thought people might be scared and not come out, given threats by the judiciary and the [Ministry] of Intelligence. However, we were encouraged by the crowd's noise and the atmosphere in the city as we got closer to Shahnaz Street. The people of Tabriz came out last night. I believe their presence was even stronger because of the Islamic Republic's threats."
"The atmosphere in Tabriz resembles what we heard about the public's resolve and steadfastness during the Constitutional Revolution [from 1905 to 1911]," the person said. "History may repeat itself, and a public stricken with poverty, starvation, and illness is rising to change its fate."
"Attempts by authorities, the state media, and supporters of the Islamic Republic on social media to label the protesters have made people angrier," the person added. "The Islamic Republic continues to ridicule the public even in the current climate. However, every one of its scenarios brings the entire system closer to collapse."
A protester in Tehran's Pirouzi Street told Kayhan Life: "Protests get larger and more intense every day in this neighborhood. We see entire families take part in the protests. People are courageous and help each other and try to prevent any arrest. Those who cannot come out in the streets for any reason help in other ways. For instance, an elderly woman sheltered people in her house as we were chased. She had made a big pot of Ash [Iranian soup] and invited protesters to eat before encouraging them to go out again and 'uproot' the regime. An elderly man reportedly gave sanctuary to people fleeing the riot police in his house. As he closed the door, he was hit with a baton and suffered a fracture."
"People are pouring into the streets with courage. However, I and many others believe we need a leader who can organize the efforts," the person said. "Not just a spiritual leader who offers analysis and hope. We are fighting in the field and need a leader who can strategize, organize tactical moves, and guide people across Iran."
On Friday evening, angry protesters shouted chants that attacked Iran's Supreme Leader Ayatollah Seyyed Ali Khamenei and praised Reza Shah, the founder of the Pahlavi dynasty. They included "Zahak [the snake shoulder daemon] Khamenei; we will put you under the ground," "tonight is the goodbye party for the leader," and "Reza Shah, bless your soul."
The other chants were "this is the year of blood, Seyyed Ali will be toppled," "our shame, our shame, our shameless leader," "this is the last message, the regime is the target," and "neither Gaza nor Lebanon, I give my life for Iran," and "we want neither a sheikh nor a cleric, damned the ayatollahs."
Protests spread to several districts and suburbs of Tehran on Friday, including Keshavarz Boulevard, Niavaran, Sattar Khan, Shahrak Ekbatan, Nazi Abad, Pol-e Sadr, Jannat Abad, Shahrak Omid, Gheytariyeh, Valiye Asr intersection (formerly Pahlavi intersection), Narmak, Tehran Pars, Sadeghiyeh Square (formerly Arya Shahr), Tajrish, Hafez Bridge, Vey Park, Karimkhan and Shahrak Andisheh.
"Lion and Sun in Iran," a tweet by Kayhan London said. "Tehran, Sept. 23, 2022. #MahsaAmini. #IranProtests22."
The tweet included footage of an unidentified man walking at night among cars, carrying the pre-Islamic Revolution tricolor (green, red, and white) Iranian flag with an image of a rising sun behind a lion holding a sword. An unidentified man off-camera shouted, "well done," while cars honked their horns.
Security forces and riot police reportedly lack the resources to crack down on the widespread unrest in major cities.
Iranian state media reported on Sept. 21 that the recent unrest marked the first-time authorities used all-female special security and police units to crush protests.
Protesters have used their hands, stones, and sticks to defend themselves against armed riot police and security units.
One of the most significant protests on Sept. 23 was in Oshnavieh, in the northwestern province of West Azerbaijan, where the crowd took control of many of the city's districts, forcing security forces to retreat.
A crowd in Oshnavieh reportedly set fire to the home of Hassan Bedaghi and a store belonging to Fathi Zarza, both IRGC members who have allegedly played a role in crushing recent protests.
Protesters reportedly set fire to a bus that carried riot police in the city of Alvand, the northwestern province of Ghazvin, and drove away military and security forces.
"People are calling a captured Basij member a shameless and treasonous bastard," another tweet by Kayhan London on Sept. 23 said.
The tweet included footage of several people beating a person in the street at night, while several others shouted: "bastard, shameless and treasonous." A man is heard off camera, shouting: "beat him. Kill him."
According to reports, protests in several cities, including Isfahan, Ardabil, Tabriz, and Bukan, were much larger on Friday than on previous nights.
Protesters reportedly threw stones at the riot police in Ardabil, the capital of the northwestern province of Ardabil, preventing them from taking formation and forcing them to flee.
Security units and riot police reportedly used live ammunition against protesters in the town of Bukan, in West Azerbaijan Province.
A video clip reportedly recorded of protests in Bukan on Friday night showed riot police chasing a man into an alley while firing at him. A bullet hit a house window where a small boy was watching what was happening outside.
Similar Articles to This Post