---
---
A growing number of children are believed to be at risk of execution for taking part in Iran's recent anti-government protests, according to international human rights organizations.
Human Rights Watch (HRW) said in a Dec. 13 press release that the Volunteer Committee to Follow-Up on the Situation of Detainees identified four children at risk of execution. They are  among the more than 37 protesters who have been sentenced to death following charges which carried the death penalty.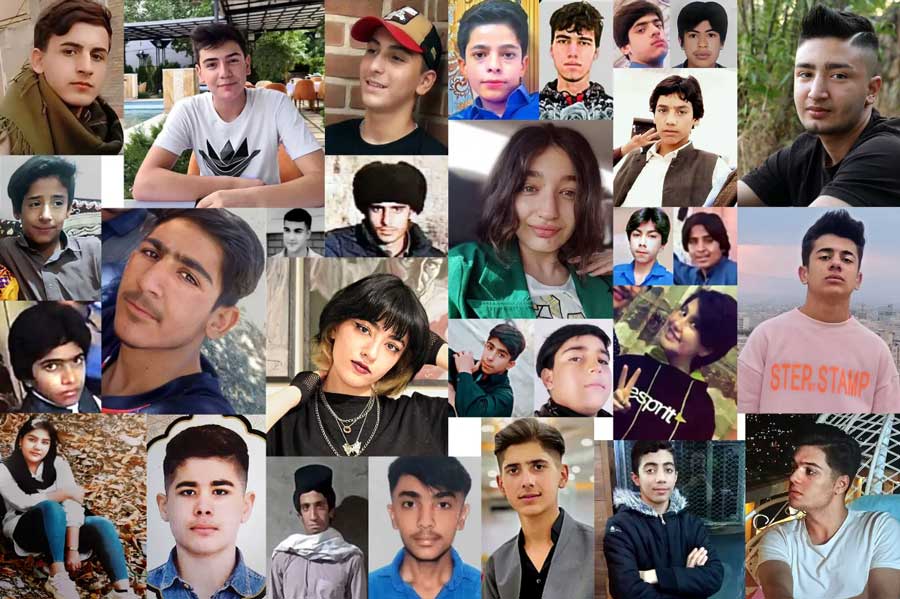 Amnesty International has identified three 17-year-old boys at risk of execution. They are Amin Mohammad (Mehdi) Shokrollahi, Amir Mohammad (Mehdi) Jafari and Arian Farzamnia. Amnesty called the Iranian government's use of the death penalty for demonstrators "a tool of political repression to instill fear among the public and end the popular uprising." It added that at least six people had already been sentenced to death in speedy trials and without a defense attorney of their own choosing. An Iranian lawmaker Mostafa Mirsalim said executions should be carried out within five to ten days of the arrest, in a Dec. 14 interview.
Three more children at risk of execution have been identified by the International Organization to Preserve Human Rights (IOPHR), a London-based think tank. Mohammad Rakhshani Azad and Ali Rakhshani Azad, a 15- and a 16-year-old from Sistan and Baluchistan province, were sentenced to death without a lawyer present, during court hearings in Zahedan City.
In a Dec. 12 tweet, the IOPHR provided details of a third child: "Amirhossein Rahimi was arrested in mid-Oct in Fardis, Karaj by the IRGC [Islamic Revolutionary Guard Corps]. He is just a child and celebrated his 15th birthday behind bars. His family have been warned not to talk about his situation but his mum is now urging the world to speak out."
#AmirhosseinRahimi was arrested in mid-Oct in Fardis, Karaj by the IRGC. He is just a child and celebrated his 15th birthday behind bars. His family have been warned not to talk about his situation but his mum is now urging the world to speak out.#IranRevoIution #MahsaAmini pic.twitter.com/BtmV5qvt9l

— IOPHR (@IOPHRpress) December 12, 2022
Additionally, at least 68 children have been killed in brutal crackdowns by security forces during the protests, according to the Human Rights Activists News Agency (HRANA).
"My heart sinks every time I see a new child added to the list of over 160 children on death row in the Islamic Republic of Iran," said Nazanin Afshin-Jam MacKay, a human rights activist and the co-founder of Stop Child Executions, in an interview with Kayhan Life. She said Iran as a state was party to the United Nations's International Covenant on Civil and Political Rights, and the UN Convention on the Rights of the Child,  "which forbids the executions of those that have committed an offense before the age of 18."
Iran's government has previously said that the execution of minors does not violate human rights laws. Iran is the second most active country after China for its use of the death penalty, and is the world's most prolific executioner of children, and women.
An urgent Dec. 12 debate in the British House of Lords brought by lawmaker Lord Scriven asked the British government for its assessment of reports that Iran's regime was carrying out executions against anti-government protesters.
Speaking at the meeting, lawmaker Baroness Hussein-Ece said: "Some executions are happening right now, over the past few days. Some are children. Could [the government] say what extra actions are going to be taken in the light of these continuing atrocities?"
Responding on behalf of the government, lawmaker Lord Goldsmith said sanctions targeting senior Iranian officials had been imposed, and that Iranians looking for safe passage to the UK would be helped.
"We take a measured approach to engaging both with Iranian civil society and the Iranian diaspora here in the UK. We are clear that ultimately the choice of Iran's government is a matter for the Iranian people, but we will do everything we can to ensure that the Iranian people's voices are heard," Lord Goldsmith said.
Afshin-Jam MacKay said that the Iranian diaspora had "urged Western leaders to take strong action. Otherwise we understood there would be more executions in the coming days. By the G7 countries  staying quiet, it gives them license to carry out more executions and more violence against peaceful protesters."
Amnesty International, which is documenting the number of child deaths in Iran during the protests, has said that at least 44 children have been unlawfully killed by Iran's security forces. Children were found to have been shot in the head, heart and other major organs, as police fired live ammunition at protesters and bystanders. More than 60 percent of children killed were from Baluchi and Kurdish minority groups, communities that are routinely persecuted by Iran's government.
Amnesty said children represented 14 percent of the total number of deaths connected to the protests.
The Iranian government has been accused by human rights groups of covering up the murders of children during the protests, claiming that some children had jumped off roofs or died in car accidents. There are also reports of Iranian officials forcing families of the children to make video statements 'confirming' the claims.
Several children supporting the movement were reportedly subjected to physical and psychological torture while in custody and at school, according to the New York-based Center for Human Rights in Iran (CHRI).
---
Similar Articles to This Post