---
The head of the Islamic Republic's Civil Defence Organization Brigadier-General Gholamreza Jalali has accused Israel of causing drought in Iran, ISNA (the Iranian Students News Agency) reported.
Speaking at a news conference in Karaj, Commander Jalali said: "Studies by our scientists have confirmed our suspicion that foreign interference has contributed to climate change. Israel and another country in the region are working together to ensure that clouds entering Iranian skies are unable to release rain."
"We are also facing the problem of cloud and snow theft," Mr. Jalali added. "Research has shown that all mountain ranges between Afghanistan and the Mediterranean — above 2,200 meters (7,218 feet) — were covered in snow, except in Iran."
Rising temperatures and poor management have caused severe water shortage and drought in many parts of the country.
Jalali also warned against the import of seeds and vaccines, describing them as "weapons in the enemies' arsenal." He added: "We must allow the private sector to develop domestic vaccines so we don't have to rely on imports. We must also discourage the farming of non-essential food products such as watermelon."
Referring to social media, Jalali said: "There is nothing inherently wrong with this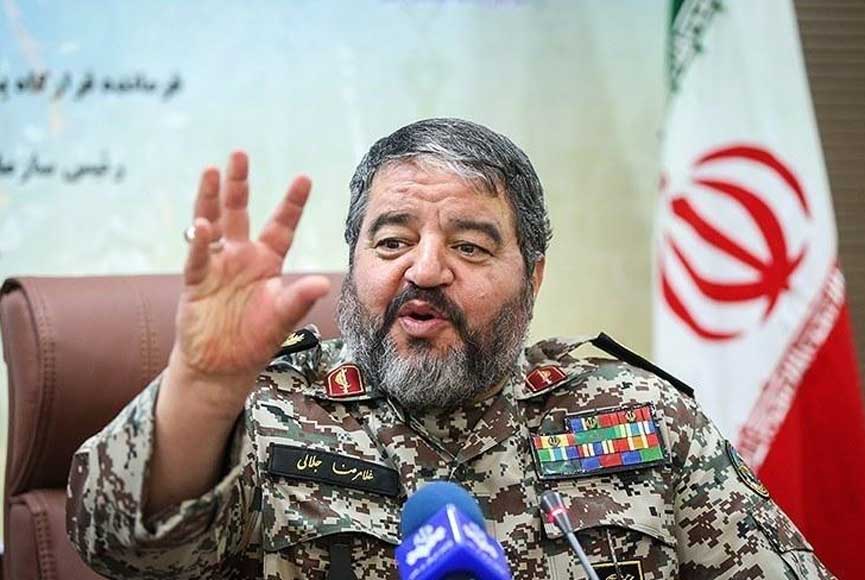 technology. It has great potential if used correctly. However, our enemies can use it to launch a cyberwar against us."
Jalali previously cited biological warfare as the possible cause of pathogens that three years ago infected olive groves and chickens in the northern and central provinces of Gilan and Alborz, respectively. He said: "Many countries may resort to biological warfare to attack our nation." 
He also warned of the modification of food products, saying that "it could arrest a nation's development."
Jalali is not the first senior official of the Islamic Republic to have accused Israel and its allies of resorting to extraordinary measures to hurt the Iranian people.
The authorities have arrested and jailed more than 50 environmentalists in the past few months on charges of espionage.
During a radio interview earlier this year retired Major-General Hassan Firouzabadi, the former chief-of-staff of the Iran's Armed Forces, said: "Some individuals brought reptiles including lizards and chameleons with nuclear-sensing properties to Iran to locate our uranium mines and the places where we conduct our nuclear activities." 
---
[Translated from Persian by Fardine Hamidi]
---