---
APRIL 26 – Iran has filed a complaint against the US at the International Court of Justice (ICJ) in The Hague for preventing any outside financial help from reaching flood victims, Laya Joneydi, vice president in legal affairs, has said.
"A previous ruling by the ICJ prohibits the U.S. from imposing sanctions on food, medicine, medical equipment, farm products, banking transactions, air services, and aircraft parts," Ms. Joneydi noted. "The ICJ's ruling is in line with the humanitarian principles of neutrality, impartiality, and independence."
According to Joneydi, the Iranian Red Crescent Society could not access international financial contributions sent through foreign banks. Many Iranians have been using private channels to send money to victims of the flood.
Foreign Ministry spokesman Bahram Ghasemi also said: "Iranians living abroad cannot send money to flood victims because foreign banks have frozen the Iranian Red Crescent Society's bank accounts."
A statement on the Iranian Red Crescent Society's website, however, contradicted the government claims. It read: "Iranians living abroad can now help victims of the recent flood by making cash donations through the link on our website." The organization has listed a bank account number on its web page where people could send their donations.
---
The Iranian government has frequently accused the U.S. of blocking aid efforts to flood victims. However, the International Committee of the Red Cross has repeatedly rejected those claims.
In a statement on April 2, U.S. Secretary of State Mike Pompeo said: "On behalf of the American people, we offer our condolences to victims of the recent floods in Iran. These floods once again show the level of the Iranian regime's mismanagement in urban planning and emergency preparedness. The regime blames outside entities when, in fact, it is their mismanagement that has led to this disaster. The United States stands ready to assist and contribute to the International Federation of Red Cross and Red Crescent Societies, which would then direct money through the Iranian Red Crescent for relief."
Iranian Foreign Minister Mohammad Javad Zarif posted a response in English to Mr. Pompeo's remarks on his Twitter account which said: "FAKE NEWS: @SecPompeo claim that the US ready to assist @ifrc which would direct money through Iranian Red Crescent for relief. REAL NEWS: As @ICRC President noted, Iranian Red Crescent cannot receive any funds due to illegal US sanctions. US should own up to its ECONOMIC TERRORISM."
Besides international aid agencies, many European, Asian and Middle Eastern countries have helped flood victims including Qatar, India, Pakistan, France, Germany, Turkey, Armenia, and Italy. On April 4, the EU gave 1.2 million euros in emergency aid to the flood relief efforts in Iran.
Some officials have criticized the EU for neglecting the flood victims. "The EU has given American actress Angelina Jolie 40 million euros, but only 1.5 million to Iran," a tweet by Entekhab news on April 20 said, quoting Parviz Fattah, the director of the National Disaster Management Organization (NDMO).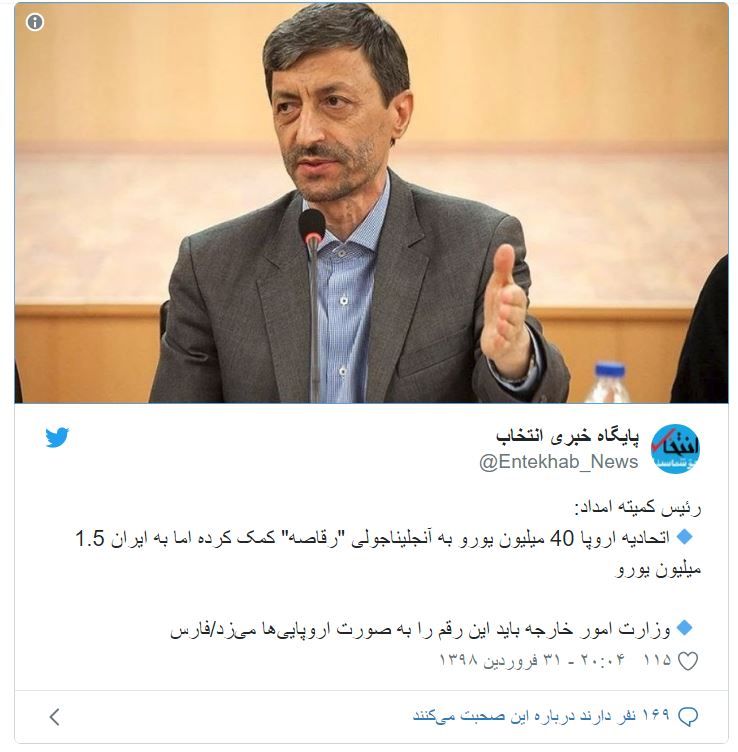 ---
It is unclear why the Iranian government is filing a formal complaint against the U.S. at the ICJ, given that international food and monetary aid are reaching flood victims.
---
[
Translated from Persian
by Fardine Hamidi]
---