---
---
The leaders of the Islamic Republic continue to blame U.S. sanctions for the economic crisis, which has made life difficult for most Iranians in recent years. Iranian society has been under enormous pressure for decades, so it is likely that tensions will give rise to nationwide unrest.
The Islamic Republic has been isolated from the international community — a pariah state — for a long time. It has recently turned away from the West and is actively trying to develop closer ties with Moscow and Beijing.
Kayhan Life recently spoke to Dr. Shahriar Ahy, a political thought leader, and strategist, about the social and political climate in Iran.
The following is an interview with Dr. Ahy.
It has been nearly three years since the U.S. launched its "maximum pressure" campaign to curb Iran's political agenda and military ambitions in the region and force Tehran back to the negotiating table. How effective has this policy been? 
There has been much political noise in Washington recently. Many people argue that the "maximum pressure" campaign has failed to bring Iran back to the negotiating table. They expected President Donald Trump's policy on Iran to have the same results as that of his predecessor, Barack Obama. Well, they were wrong. Mr. Trump and his administration's objectives are not the same as those of former President Obama's government. Their views of a favorable outcome are vastly different.
Mr. Obama's principal concern was Iran's nuclear program. It overshadowed all other issues. He believed that resolving the nuclear issue would somehow make it easier to deal with Iran's other policies and activities. The Trump administration sees the situation differently. While the Obama administration was trying hard to complete the Iran nuclear deal, most members of the U.S. Senate at the time held the same view on the issue that Trump does today. The U.S. Senate never supported Obama's approach to Iran.
Trump and his administration do not believe that Iran's nuclear program is the single most urgent issue. It differs from Pakistan's nuclear program. Their primary concern is Iran's regional policies and military activities, including Tehran's support for Shia militia groups that threaten U.S. interests and its allies. U.S. Secretary of State Mike Pompeo has repeatedly said, 'Iran must behave like a normal nation,' by which he means the regime must focus on improving living conditions for its people.
Trump believes the 'maximum pressure' campaign has been effective. Evidence shows that Iran's influence in the region has significantly diminished. In the past few months, people have been protesting against the Islamic Republic in Lebanon, Hezbollah's stronghold, and in the Iraqi cities of Najaf, Karbala, and Basra.
The Islamic Republic's policies and plans have failed for a variety of reasons. The axiom 'We hold explosives in one hand, and billions of dollars in the other,' propagated by [the former commander of the Revolutionary Guards Corps' Qods Force Lieutenant General] Ghasem Soleimani [killed in a U.S. drone attack on Baghdad International Airport on Jan. 8], does not work in the long run. No nation would tolerate such pressure forever. The public will react, eventually.
The Iranian regime faces a severe cash shortage because of the 'maximum pressure' campaign. Money buys influence, and without it, Tehran's control over the region has weakened significantly.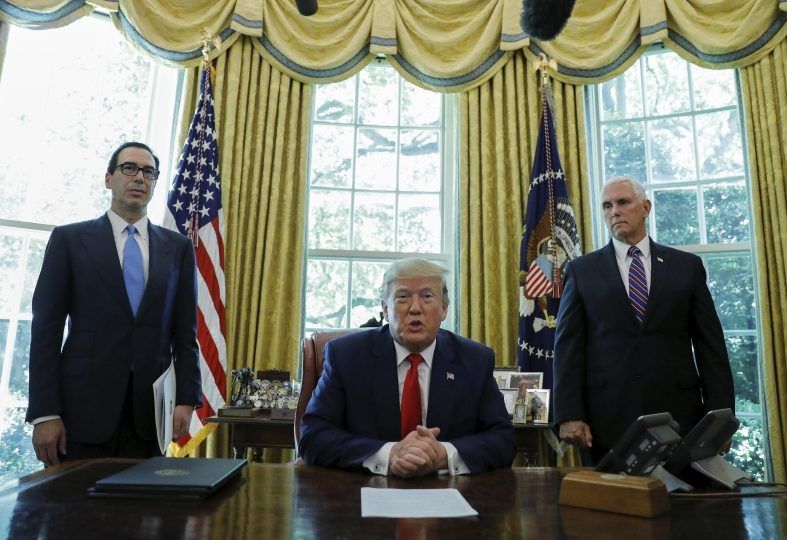 Despite the crippling sanctions and enormous economic and financial pressures, the Islamic Republic has not curbed its policies and behavior. In recent months, Iranian supertankers have carried fuel to Venezuela, and Shia militias under the command of the IRGC have attacked U.S. interests in Iraq. What options are available to Washington, given the U.S. presidential elections are only three months away?
There are two issues here. Iran and the U.S. have been engaged in a low-intensity asymmetrical war for some time now. The drone attacks on the state-owned Saudi Aramco oil processing facilities [in Abqaiq and Khurais in September 2019] are examples of this warfare. While Iran would be at a disadvantage in a conventional military conflict with the U.S., it would have the upper hand in an asymmetrical war. However, both parties observe certain red lines.
For example, Trump did not approve a retaliatory strike against Iran after the [IRGC] downed an American [military surveillance] drone [in June 2009]. He said that no Americans had been killed in the Iranian attack, and, therefore, the estimated loss of 150 Iranian lives in a U.S. military strike would have been a disproportionate response.
Also, no one died in the Iranian attack on the Aramco oil facilities. Iranian authorities gave advanced warning to U.S. forces before launching ballistic missiles [at al-Assad Air Base in Iraq on Jan. 8] in retaliation against the assassination of General Ghasem Soleimani.
Getting nuclear weapons technology is part of Iran's broader plan to develop its missile program to help its asymmetrical warfare capability. Another agreement, like the JCPOA [the Joint Comprehensive Plan of Action, or Iran nuclear deal, signed in 2015], will be ineffective in this situation.
Both Moscow and Washington want to curb Iran's missile program and regional activities. Russia has not delivered the S-400 anti-aircraft weapon system to Iran yet. The Russian military deactivates its surface-to-air defensive system during Israeli attacks on IRGC positions in Syria. It would surprise no one if Russia follows the same procedure if the Israeli Airforce were to strike inside Iran.
Some political observers argue that besides imposing economic sanctions and isolating Iran in the international political arena, other measures, including launching cyberattacks on the Islamic Republic strategic sites, could lead to another round of talks like the JCPOA. Do you agree with that view? 
Yes, but only if Joe Biden [the presumptive Democratic nominee] becomes the next U.S. president. However, we must not forget that Mr. Biden is not another Obama. Obama's father [originally from Kenya] was Muslim. His Indonesian stepfather was a moderate Muslim. Obama thought the deep-seated anti-Muslim sentiment in the U.S. was a historical mistake that should be corrected. He delivered his first major foreign policy speech titled 'A New Beginning' at the Cairo University in 2009.
Biden is a staunch supporter of Israel. Obama was prepared to cross even the red lines he had drawn himself. For instance, he did not respond to [Syrian President] Bashar al-Assad's chemical attacks on civilians for fear of upsetting Tehran. Biden will adopt a harder line towards Iran. The two countries will talk again, but negotiations will resolve none of the existing issues.
Will closer ties between Iran and China solve anything? 
The country's leadership knows that the relationship with China has only hurt Iran so far.
The regime has always argued that genuine nationalists would defy the sanctions and stand up to the U.S.
However, the reported 25-year contract with Beijing has placed Tehran in an awkward position, given that many Iranians feel their leaders have betrayed the nation and have sold the entire country to China.
It is doubtful that the economic windfall from the deal with China would compensate for the disgraceful loss. China will never invest $400 billion in Iran. It never honored the terms of its contract regarding the South Pars Oil and Gas Development project. Beijing has never fulfilled its obligations towards Iran.
This article was translated and adapted from Persian by Fardine Hamidi.