---
 By Kayhan Life Staff
---
Dr. Iraj Vahidi, who served as Iran's Minister of Agriculture from 1969 to 1971 and Minister of Energy (known as Water and Electricity) from 1971 to 1976, died earlier this week at age 95.
Dr. Vahidi was born in1927 in Khorramshahr, the capital of the southwestern province of Khorramshahr. After graduating from the Darolfonoon high school, Vahidi received a bachelor's degree in civil engineering from Tehran University's School of Engineering. Soon after, he moved to England to pursue his studies.
Vahidi continued his higher education at the University of Durham's Kings College, receiving a Ph.D. in water and water waste engineering in 1959.
After finishing university, Dr. Vahidi returned to Iran, where he first worked at the National Iranian Oil Company (NIOC) before accepting a job at the Ministry of Agriculture as an inspector in the Department of Irrigation. He later became the head of the department and a member of its board of directors.
In 1963, Vahidi was appointed deputy minister to the newly created Ministry of Energy (Water and Electricity). Two years later, he served as the director of Khuzestan Province's Water and Electricity Organization in Iran's southwest.
Dr. Vahidi and Iran's then Minister of Energy, Mansour Rouhani, attended the Water for Peace International Conference (planning and developing water programs), held in Washington D.C. in May 1967.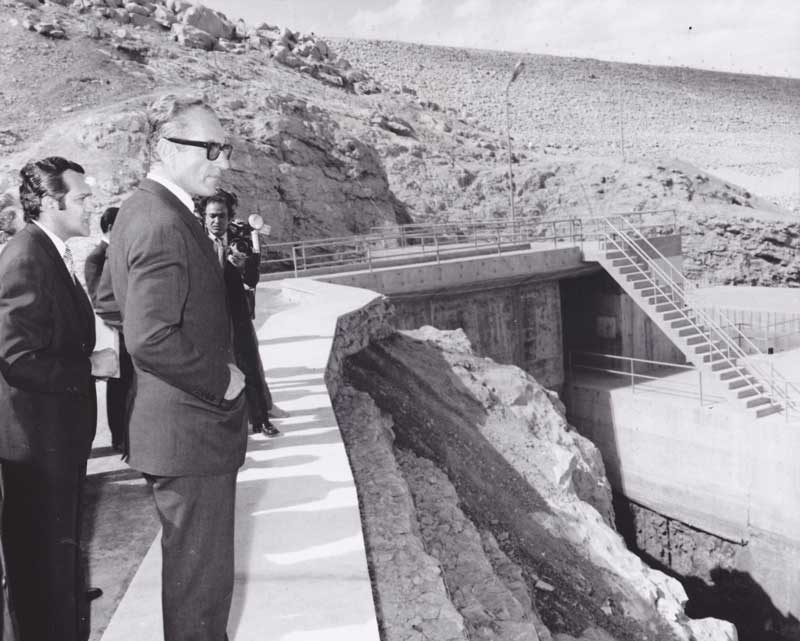 During his long career in public service, Dr. Vahidi also served as the head of the Department of Roads and Public Works, chief engineer at the Ministry of Health's engineering department, head of the Independent Irrigation Department, the managing director of the Standing Protection Committee of the Ministry of Energy, and managing director of Princes Ashraf Pahlavi Foundation.
Vahidi was an Iran Novin  (New Iran) party member, a loyalist political party active under Mohammad Reza Shah Pahlavi (who reigned from 1941 to 1979). He was also a part-time professor at the National University and a member of the Iranian Engineers Association.
Between 1980 and 1982, Dr. Vahidi served as the vice president of the International Water Resources Association (IWRA), a U.S.-based non-profit and non-governmental organization "deeply committed to sound management of water resources."
Vahidi received several prestigious awards for his long and distinguished service to the country, including an order of Iranian Cultural Impact Award First-Class, an order of Iranian Land Reform Award Second-Class, an order of Iranian Imperial Award First and Third Class, an order of the Development and Progress Award First-Class, and the City of Tehran Gold Plaque.
Kayhan London and Kayhan Life offer their sincere condolences and sympathy to Dr. Vahidi's family, in particular to his daughters Yasmin and Roya, his friends, and to the  great people of Iran for the loss of a true patriot who dedicated his life to serving his beloved country.
---
---
Similar Articles to This Post