Mahvash Sabet, a Baha'i poet and teacher who spent almost a decade in Tehran's Evin prison before her release in September, has shared the 2017 PEN Pinter Prize, one of the most prestigious awards in literature.
The winner of the 2017 PEN Pinter Prize is Michael Longley, with Sabet named the 2017 Pinter International Writer of Courage, effectively sharing the prize with Longley.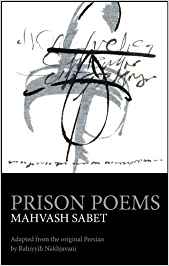 Sabet had been imprisoned on account of her faith, and for being an active member of the Baha'i community, her co-winner Michael Longley said at the prize ceremony in London earlier this week.
"I am humbled to share the PEN Pinter Prize with Mahvash Sabet, an Iranian poet condemned in 2010 to 20 years in prison simply because of her Bahá'í faith and her work on behalf of the Bahá'í community: a songbird trapped in a cage," Longley said at the prizewinning ceremony at the British Library.
"Mahvash is at heart a lyrical poet who sings the beauty of the world," Longley said. "Her imagination is rhapsodic. Her poems want to soar. I rejoice that she has been released from prison. Her incarceration by the Iranian authorities was a sin against the light. The power of dictators to silence and imprison writers continues to 'put all heaven in a rage.'"
Sabet started writing poetry while in prison, and a selection of those writings, "Prison Poems," was adapted from Persian by author Bahiyyih Nakhjavani and published in 2013 in the U.K.
"When She Died" from "Poems from Prison" read by Bahiyyih Nakhjavani
She was previously a teacher and principal at a number of schools, and also worked with the National Literacy Committee of Iran. After the Revolution, she was dismissed from her job and prevented, along with thousands of other Iranian Baha'i teachers and educators, from engaging in her profession.
For 15 years, Sabet led the Bahá'í Institute for Higher Education, which runs alternative higher education programs for Bahá'í youth.
Previous winners of the PEN* Pinter Prize include Margaret Atwood, Salman Rushdie, Tom Stoppard, and Hanif Kureishi. Past winners of the International Writers of Courage award include Mazen Darwish and the Italian anti-mafia writer Roberto Saviano.
*PEN, originally an acronym for "Poets, Essayists, Novelists", has been extended to "Poets, Playwrights, Editors, Essayists, Novelists", including writers of any form of literature, such as journalists and historians.