---
By Tim Cornwell
---
Afshin Naghouni's studio is tucked away underneath a railway arch in West London. Commuter trains drown out the conversation every few minutes, as they rattle and thunder overhead.   The Grenfell Tower, an apartment block where 70 people died in a devastating fire in June 2017, looms over the view from his front door.
Dollops of paint from Naghouni's palette of colours cover a rolling table.  An ash bucket is filled with cigarette butts — he goes through a pack a day.
Naghouni has taken photographs of the Grenfell building — where a giant heart on the scaffolding recalls a tragedy that scandalized London — nearly every day since it happened.  Yet he has still not tackled it in his work.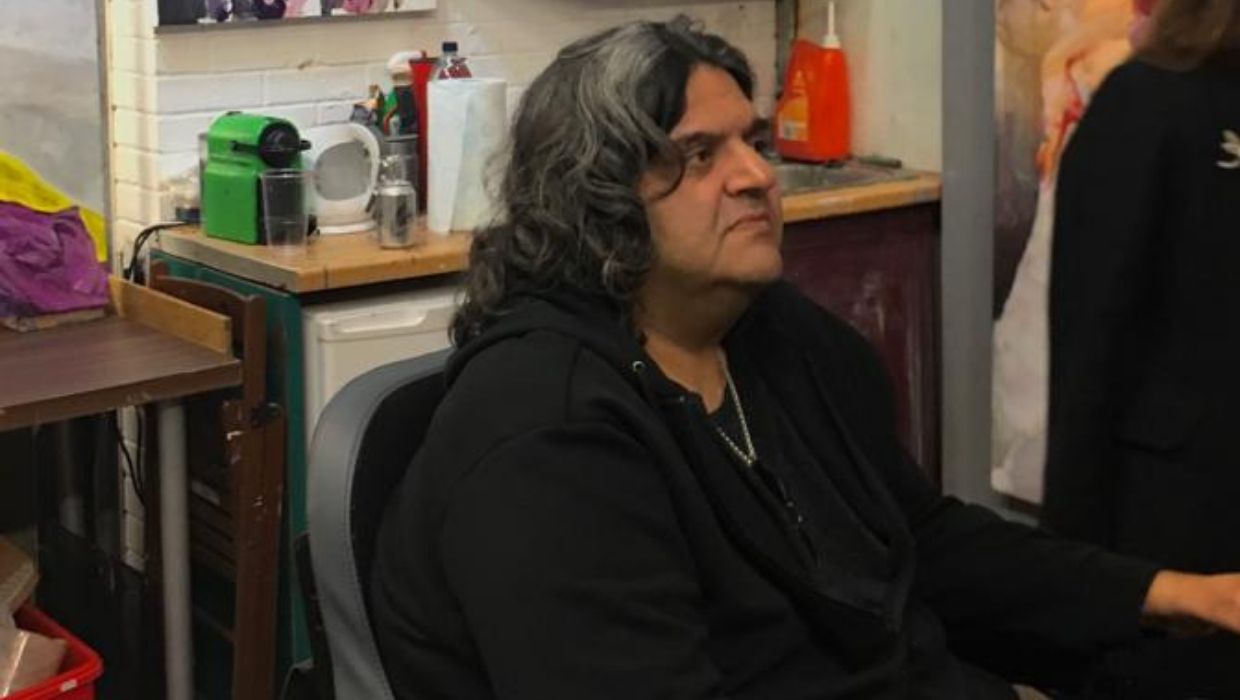 "I'm tempted, but being tempted to create art isn't enough: it needs to flow out of me," he says in an interview at his studio.
The modern Middle East is full of artists who have sought exile, or have been violently displaced, or have struggled to live and work through war, occupation or unrest.    For Afshin Naghouni, artistic survival has been an even harder battle, and an acutely personal one.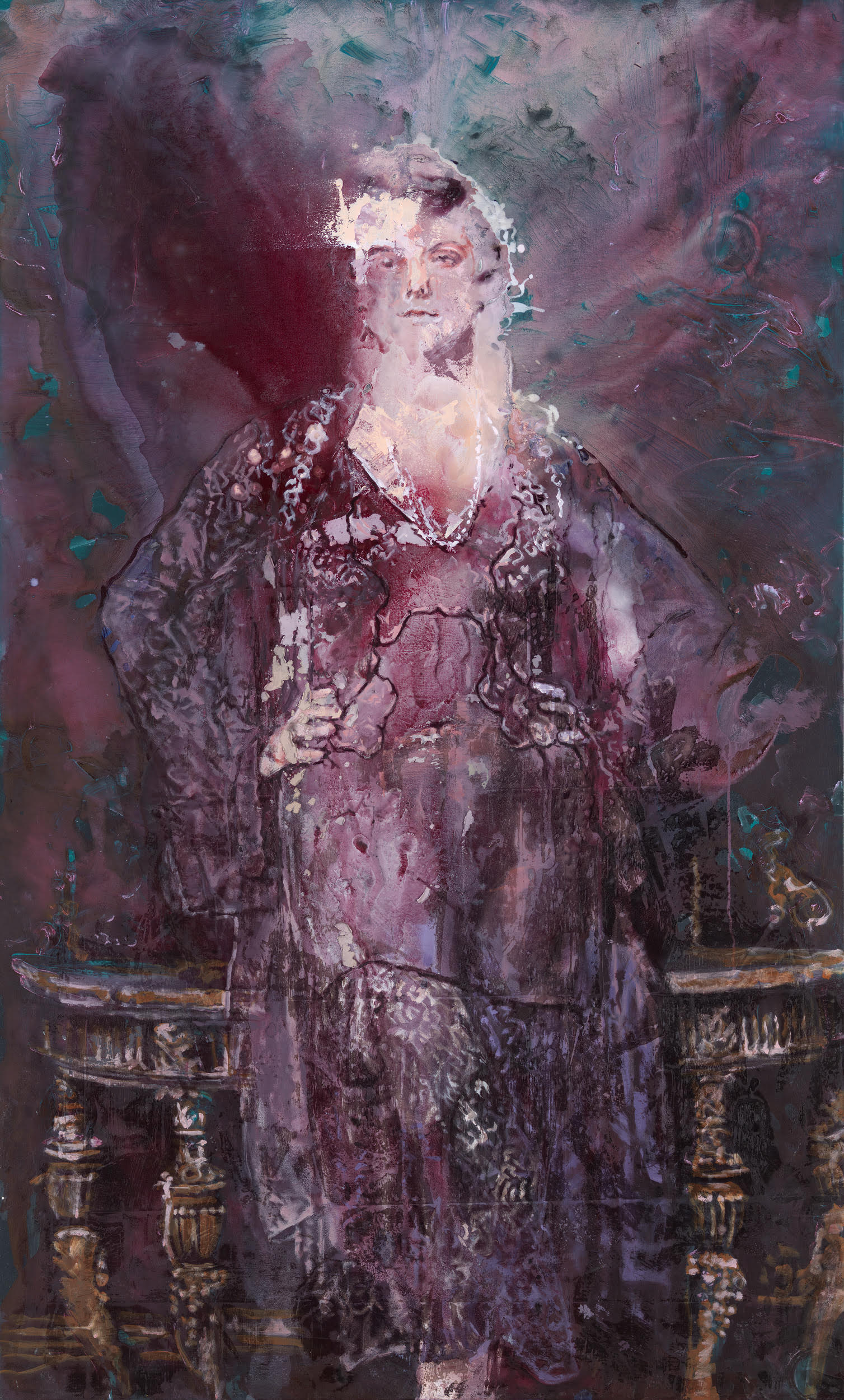 As a 24-year-old artist, he broke his back falling from the sixth-story roof of a Tehran building, where students at an 18th birthday party had fled from a police raid.    Three years later, he moved to Britain, after his mother sold her house to finance the move.  He spent his first six months in a hospital for spinal injuries, then moved to a nursing home.   Twenty years later, he paints from his electric wheelchair, fixing the larger brushes to his hand with bandages when they become too heavy to hold.
A giant canvas, among dozens stored in the studio or hanging on its walls, represents impressionistic, near-ghostly figures clustered under a tree, in tones of sepia and grey.    The painting is one of his nostalgia series, the focus of Naghouni's current work.
The inspiration for the work are images of the Marzabotto massacre in World War II.   The Waffen-SS, brutal shock-troops of the German army, were operating in Italy in 1944 when they carried out the killings of about 800 civilians, including 150 children, in the village of Marzabotto.  They left bodies littering the ground.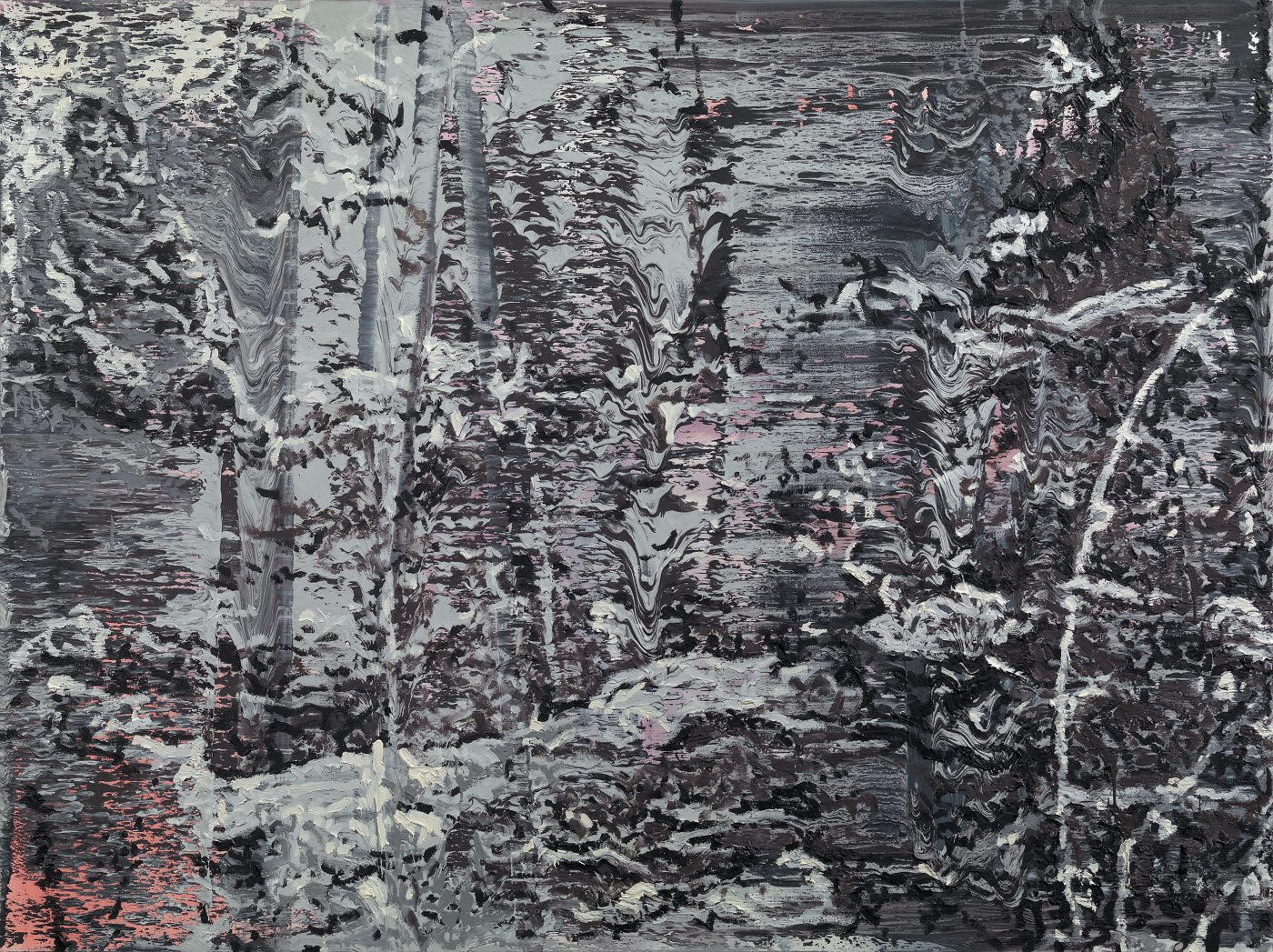 Nostalgia "was a word coined more than 300 years ago to describe the homesickness of Swiss mercenary soldiers, fighting for foreign armies in France or Italy. But that sentimental yearning for memories of a past or a place makes for a dangerous force in society, " Naghouni says.
He has works in private collections from Los Angeles to Azerbaijan — where one prominent buyer has four of his paintings.  His latest exhibition was a one-day event with a performance by pianist Angelo Villani against the backdrop of his canvases.
"Nostalgia and Reminiscence" saw Villani play works by Tchaikovsky and  Chopin, famed composers from Russia and Poland whose lives included periods of wandering and exile. Chopin, in particular, spent  the last 20 years of his life without ever setting foot back in his homeland.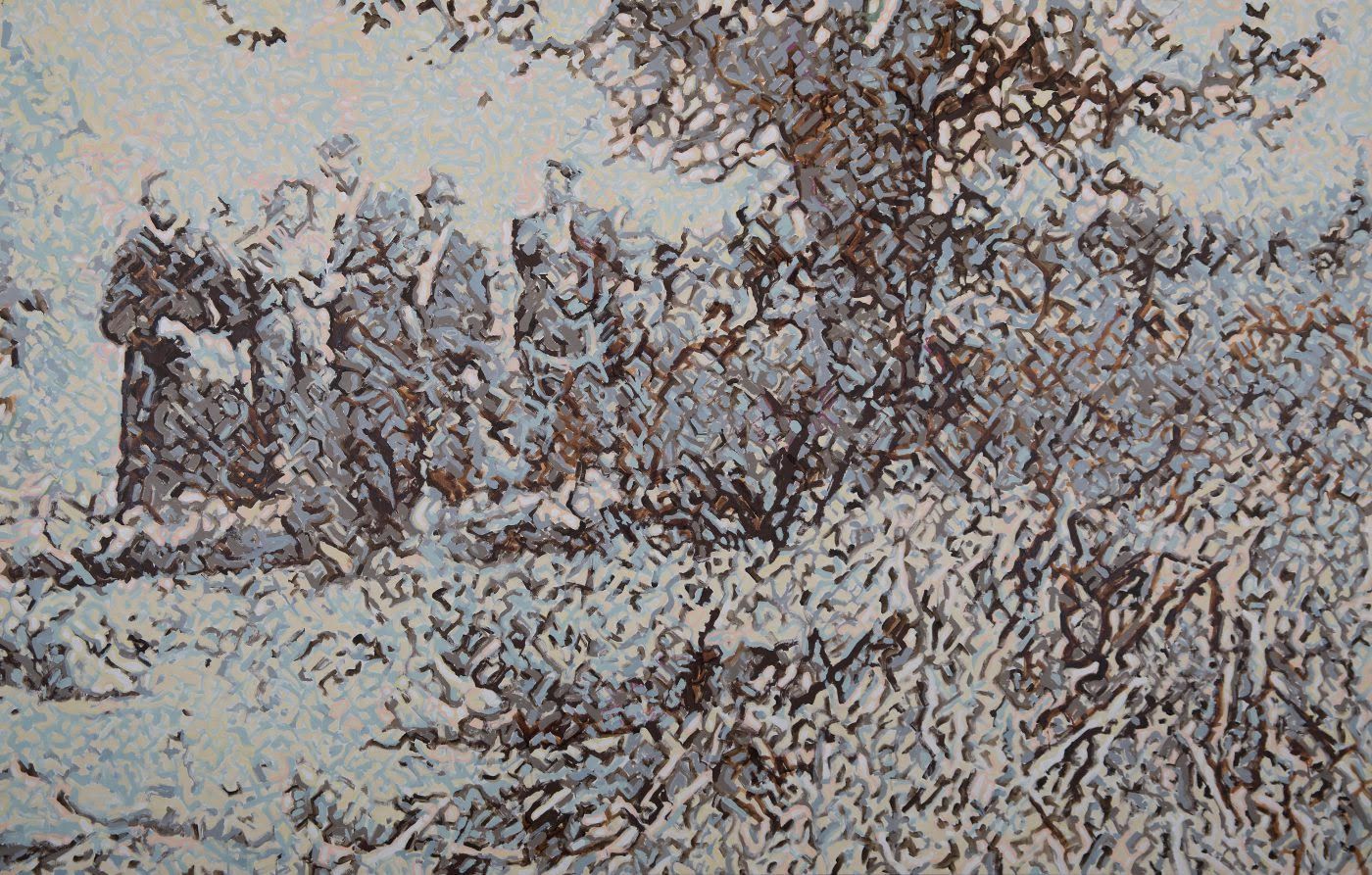 According to Naghouni, nostalgia is driving supporters of Donald Trump, with their Make America Great Again hats, and surely also the British supporters of Brexit. This sense of a heroic past on  the political right, seen through rose-tinted glasses, bears strong parallels with the ideology that brought Nazi parties to power in Italy and Germany in the lead-up to World War II.
He regards nationalism and nostalgia with equal suspicion.  "I have no nationalistic feelings at all.  Nationalism and even patriotism are  one of the very first steps that humanity takes towards the separation of the human race."
Naghouni showed early talent as a painter, but when he broke his spine after the Tehran police raid,  he moved to Britain to bravely forge a life as a painter. His life has been celebrated in a heart-rending, widely released documentary by the Iranian filmmaker Shahriar Siami Shal.
After he left Iran in 1997, Naghouni's father left him in a hospital in Britain with just 350 pounds in cash. The public health system was vital to his survival as a refugee.
Naghouni's current work ranges from the "historical nostalgia" images of Marzabotto to paintings that use semi-nude photographs from the early 20th century as their inspiration.   These idealized figures of objectified women from the Edwardian era become disturbingly sexual in his hands.
He counts the British painter Jenny Saville and the German painter Anselm Kiefer among his greatest inspirations.    At a Kiefer show in London he was so overwhelmed by the work that "after 10 minutes, I couldn't breathe," he recalls. "If only I had half his talent."
"I don't consider myself an Iranian or Asian painter," he notes. .    "I just consider myself an artist, and prefer to be recognized as an artist….just an artist."
He prefers showing in group exhibitions, rather than solo shows, he says, because "there's a kind of satisfaction" in seeing "people pick your work out" from among that of many different artists.
In the two decades since his arrival in the U.K., he has carved out commercial success and is now married to his former nurse. His largest works are priced between 15,000 and 20,000 pounds ($19,000 to $25,000) and sell to collectors in Europe and the U.S. as well as in Azerbaijan.
Hisart is testimony to the survival power of a creative spirit.
Had he arrived in Britain amid the  tougher conditions prevalent today for new immigrants, "I would be on the street."
---
©Photo Credits: Afshin Naghouni and "Todd White art photography."
---