By Julie Ershadi
The first Iranian-American to be selected to serve as a NASA astronaut recently reported for duty at the Johnson Space Center in Houston, Texas where she spoke at a livestreamed press conference.
Jasmin Moghbeli, a Massachusetts Institute of Technology graduate and a U.S. Marine Corps combat veteran, smiled widely at the media briefing with the 11 other members of her cohort. She and her team will soon begin two years of spaceflight training to prepare them for future missions, and this was likely their last opportunity to speak with a public that is increasingly curious about space exploration efforts.
During the live-streamed event, candidates including Moghbeli each took turns asking questions of an existing team of astronauts, members of the Expedition 52 crew currently aboard the International Space Station. They then took questions from members of the public.
An intern at Johnson Space Center asked if the female candidates had any advice for young women just emerging from training in the STEM fields (Science, technology, engineering and mathematics) and hoping to make a name for themselves.
Moghbeli was first to answer.
"Try to excel at everything you do," she advised the young scientist. "Don't even focus on the fact that you're a woman in a male-dominated field. Work with your coworkers, let them learn to trust and respect you, and by doing that, you will influence their perspective."
In the earlier exchange between the candidates and the crew members on the International Space Station, Moghbeli asked how the two years of training ahead of her would differ from her experience in the military. Moghbeli has clocked over 1,600 piloting hours and earned the nickname "Jaws" during her combat tours in Afghanistan. Her motive for enlisting in the Marines in the first place was to gain experience that might help her reach her lifelong dream of becoming an astronaut.
NASA Astronaut Jack D. Fischer, who served as a colonel in the Air Force, answered that while there was some overlap between the two fields, her work in space would be much more open-ended than her work on the battlefield.
"Our mission isn't: 'we have to go take out this target.' Our mission is – we have no idea," he said, gripping the microphone tightly lest it float away in the zero-gravity environment of the ISS.
Moghbeli is no stranger to perseverance and adaptability. She was born in Bad Nauheim, Germany and raised in Baldwin, New York after her family fled the revolution taking place in Iran in 1979. Her parents, Kamy and Fereshteh, and her brother, Kaveh, have always supported her interest in STEM and encouraged her to pursue her astronomical aspirations.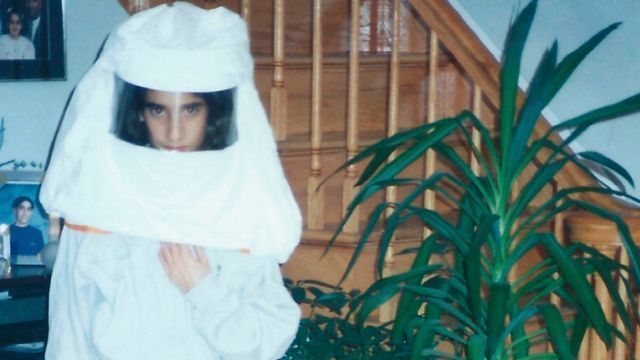 From grade school projects on female astronauts and an undergraduate career at MIT to hundreds of combat flights over Afghanistan, Moghbeli has spent her whole life preparing for the opportunity to become an astronaut, with her family behind her the whole journey. Her parents wept when they learned the dream was finally coming true and that she'd been selected by NASA.
"We're very proud," Fereshteh Moghbeli said, according to a Newsday profile of her daughter. "It's very special to be the first generation in a new country and have our children doing so well."
#jasminmoghbeli #nasa #astronaut #femaleastronaut #navytestpilot#space #iranianamerican #spaceexploration #inspiringwomen#heforshe #empoweringwomen #MIT #helicopterpilot #iranian#kayhanlife #stem #spacestation #spacemission